Roland goes its own way. Which is currently the ZENOLOGY way. Ah yes, Zen: A school of Mahayana Buddhism that originated in China during the Tang dynasty. It emphasizes rigorous self-restraint, meditation-practice, insight into the nature of mind and nature of things. Roland's nature of things is all about technology, hence ZENOLOGY – what else ?! Latest highlight is the virtual replica of the JD-800 synthesizer. Now available in many ZEN-based instruments – in the ZENOLOGY / ZENOLOGY PRO software synthesizer as well as in Roland's current hardware / software flagships Jupiter-X and Jupiter-Xm.
"With its retro workflow, evocative sounds, and powerful effects, the JD-800 was a favorite for top electronic music producers through the '90s and beyond. Built directly from the original architecture, the JD-800 Model Expansion captures the sonic behavior of its vintage inspiration to perfection. Instantly create with the large preset selection—including 64 presets ported from the JD-800 hardware—or get lost tweaking the huge array of controls to conjure new sounds for your music."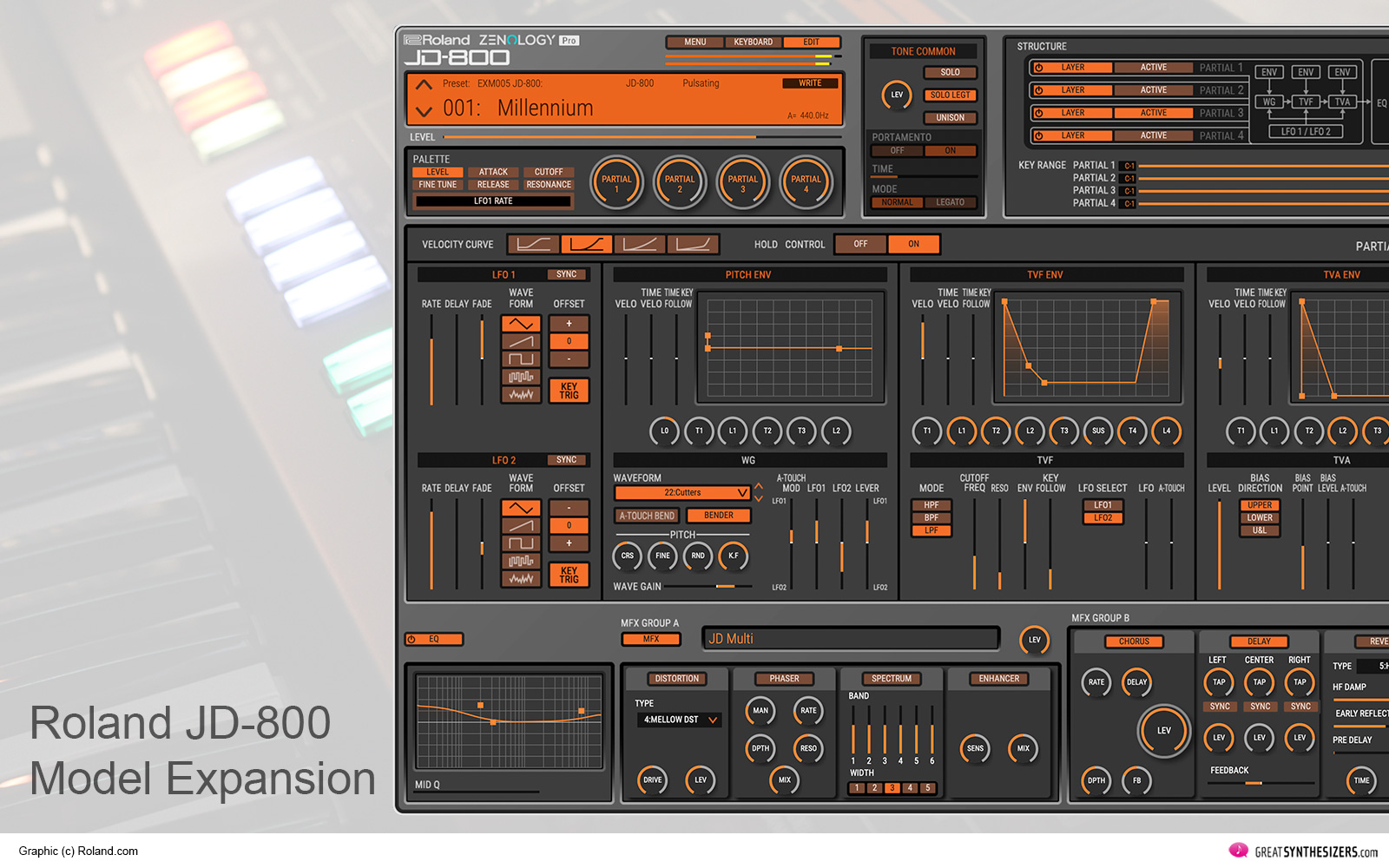 Voilà – the JD-800 Model Expansion Highlights at a glance:
Model Expansion for ZENOLOGY and compatible ZEN-Core hardware
Authentic sound and behavior with advanced modeling and original JD-800 waveforms
Includes 64 presets from the JD-800, plus 64 new presets crafted by top sound designers
Detailed recreation of the JD-800's unique two-stage multi-effects section
Over 90 effects including JUNO and CE-1 choruses, SDD-320 Dimension D, SBF-325 flanger, and more
Clear, intuitive interface for free-flowing production
Expanded polyphony versus the original hardware
Swap Model Expansions and load sounds instantly
The crux of the matter: What does "authentic sound and behavior" mean? Honestly, we have no clou. We don't want any authentic sound, we want the original sound (no matter what it is, but – please – the original sound). Anyhow, it won't take you by surprise that we are a little critical of the idea of ​​cramming hardware (sounds) in software. Whereby the software is by no means the problem, but the manufacturer's suggestion to the music world that all those original instruments are now available via ZENOLOGY. Particularly cheaply or even free of charge, and with equivalent good (authentic!?) sound quality.
Apart from that, ZENOLOGY has two undisputed pro-arguments. First, the possibility of graphic visualisation of any complex voice architecture (take, for example, the JD-800 multi-stage envelopes …). Second, the comfortable sound collection of many legendary Roland synthesizers in "one" ZEN-core package.
That sounds mysterious and seductive.
---
Roland JD-800 Model Expansion
Software Expansion for DAWs and ZEN-Core based hardware-synthesizers
Website Manufacturer:
www.roland.com