Since we often talk about analog (or virtual-analog) keyboards, our attention to this sample & synthesis instrument might surprise you. Be that as it may, its analog surface, analog-like sonical richness and overall sound quality enables the JD-800 to fit perfectly into a modern sound & recording studio.
Personally, this is my favourite (modern) Roland synthesizer. I consider it more of an analog than a digital instrument. Strictly speaking, it IS digital, but it behaves like an analog machine … And there's another reason for this review – the Roland JD-XA will be taking off soon:
"The JD-XA is a unique crossover synth that brings together analog warmth and digital versatility in one super-creative, no-compromise instrument." (www.roland.com)
We are, of course, very curious about this new Roland flagship. But let's take one last look at its grandaddy, the Roland JD-800 …
The JD-800 is nearly 25 years old, but it's still visually and acoustically stunning – state of the art, irrespective of its age. And it sounds incredible, even in 2015. If I needed to reduce my studio equipment to just three synthesizers (unimaginable, but considering this theoretically), I'd choose the Roland JD-800, the Sequential Pro-One and the Elka Synthex. These Glorious Three could cover practically everything I'd need in terms of making electronic music.
And IF I could keep just five instruments, I'd add the ARP 2600 and GRP A8.
Well, and IF that synth family grew to ten units, I'd add the John Bowen Solaris, Roland Juno-60, Korg PS-3100 and the Yamaha CS-60. (To be honest, I'd smuggle a few other fellows into the studio: the Oberheim OB-8, Prophet-5, MFB Dominion 1, Roland SH-5, Jupiter-4, Moog Prodigy, Analogue Solutions Polymath and maybe a few others, like the COTK Model 15, but please don't tell anybody) …
Some knobs would be great!
How it all began.
End of the 80s: musicians were tired of uncreative DX-like synthesizers with bad user-interfaces providing only a limited fun-factor when it came to programming and creating personal sounds.
Yamaha's DX-synths, Roland's D-serie, Korg's M1 and many other instruments had been sold in considerable quantities, but eventually musicians felt rather attracted to those old, truly bizarre and user-friendly analog synths – a sort of "retro" took place. "Some knobs would be great …"
Roland released the JD-800 in 1991. I remember the day I first saw it. When I strolled past it my step briefly halted. What a wonderful, well-designed instrument! There were already nice (analog) synths in my small studio, among them the Jupiter-8 – but no synth design I'd seen before had attracted me like the JD did. It wasn't easy on my analog-synth-loving heart, but the Jupiter-8 had to go! In its place, a lovely JD-800 joined my collection. That was in no way a mistake, not at all!
I guess my fascination wasn't shared by many in the musician's world. "Some knobs would be great" was still in the air, but when the JD hit the market, most musicians ignored it! Too many knobs? Far too "retro"..? Who knows…
Well, the presets …
Maybe musicians were simply not keyed to such a powerful and totally creative instrument. But admittedly, Roland also made some conceptional mistakes! For example, the factory presets: some of them are beautiful, showing JD's philosophy and sonical potential. "Massive Pad", "Killer Pad", "Iceman", "Invocation" – just to name a few.
But then there are sounds like "Clavinut" or "LA MIDI'ed Piano", "MIDI Guitar" etc. and you think: "What is that for? A sort of sample-rom-player? Why do I need those lovely faders while playing a piano?"
Maybe Roland thought that implementing a stock of "all-time-standard-sample-sounds" was necessary for the instrument to be a success. People wouldn't buy a synth without a serious piano sound, now would they …?
(That has turned out to be a stupid idea in any case, as piano sounds are extremely difficult to reproduce! Playing a Yamaha CP-70B (electric grand piano), for example, doesn't give you more than an idea of what the "soul" of a real piano can transport. And then there's that tremendously important "feeling" when making music on a real piano, which still gets lost with a sampler or other digital substitute.)
Unbalanced factory presets were part of the conceptional failure. Roland made an even bigger mistake by releasing sound cards such as "Guitar" or "Accordion"! Who the heck needs an accordion on the JD? The sound cards should have been called "Filmscore", "Eeeeerie Vocals" or "Special Sound Effects", something like that …
All together, the synth ended up with a totally confusing concept: JD with an analog surface on the one side, and (partially) ordinary sample-rom factory presets and misleading sound-cards on the other …
The following sound libraries were available:
1. SL-JD80-01 Standard Drums
2. SL-JD80-02 Dance Drums
3. SL-JD80-03 Rock Drums
4. SL-JD80-04 Strings Ensemble
5. SL-JD80-05 Brass Section
6. SL-JD80-06 Grand Piano
7. SL-JD80-07 Guitar
8. SL-JD80-08 Accordion
So what is the significance of JD? Is it simply an extended sample-rom-player with the bonus of nice faders, or is it the creative programmer's synth, producing unbelievable pads not to be made by any other instrument?
I think it's the Creative One …
Structure of the JD-800
First, the JD is permanently in MULTI Mode. Ok, ok – you're right, it's in SINGLE mode, but each sound (PATCH) consists of up to 4 individual sounds (LAYERS). So, SINGLE mode is, in reality, a 4-part MULTI mode, isn't it?
Each LAYER features:
2 LFOs (5 waveforms incl. S/H and random): LFO 1 / 2
3 envelopes (for oscillator, filter and amplifier): Pitch ENV, TVF ENV, TVA ENV
1 oscillator (108 waveforms to choose from): vast modulation possibilities (incl. random pitch), pitch-bender and aftertouch can be activated individually with every LAYER, key-follow function from 0 to 200 % (for microintervals, etc.)
1 multimode filter (Low-Pass, Band-Pass, High-Pass): vast modulation possibilities, "dirty" filter resonance
1 amplifier: vast modulation possibilities incl. aftertouch (but no pan-modulation, sadly)
"At the heart of the instrument is a bank of waveform ROM containing 108 preset samples and waves sampled at 44.1kHz. This last fact should not be glossed over, because it is one of the reasons why the JD-800 sounds as glisteningly fresh and clear as it does.
The other is the fact that the JD-800 has separate micropocessors for its synthesizer section and keyboard scanning. This makes the JD lightning-fast in touch and response and makes it feel as immediate and controllable as early synths, which were not weighed down with overloaded processing." 
(Julian Colbeck: Keyfax – Omnibus Edition, page 101)
4 simultaneous LAYERS means that you have 4 oscillators, 8 LFOs, 12 envelopes, 4 multimode filters – and much more – at your fingertips! This vast platform guarantees for stunning, complex sounds. And then there's an impressive selection of potent EFFECTS (superb algorithms such as chorus, delay, phaser etc.) that lets the JD sound even bigger and more complex.
"The effects section of the JD is not under slider control, but you can chop and change the order of effects (do you want reverbed chorus or chorused reverb?), which is rare, and the effects are ultra high quality."
(Julian Colbeck: Keyfax – Omnibus Edition, page 101)
You might be starting to realize that the JD-800 is no ordinary poly-synth!
Special Setup
Now, just to confuse you: there is a proper MULTI mode as well. It boosts 5 SINGLE sounds (each with own MIDI channel) and a Special Setup (drum kit). Sadly, the JD-800's multitimbralism is a one-at-a-time configuration only. Furthermore, only a few of the great EFFECTS are available in MULTI mode, so you could easily leave that out and concentrate on the powerful 4-part SINGLE mode.
Ok, leave it out, but with one exception: the Special Setup!
"Though one drum map of sounds exists internally, the JD's best drum performances come off Roland PCM cards that slot in, alongside new program cards, at the back. Most are taken from the Roland S-series sample library and feature eerily accurate TR-909 and TR-808 samples. Overall, the drum sounds are live, sibilant and inspiring."
(Julian Colbeck: Keyfax – Omnibus Edition, page 101)
Be that as it may, the Special Setup is more than a source of drum sounds. It is a unique source of creative & experimental sound possibilities.
Each single note (!) on the keyboard can play its own sound (with individual sound settings), which absolutely blows your mind! It's a great tool to recreate wavetables / PPG-like sounds, for example …
Plusses of the JD-800
First: Its hardware. 59 sliders, dozens of buttons and lights. The JD-design is magic!
Second: Its sound architecture. As explained before: you've got 4 LAYERS, so you end up with a total of 4 oscillators, 4 filters, 8 LFOs and 12 envelopes for a SINGLE sound! Not bad, really! Added to that, its sonic potential is enormous. You end up with brilliant pads, some of which may consists of only two LAYERS (well, 4 LFOs and 6 envelopes should be enough modulation material to start with!).
Third: Its sound!
"The JD-800 sounds like it looks: big, impresive, complex, deep, multilayered."
(Julian Colbeck: Keyfax – Omnibus Edition, page 100)
Take your time exploring the instrument's sonic power, which is almost endless. The JD guarantees years of programmer's fun … and lets you produce unique musical textures full of character. The JD behaves like an analog synth, which is why you never get bored of playing it. As on the Juno-60 or the ARP 2600, the sounds entice out lovely musical ideas, intuitive improvisations. If an instrument reaches that goal, it's truly a musician's instrument. If you have one: keep it in your setup – there are not too many of them around!
Fourth: Its SYS-EX capabilities. "The JD-800 sliders can be set to send MIDI messages that can be recorded into your sequencer. When adjusting a selected parameter such as cutoff, resonance, panning, etc., the JD-800 transmits a series of system exclusive messages."
(Source: http://www.sweetwater.com)
Fifth: Its user's manual. It's simply one of the best ever published. Roland not only explains in great detail the instrument's philosophy, but offers ideas for creative sounds, useful programmer's advices and a variety of background-info …
Even today, there are not many digital synths that come up to the JD-800. The John Bowen Solaris is one of those few, and there are some great softsynths on the market as well. Still, the JD's lovely hardware is unsurpassed, and its sound quality is TOP. We really now hope that the new Roland JD-XA will follow in the footprints of its great-grandfather …
The downside of the JD-800
First, Its hardware. (Joke.) No, seriously: a few of the JD-800 parts are prone to error. Some of the triangular knobs might stop working (contact problems), dusty faders might send data without being moved, and aftertouch / velocity of the keyboard might fail. (Red glue problem > that glue eventually tends to drip with time, resulting in sticky keys).
Second: Its (true) polyphony. 24 voice polyphony sounds great. But, to be honest … that's a little misleading! Roland's layer-philosophy is irritating, since a layer IS de facto one voice. If the JD were 24-voice polyphon (well, it is..), you'd only have one layer at your disposal. Or, using 2 layers reduces polyphony to 12. Three layers gives you 8-voice polyphony, four layers 6-voices. So the "perfect" JD with 8 LFOs and 12 envelopes, etc., is in reality a 6-voice instrument. Not really that exciting, to be honest …
What we miss …
The "perfect" JD-800 would contain:
a 76-note high-quality keyboard
a simple sequencer and / or arpeggiator
possibilities for pan-modulation
a HOLD button
Is the JD-990 an enhanced version of the JD-800?
Well, not really. Theoretically, the JD-990 is an extended JD-800 with more oscillator waveforms, ring-modulation, pan-settings, more outputs, etc. BUT it's missing all those sliders! And the large LCD display is no real substitute for those, to be honest. The ideal JD-990 would have come in two parts: the synth unit and the programmer unit – just like the MKS-80 (& MPG-80) way back in 1984.
In absence of all the beautiful sliders, the JD-990 is reduced to a good-sounding (but still rather dull and passionless) sample-player, while the JD-800 remains – in our assessment – the intuitive & creative programmer's / player's synth.
BUT … you can use the JD-800 as a PROGRAMMER for the sound module. This is good news!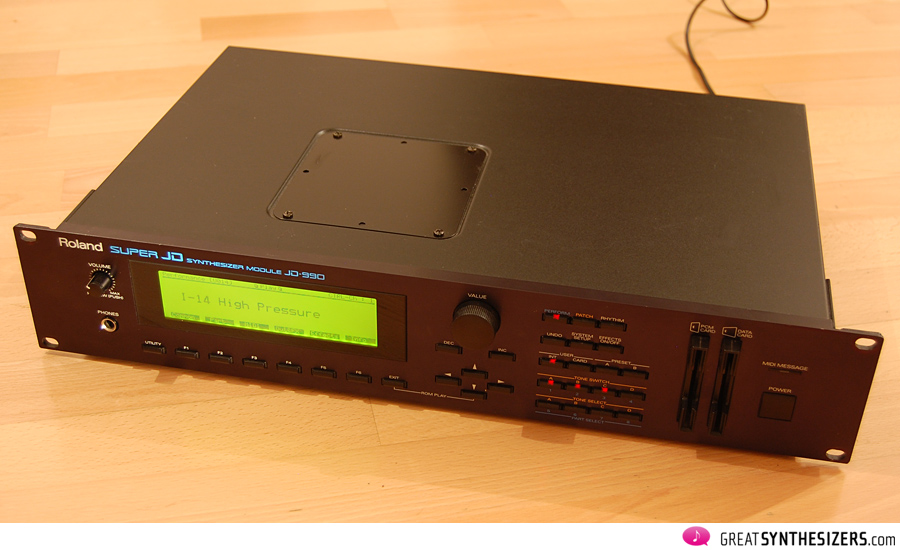 "Use the following procedure to enable the Transmit Edit function:
On the JD-800:
1) Press MIDI.
2) Use the CURSOR UP/DOWN buttons to select "TX Edit Data."
3) Press the INC (increment) button to turn this parameter ON.
On the JD-990:
1) Press SYSTEM SETUP so it is lit.
2) CURSOR to "RX Exclusive" and use the VALUE dial to select ON-2.
3) Press SYSTEM SETUP to return to the previous screen.
NOTE:
You will need to enable this transmit function each time you turn the JD-800 on."
(Source: http://www.sweetwater.com)
JD-800 today
If you already own a JD-800 – buy another one*! That's what I suggest, considering risks and unreliabilities that might surface one day. Owning (and loving) this instrument means you should think in decades, not years! One day dust, dripping red glue or other influences might damage it.
So, a second JD-800 could be the guarantee that you have access to this beauty for the rest of your life. Current street prices are surprisingly low (500-700 Euros), so the JD-800 …
… is a real bargain these days. * (I just picked up my third JD-800).
Concerning the instrument's features and power, there is no other (vintage) digital synth I could more highly recommend.
PS: we're looking forward to playing the new Roland JD-XA Crossover Synthesizer soon. It's supposed to be a four-part, analog giant with true analog filters AND a four-part digital engine, PLUS an impressive selection of potent effects.
Update September 2015: we've tested the new Roland JD-XA – that brand-new hybrid synth with the BIG sound, but with some not-to-be-ignored weaknesses (that inadvertently result in a weakened final performance).

Read the full JD-XA review (and compare it with the JD-800) …