Confession number 1: Being bold and ruthless, we have adopted the above headline "Pro 3 – a new benchmark for raw sonic power and unrivaled versatility" directly from Sequential. We have also tested the instrument and humbly agree with them (with a nod of the head).
Confession number 2: Not only is the Pro 3 sound intriguingly hybrid (wavetables!), but also convincingly analog – and in this respect it's almost on a level with its legendary ancestor Pro-One. That's honest praise (… another nod of the head).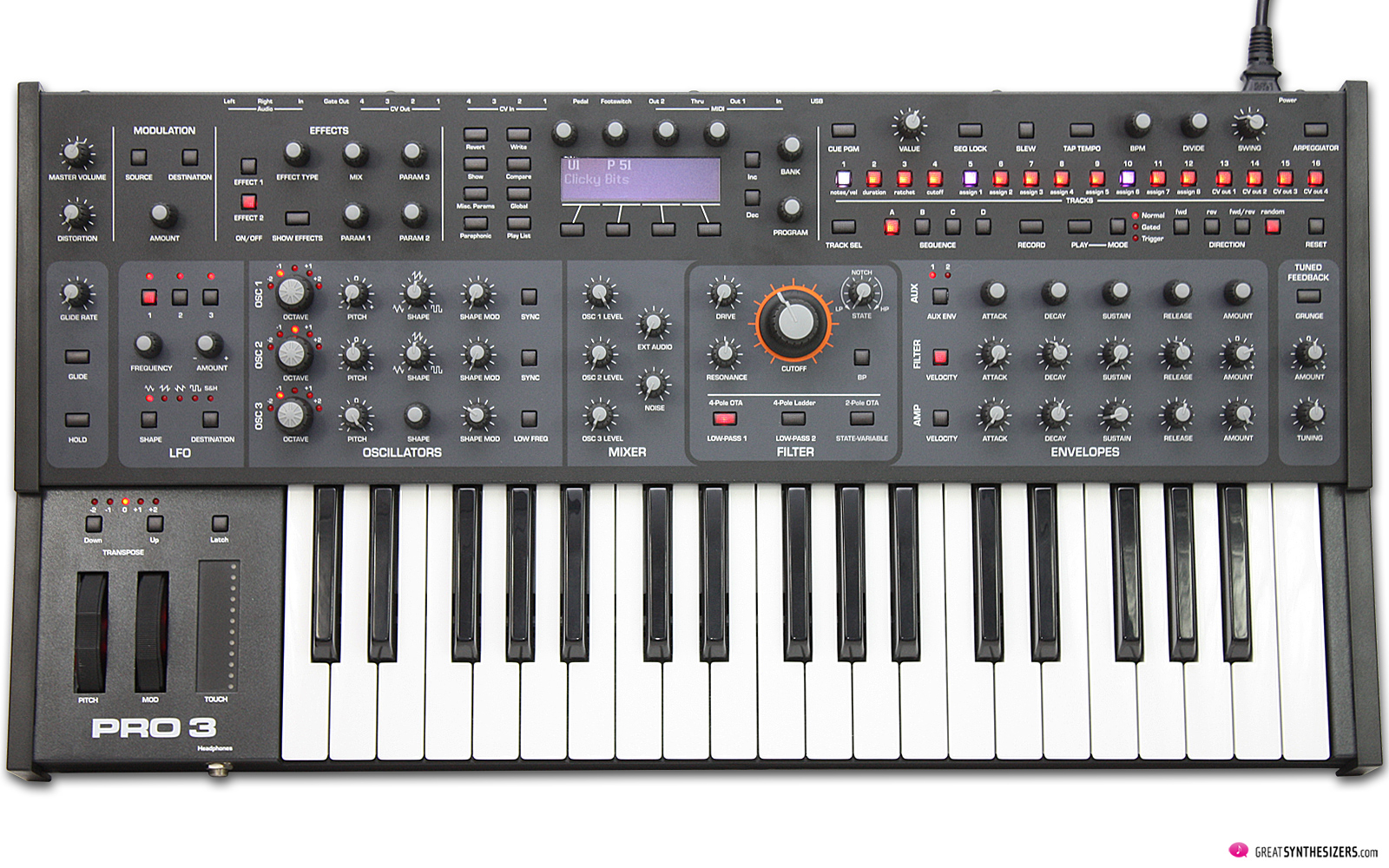 Clearly, many aspects of Sequential's modern and comprehensive mono synthesizer Pro 3 / Pro 3 SE (2020) are far superior technically to the simply structured veteran Pro-One (1981). But, interestingly enough, the modern and comprehensive mono synthesizer (Pro 3) is inferior to its simply constructed veteran (Pro-One) in other ways (… in particular in terms of that high-end vintage SOUND). It's a question of the details.
Nevertheless: Seen as a whole, our preliminary resumée is positive, if not to say euphoric. Sequentials Pro 3 is a remarkably all-round analog / hybrid synthesizer, with excellent performance and with many sweet spots in its sound (as users have been reporting in various forums for some time).
A Toast to Dave Smith
Even though Mr. Smith has just launched the revised Prophet-5 (Rev. 4) / Prophet-10 – on the occasion of his 70th birthday – we think that, on closer inspection, it should be the Pro 3 / Pro 3 SE which wins his laurels, and to which the big applause, the long-lasting drum rolls and the brilliant "flourish" are due.
Let's be realistic, not much on the new Prophet-5 (Rev. 4) / Prophet-10  has been changed. It is more or less a reissue of that most legendary polyphonic analog synthesizer of all time – the original Prophet-5 (1978) – but now with MIDI and other extras.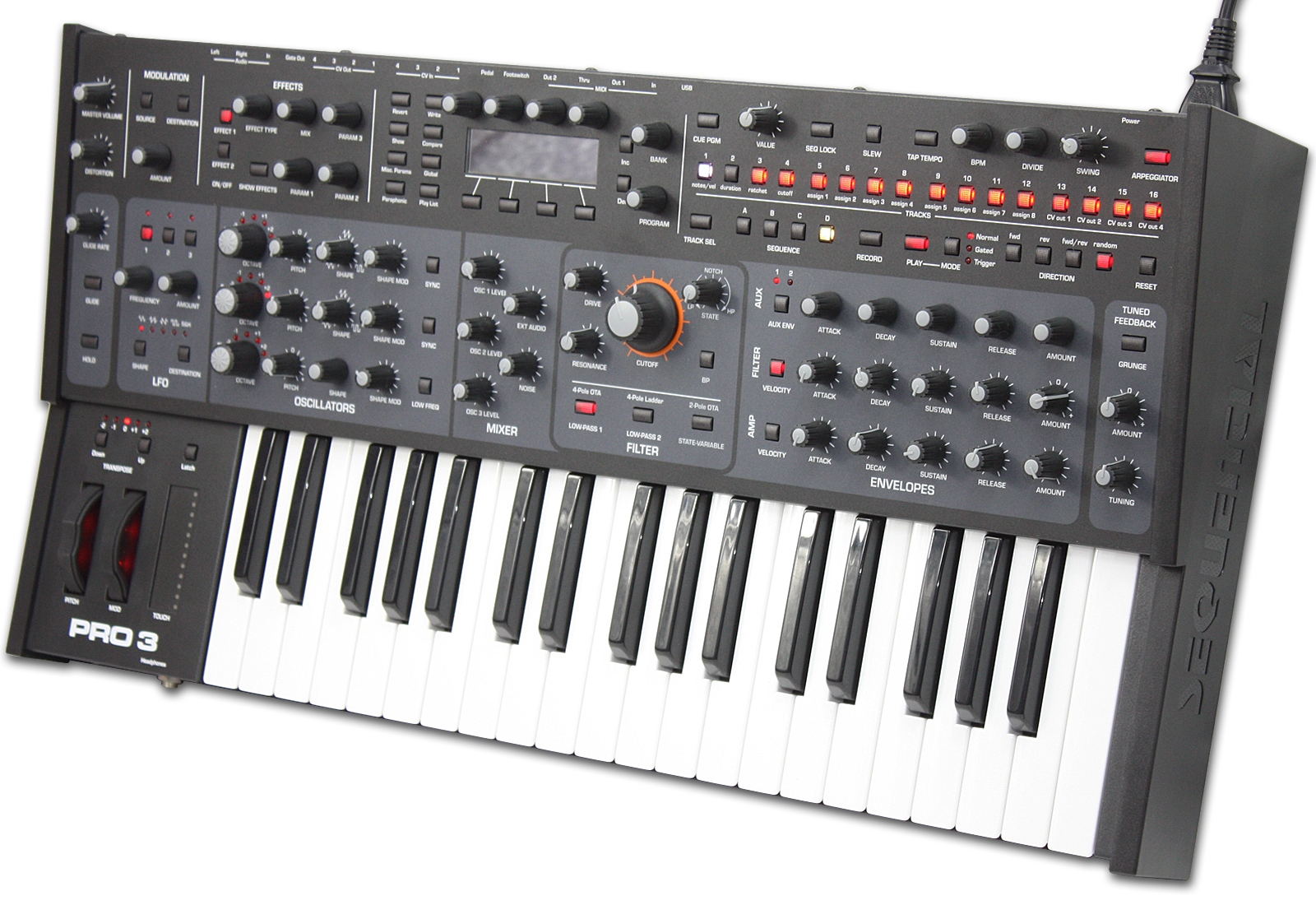 An excellent approach, no question about it, especially since the market for modern polyphonic analog synthesizers is far from saturated. And musicians could hardly be averse to a freshly launched Prophet-5, especially in its extended format as the luxurious and powerful Prophet-10.
Nevertheless: The Pro 3 is the instrument of the day. It's a delicate balance between the Old and the New. Imaginative new features (some already found on the Pro 2) combined with a close approach to the tried-and-true sound of the original Sequential Pro-One bring this analog / hybrid synthesizer to life.
But these are just fantastic products. The real credit, of course, goes to their developer. A toast to Dave Smith, whose spirit of energetic research has not waned even after nearly five decades of innovation and hard work. He has enriched the music world with high-quality instruments since the mid-1970s!
Whether the original Prophet-5, a Reissue Prophet-5 / Prophet-10, a Prophet-T8, Prophet-600, Prophet-6, Prophet-12, Prophet-VS, the Monoevolver, a Polyevolver, Revision 2, Prophet-X, the original Pro-One, Pro 2, Pro 3 / Pro 3 SE (and many other instruments): The footprint of that congenial American synth pioneer on the evolution of electronic music instruments is remarkable.
A salute!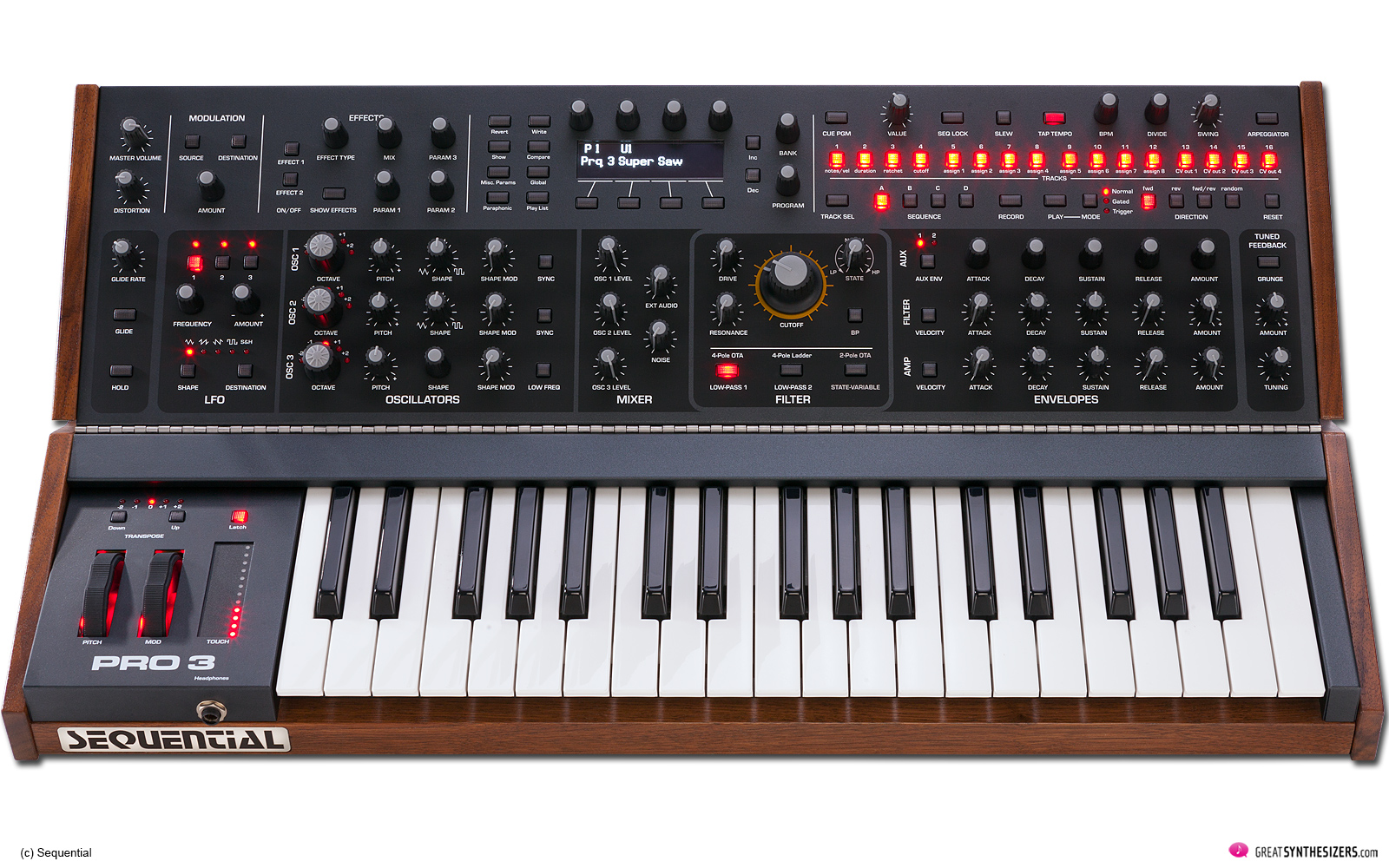 Pro 3 / Pro 3 SE
The Sequential Pro 3 is available in two versions. On the one hand, the – let's put it casually – plastic/metal box Pro 3 (7.25 kg) in the style of its ancestor Pro-One. In "one" piece (without a hinged panel) and with a neutral light gray surface. Or in the more elegant Pro 3 SE (Special Edition, 12.25 kg) with wooden chassis and a fold-up panel in the style of the Minimoog, sporting a partly black surface (> higher contrast to the graphics).
To our own surprise, we've decided – despite our preference for foldable and very user-friendly panels – for the simpler Pro 3. For two reasons. First: The "Sequential" logo printed on the right and left of the side panels looks … yes, sexy. Second: The gray plastic pots, together with the plastic side panels, create a harmonious overall look. Visually clear in the direction of "Medium Cost" (like the original Pro-One), the Pro 3 is homogenous, without any break in style.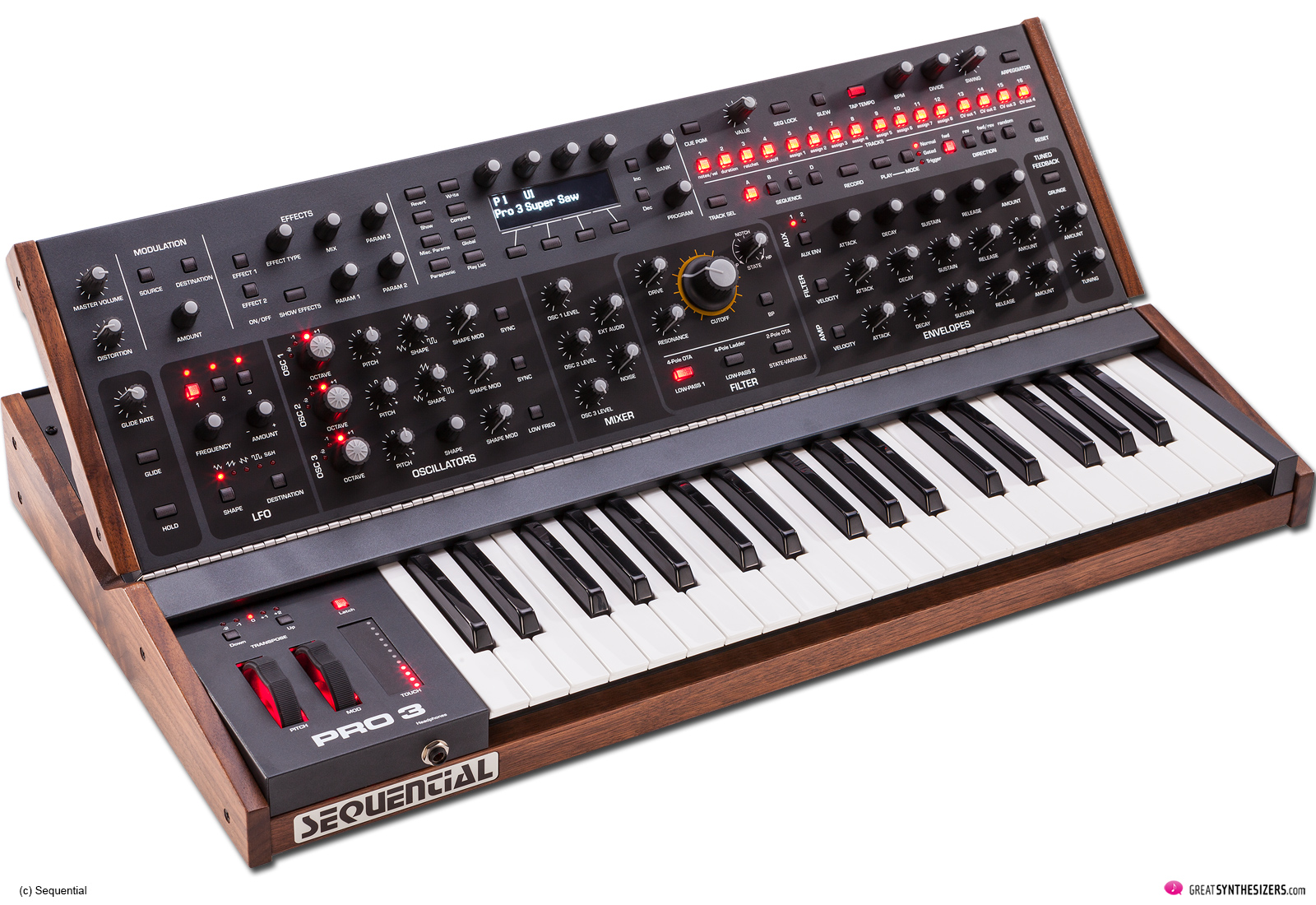 The appearance of the Pro 3 SE is not exactly homogenous (albeit, one point of view among many) … In our opinion, its gray plastic pots seem to be in contradiction to its elegant wooden chassis, its Minimoog-style panel and its classic, silver Sequential logo. Two worlds in collision, so to speak.
Vintage-look knobs would have been the better choice. Knobs in the style of a Pro 2, Prophet-6, a new Prophet-5 or a Minimoog – giving the luxurious Pro 3 SE a more "coherent" appearance. Nevertheless, this is actually pretty irrelevant, a mere aside. The Pro 3 and Pro 3 SE are excellently built instruments, which is the main thing, and which we are coming to now …
Hardware & Layout
To be brief: both hardware and layout are well thought-out. The knobs of the Pro 3 / Pro 3 SE have a valuable feel to them (potentiometers with a metal axis and a surprisingly resistant, grand turning feeling), the buttons sit perfectly with an exact pressure point. These shine discreetly – no "dazzle" – in contrast to the miniature spotlights found on some Roland instruments (for example).
Finally, there are two wheels and a ribbon controller: Easy to use and precise to operate – especially the ribbon controller, whose last value can be "frozen", leaving both hands free for additional tweaking.
The numerous LEDs protruding from the panel are at the exactly same height (yes, yes … such little details are important) and the type of lettering used is – like the straightforward signal-routing layout – very reminiscent of the Minimoog: clear, sufficiently large, easy to read. The rear sockets are solid (partly screwed to the housing, for extra stability), and and and.
In short: hardware and layout can be described as precise, concise and sufficiently generously dimensioned. They convey a feeling of professionalism and reliability. And they provide tactile and visual pleasure.
[Our Pro 3 has two potentiometers that under the hand feel as if they were not entirely in order. This just in passing. We are immensely satisfied with the instrument. No need for complaints.]
Intuitive Handling
In addition to the high-quality hardware and the good sound (we'll come to that later), it is above all the user interface that decides on the final "go" or "no-go" of an instrument. Dave Smith, a specialist in this area, got straight to the point himself:
"We've designed the Pro 3 to be as easy to use as possible. Its essential controls are within easy reach on its front panel, so don't hesitate to dive in and start turning knobs and pressing buttons."
(Pro 3 User's Guide, page 14)
Sounds can be programmed quickly and intuitively on the panel, which means that the basic operation of the Pro 3 is simple. And if you're looking for a deeper level of csound programming, delve in the world of modulations / extras / sequencer details via the display and its well-organized menues. Even at this level, the Pro 3 interface is highly intuitively, with its logical, clear and understandable structure. The "digital detours" are small and inhibit the creative "analog work flow" only minimally.
Another, additional aspect of user-friendliness is the manual. A real book (!) made of paper – not just a PDF. Something that can't be taken for granted in 2020. First, it's positive that it exists at all. Second, it's positive that it's excellently structured and clearly written in the good old style of a synthesizer "handbook". It comes with reasonable font size, with little ideas of how to get special results in sound design (Karplus-Strong effect, to name one), with additional side-information and helpful graphics. Excellent.
Pro 3 Features
2 VCOs
1 Wavetable / Supersaw Oscillator
Audio Mixer (Osc 1 / 2 / 3, Audio In, Noise)
3 VCFs (selectable alternatively)
4 Hüllkurven (Filter, Amp, 2x Aux)
3 LFOs


x

Modulationsmatrix with 32 slots (!),
46 sources and 171 destinations
Digital effect section (2 effects per sound)
Analog Distortion and Tuned Feedback
Step-Sequencer
Arpeggiator


x

MIDI (In / Out 1 / Out 2 / Thru), USB
4x CV In, 4x CV Out, 1x Gate Out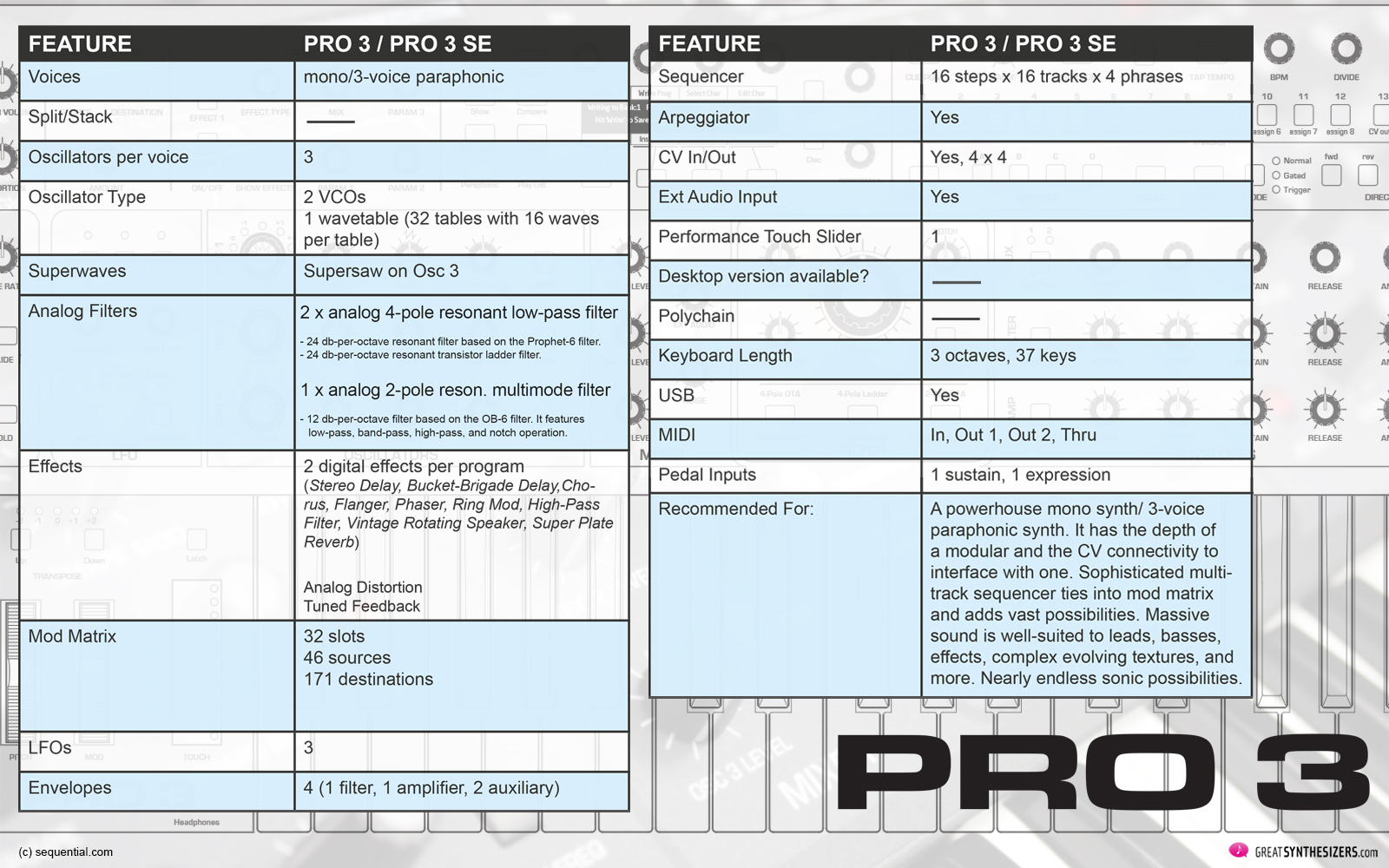 Audio In (with envelope follower)
Expression Pedal In
Sustain Pedal In


x

37-note keyboard with velocity / aftertouch
Monophonic or paraphonic mode
64 Keyboard Scalings
2x Wheels / 1x Performance Slider
Portamenteo (Glide)


x

1024 Sounds (512 Factory / 512 User)
This is a massive array of technical features! But in the end, it's nothing but a long data list, an exceptional factsheet. The crucial point is that Sequential succeeded in creating an easy-to-use pro-synthesizer, an intuitively-to-operate musical instrument all around this myriad of functions and possibilities. Which means that the many possibilities go hand in hand with convenient operation, which, in fact, is the most vital feature of the Pro 3 synthesizer.
Anyhow, let's have a look at some of the instrument's …
… special Specialities
LFOs
3 main LFOs + Osc 3 as an additional LFO (if desired).
Frequency range of the main LFOs goes from 0.22 Hz to 500 Hz.
Triangle, ascending / descending sawtooth, pulse, random.
SLEW RATE – programmable mod amount phase.
PHASE – adjustable polarization of the waveforms.
FREE Run or WAVE RESET (Keyboard Triggering) of the LFOs.
Oscillators
Continuously variable waveshapes (SHAPE) is great! For fine sound nuances and waveform mixes that are may slightly differ from those basic (main stream) analog waveforms. Even more valuable and flexible in connection with SHAPE MODulation.
Wavetable and Supersaw Oscillator No. 3. The Pro 3 combination of 2 analog + 1 digital oscillator(s) reminds us a little of the Waldorf Blofeld / Studiologic Sledge concept … even though the Pro 3 comes with "real" analog oscillators VCO 1/2 (as opposed to virtual-analog oscillators), which is a big PLUS, of course. Anyhow, Oscillator 3 – the one we're talking about right now – is the digital companion that offers 32 Wavetables with 16 Waveforms each.


x


Ok, ok … we see that Wavetables are by no means new, but the interesting fact is that Oscillator 3 can be used in low frequency mode. So you've got a Wavetable-LFO here, which is quite spooky, since its modulation results are far beyond that of any regular LFO.
Filter
4-Pole OTA: 24dB LowPass 1 VCF (self-oscillation possible),
4-Pole Ladder: 24dB LowPass 2 VCF (self-oscillation possible),
2-Pole OTA: 12dB MultiMode VCF (no self-oscillation).


x

The 12dB MultiMode VCF offers LowPass, BandPass, HighPass and Notch. One of its benefits is that – at higher resonance settings – the sound hardly thins out in the bass range. This phenomenon is well-known from vintage Oberheim synthesizers and since the 12dB MultiMode VCF actually comes from the OB-6, it is no surprise to be found here as part of the Pro 3 as well.


x

To minimize the effect of the thinning bass range in the classic 24dB LowPass category, there is a dedicated Ladder Resonance Comp(ensation) function that can be activated in LowPass 2 VCF mode.
Envelopes
4 envelopes in total
The two main ADSR have a useful VELocity button for quick activation / deactivation of key dynamics.
DELAY and a LOOP are additional envelope parameters accessible via the display / menues.
Too wild? The modulation corner …
Although the Pro 3 is by no means a modular synthesizer in the strict sense of the word, is comes remearkably close to the modulation possibilities of a full-blown modular system.
So what about the modulation corner in detail? Too wild? Yes … no, well: Of course not. The modulation area is by no means too wild. Those countless numbers of sources and destinations may seem frightening at first, but this is put into perspective quickly on closer inspection.
The 46 modulation sources include – among other sources – all 16 tracks of the step sequencer and Audio-In and Audio-Out!
The 171 modulation destinations include all note tracks (32 in total: MIDI 1 note Chn 1-16/MIDI 2 note Chn 1-16), 32 MIDI-CC tracks, and the modulation amount of each of the 32 "Modulation Slots".
The rest – approx. 60 parameters – are signal path / synth part / Fx part destinations, which is still an impressive basis for in-depth sound-programming.
Some mod destination highlights: Drive, distortion, VCF resonance, panning, and – very nice – SV LP-N-HP and SV-Norm-BP. The latter means that the wonderful State Variable (Oberheim) Filter is now capable of filter morphing – something that owners of the original SEM module have been waiting for decades.
Performance, Performance, Per …
Let's be honest: Talking of monophonic analog synthesizers in 2020, we have to admit that we live in a near-to-perfect* era. Immensely versatile instruments with strong sounds are on the market, with fabulous modulation- and performance-options, high-quality hardware … and quite often at the very best price. What more could one wish for?
[* Most vintage synthesizers have an iconic sound with a distinctive character of its own. A character which is hard, if not impossible, to duplicate. Most modern analog synthesizers – using SMD technology – certainly have a rich and versatile sound, but miss – to some degree – that extra portion of depth, warmth and dynamics that makes vintage synths so irrestistible.]
The Sequential Pro 3 / Pro 3 SE, however, is one those near-to-perfect modern analog (hybrid) synthesizers. It convinces the user not only with its extensive tonal expression possibilities, but also with its performance options.
Let's take, for example, the onboard sequencer. It's not just an ordinary step-recorder, it is one of the most brilliant step sequencers to be found on a modern analog monophonic synth. [Not to mention the Arturia MatrixBrute, which is in a class of its own, of course.]
First: A Step-Sequencer for Beginners
Specifying the Pro 3 sequencer as a "brilliant" step-sequencer, we want to focus on its user-friendlyness first. This tool is (basically) almost as fool-proof to operate as the extremely simple 2×20 step-recorder of the Pro-One.
Sequences are recorded as follows: press RECORD and play a few notes on the keyboard. Right after the 16th note, the recording stops automatically, you got your first SEQUENCE (A).
Press PLAY and perform your small phrase – transpose it in realtime via the keyboard, while tweaking a few knobs here and there and thus delving into an easy, creative workflow. For rhythmic variations, individual steps can be deactivated on the fly. Let your Sequence (A) downsize and grow in correspndence to the music!
Each SEQUENCE may contain up to 16 (!) TRACKS. Track 1 is – obviously – the pitch track. Velocity is recorded simultaneously along with your playing (whether you want it or not). If you "don't" need velocity, simply deactivate the two VEL (ocity) buttons next to the filter envelope / amplifier envelope – done. It's that easy.
Track 2 contains the note lengths, DURATION, followed by tracks for RATCHET, CUTOFF, ASSIGN 1 – 8 etc. This all means that sequences can be deadly simple (a plain note track with or without velocity), or can be worked out increasingly complex.
Sequencer pages on the display provide visual support for in-depth programming, but even with that digital support, the overall Pro 3 sequencer remains simple and downright intuitive.
Second: A Step-Sequencer for Advanced
That simple SEQUENCE is just the beginning of the story. Repeat the procedure for SEQUENCE B, C, and D. During playback, the individual phrases can be selected in real time. Combine them to a long 64-step pattern in any variation (A-B-C-D / A-C-D-B / B-A-C-D, …) or to any step-combination between, let's say, 1 and 64. Sequences can be less than 16 steps long – just stop your recording after the 11th, or the 9th step, etc. And there you go: Sequ A (11 steps), Sequ B (9 steps), Sequ C (16 steps) and Sequ D (5 steps) – combine those sequences with other patterns in your studio setup and you're right into MINIMAL MUSIC (or Berlin School) within seconds. Couldn't be much easier.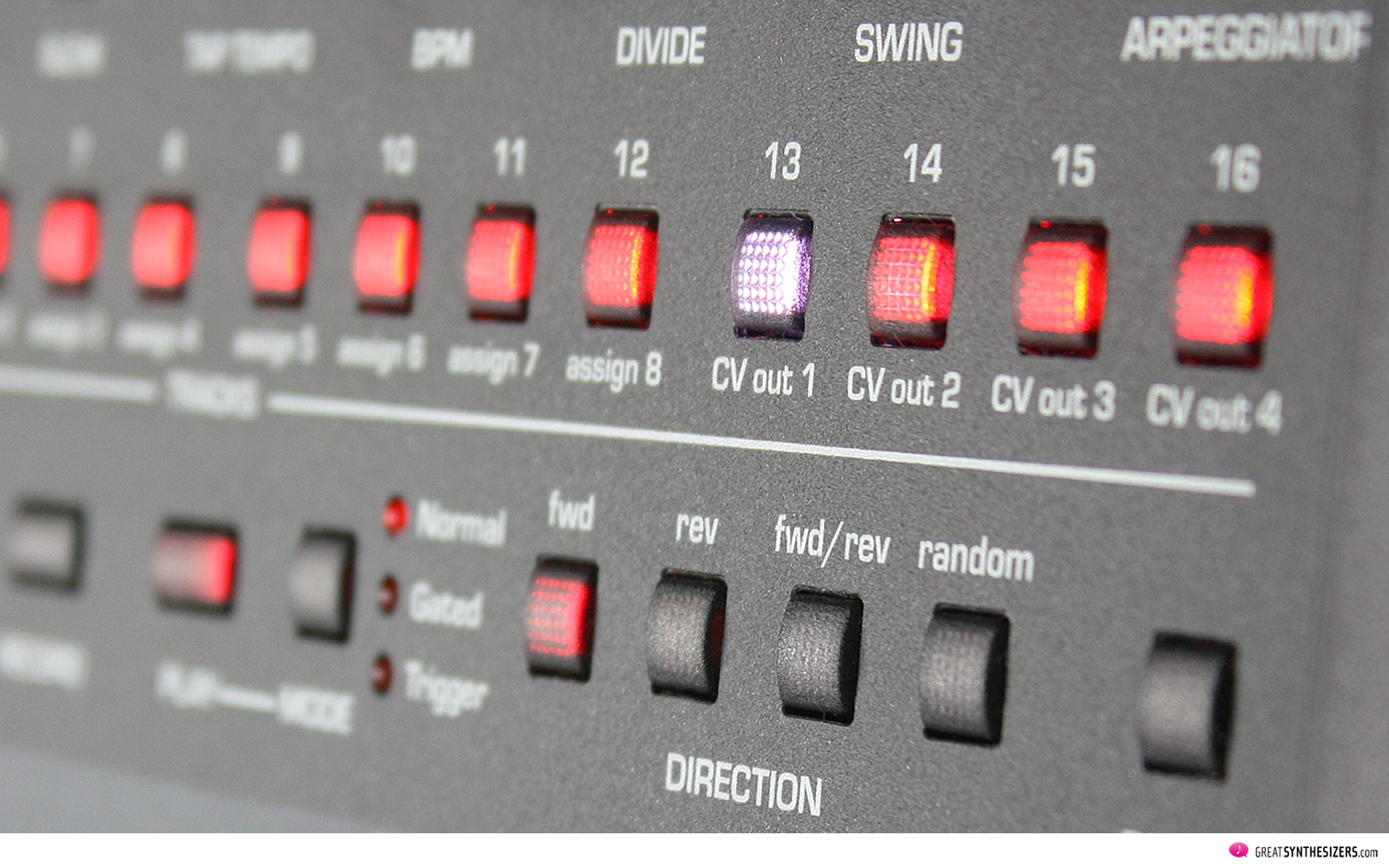 Vary the play back DIRECTION (Forward, Reverse, FWD / REV, Random), insert breaks, delete them again, adjust a knob here, push a button there, press RESET (the currently active sequence jumps back to step 1), choose once more a different DIRECTION, vary the DURATION of single steps, and so on … Performing the Pro 3 sequencer can be an endless creative process with a multitude of features.
The sequencer story is still not over, though. SWING factor, SLEW (glide), SEQU LOCK (the sequence continues playing while you select new sounds), paraphonic sequences, different playback sources (external modules / CV sources instead of the keyboard, …), clock divide parameters, and so on and so on*.
[* Just in case you need some inspiration: All factory programs have a sequence associated with them. Recall a program and press the Sequencer's play button to hear its associated sequence. Great ideas to be found here.]
Arpeggiator, Slider (Touch) and more …
Finally, there are all those sync- and modulation-options: Link the sequencer to the LFOs, to the Arpeggiator, or to MIDI. Use any (or all) of your 16 TRACKS as a modulations source in the MODULATION MATRIX. What about CV control of an envelope attack time, of the LFO speed, of the wavetable you're working with? The Pro 3 Sequencer not only has 16 tracks and 4 linkable 16-step phrases (A, B ,C, D) for creating repeating patterns of notes, but also for 3-note chords in paraphonic mode.
The PITCH / MOD / TOUCH unit to the left of the keyboard is another source of joyful musical performances. It enables …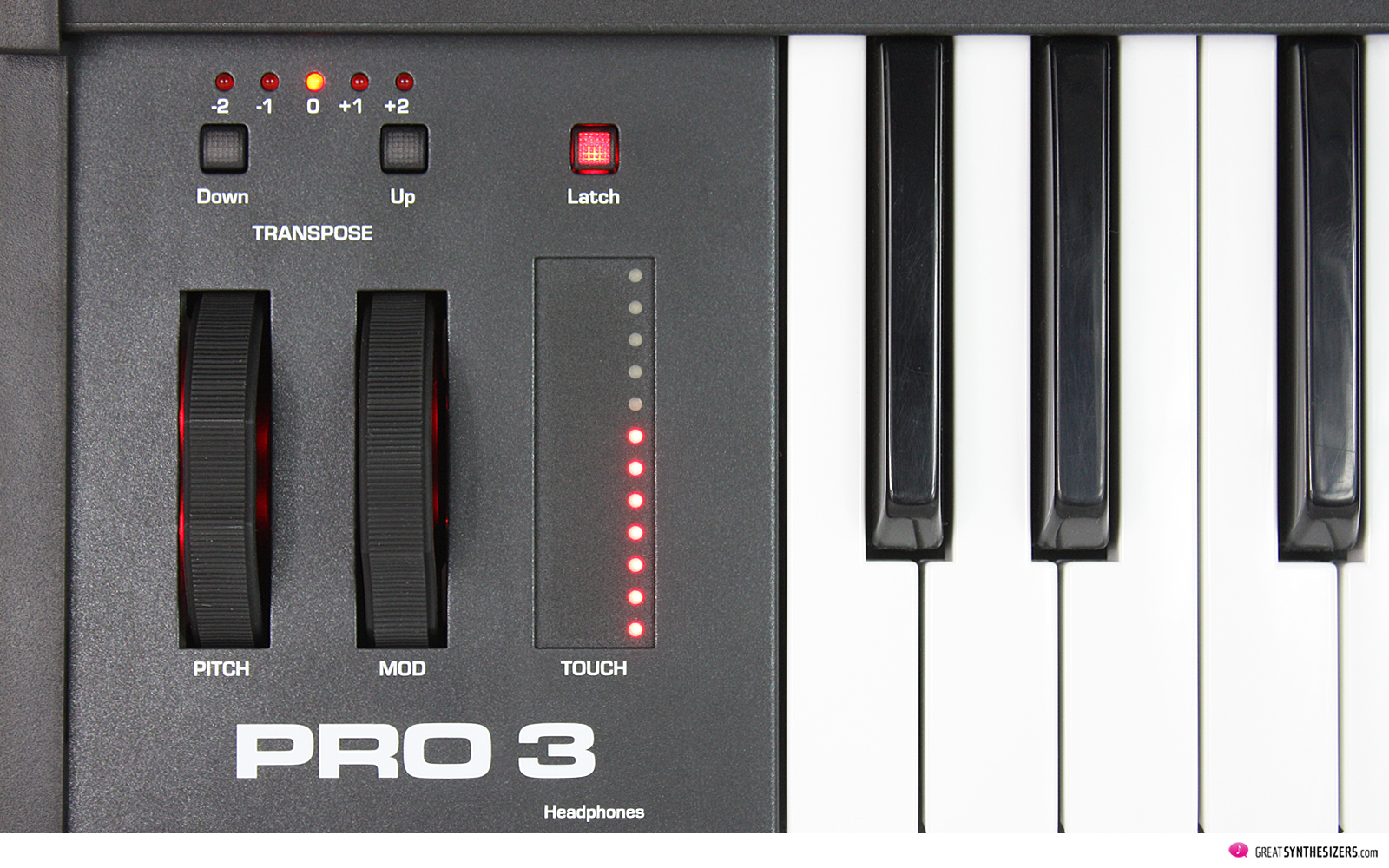 … "real-time" sample & hold effects on the filter frequency ("play" the touch slider with your fingers), "freeze" the VCF frequency at a certain value (latch) … to spontaneously play / the running sequences / the keyboard to move up / down (transpose) … and to incorporate the hodgepodge of musical activity with pitch bend movements (up to +12 / – 24 semitone steps) and modulation wheel performances (freely assignable to one or more targets). As you can see, there is a lot of practical know-how in this instrument.
But of course: none (or little) of it is actually new. Slider has been around since the late 1960s. Step sequencer as well. Wheels since the introduction of the Minimoog at the latest. But the art of the balanced synthesizer concept is to get the right dose. Not to leave out any function, nothing to exaggerate, always keep an eye on intuition and the workflow.
So it is clear that Dave Smith is behind the Pro 3. Not a no-name marketing manager in office XY with cost-efficiency tables and client research presentations under his arm, no, Dave Smith, the technician from the very beginning, the musician (bassist), the tinkerer.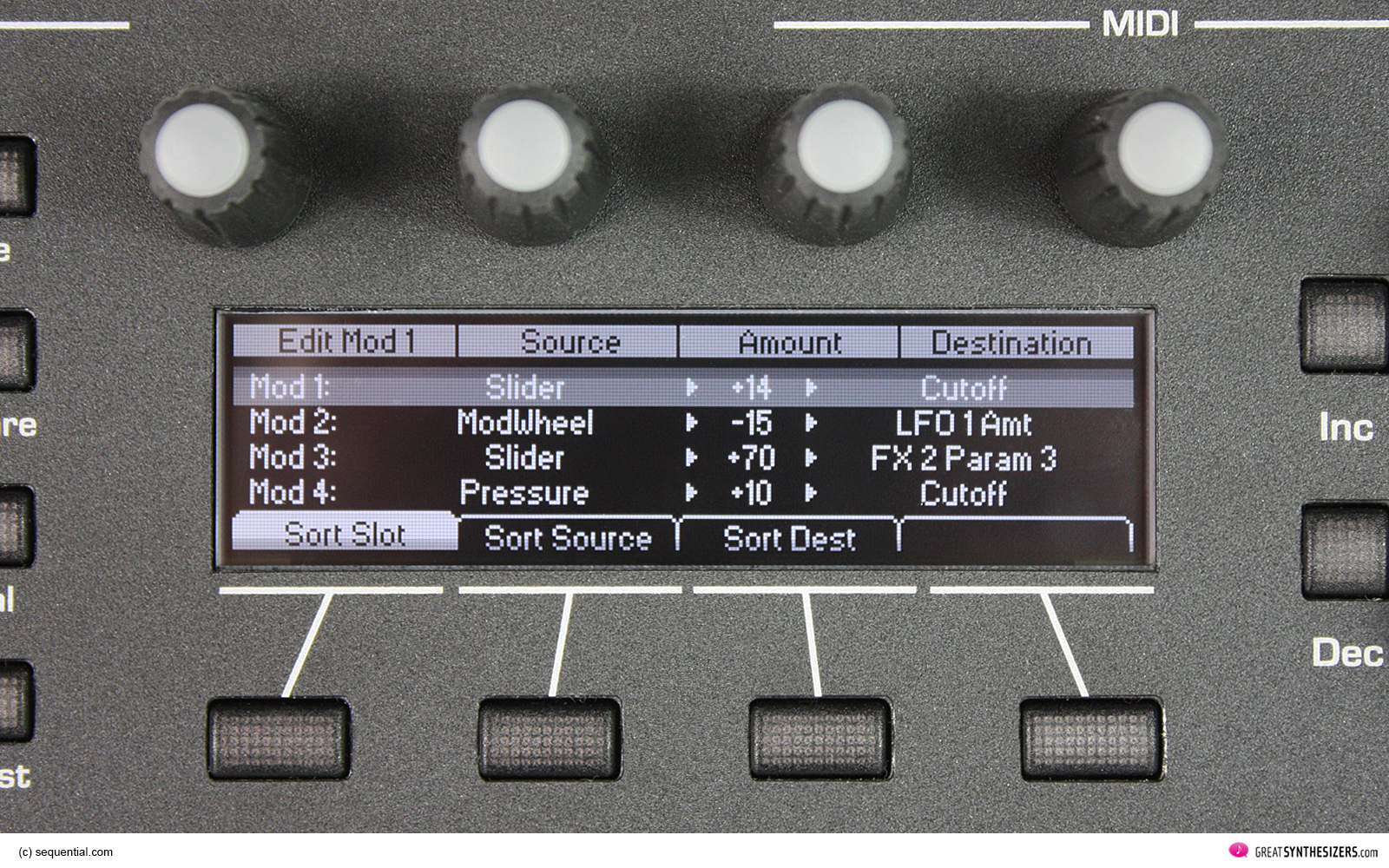 What he succeeded in 1981 – his Pro-One was a real sensation and with around 10,000 copies produced it was the quantitatively most successful sequential synthesizer – now seems to have succeeded again with the Pro 3. Remarkable!
CV, Eurorack and a missing …?
In addition to all the performance glory, there is the double MIDI-Out (the sequencer can be used to control a considerable part of the surrounding synthesizer equipment), as well as the fourfold (!) CV inputs and outputs. So that the Eurorack world / modular world / the new ARP 2600FS (or another synthesizer with CV / Gate) can benefit from the convenience of the Pro 3 Performances.
Or vice versa: add another external LFO, integrate external analog sequencer tracks, use external VCOs as modulation sources … just connect it to CV-IN and the new sources are available in the modulation matrix of the Pro 3. Fine.
Not to mention the gate output. A wonderful thing. But that brings us to one (of two) small points of criticism about the Sequential Pro 3 / Pro 3 SE. The gate output literally calls for a gate input. Which is just not there. Too bad.
The fast CV / Gate coupling for exclusively analog control of the Pro 3 is therefore not possible. Perhaps via a detour, to some extent, but not directly … Connect the Doepfer A-155 sequencer and let the Pro 3 jam … nothing, nada. [An admittedly bad example, since the internal Pro 3 sequencer itself is excellent in this regard, and no external help is required.]
Whatever. GATE IN would definitely have made the Pro 3 perfect. That leaves only the mentioned detour … Audio IN can generate ATTACK / RELEASE via envelope follower (value IN GATE TRESHhold) … well, if you experiment here, the (analog) gate can possibly be generated. However, it is not the same as a dedicated GATE IN connection.
Second minimal – definitely "very minor" – point of criticism. We would have highlighted the amount controls of the envelopes in color from the rest of the ADSR potentiometers (or made a vertical dividing line to clearly separate the ADSR package).
Why why? For the simple reason that – when it comes to envelopes – you inevitably operate the last knob as soon as it affects the release. In this case, however, things are wrong, because the said control is Envelope Amount. Release is the penultimate position of the happy parade. The same in green applies to sustain – not the penultimate control, but the third from last.
Not a real problem, of course, it's just a nuance of the (at this point, exceptionally slightly clearer) user interface.
The Sound
Powerful. Versatile. Analog / hybrid. The SOUND of the Pro 3 has countless faces. The array of oscillators / filters / envelopes / LFOs … speaks for itself and provides an extremely solid sound basis.
Details such as waveform shaping, filter morphing (SVF), voltage-controllable attack / decay times, tunable feedback, etc. expand the sound palette into the finely nuanced or highly experimental area, which of course revolves around the modulation matrix with its 32 "slots "really comes into its own.
At this point I would like to point out that the Pro 3 is sometimes referred to as a modern modular synthesizer. The terms get mixed up a little, because the Pro 3 is basically a mono / paraphonic synthesizer with an unchangeable signal path, but with a comprehensive modulation matrix. In this sense, it would be better described as a "unanimous" Oberheim Xpander / Matrix-12 (with a changed filter design), which is of course an award per se.
Comparison Pro 3 < > Pro-One
We didn't miss the opportunity to recreate the hyper-cool sequencer sounds (and sequences) of a Pro-One on the Pro 3. Which has succeeded to a great extent. The last bit of analogue warmth, analogue punches are withheld from the Pro-One, but … my goodness, we're at a very (very) high level here.
In any case, the Pro 3 sounds excellent and only has to make small "compromises". That's the hard one! Envelope ZAPP! with the Pro-One a bit harder (sharper, faster), the bulbous bass a bit more bulbous (more comfortable, rounder). But then …?
Well, the Pro 3 immediately counteracts it and trumps with its (many) filter types, with its 3 LFOs, with its 32 modulation slots, with its wavetables (extended sound spectrum), with its more-than-ingenious step sequencer … So: the comparison is over. The Pro 3 is an excellent sounding instrument!

Extras and Utilities
Small notes on the not-quite-obvious subtleties of the Pro 3:
Basic Program
With this "command" new sounds can be programmed from scratch, which is an absolute must, especially in view of the (at times) considerable complexity of the Pro 3 Factory sounds. Sequential offers the BASIC PROGRAM for this.
It essentially consists of a sawtooth VCO with maximum filter opening and simple envelope settings. Just enough for the user to find a simple, easily audible "basic sound" – and from this point to go their own way of sound design. One of the audio samples "Basic PRG RumGeNoodle" is dedicated to this topic – the (simple) structure of a sound from scratch.
The BASIC PROGRAM can be found in the GLOBAL SETTINGS at number 45 and can also be called up via shortcut (Transpose Down + Latch) – as shown in the graphic above.
Wavetable Generator
Sequential has recently added some extra wavetable options to Osc 3. Users can now generate their own wavetables and share thhe (if desired) with other Pro 3 owners on the Sequential platform).
"Sequential's web-based utility Wavetable Generator allows users to convert up to 16 single-cycle waves into a Pro 3 compatible wavetable and load it into any of the 32 user wavetable slots on the synth. This significantly expands the sound palette of the instrument."
Scales and Play Lists
There are 64 SCALES to choose from. It's worth experimenting – micro-tonality as an example! The PLAY LISTS allows the compilation of "favorites", frequently used sounds, which, especially during live performances, significantly accelerates the practice of making music on the Pro 3 / Pro 3 SE.
Stereo and (Double) Mono
Basically, the sound of the Pro 3 is output via a stereo output pair (with panning, stereo effects, …). If you now select the mono operating mode, stand – not bad either! – Both sockets are available with mono signal. For parallel external use of the two paths (1x original sound and 1x via Roland Space Echo, analog Boss Chorus or otherwise refined), just as an example …
In a Nutshell
Dave Smith has succeeded – once again – in creating a real synthesizer classic. In terms of pure analog sound, the Pro 3 comes quite close to its famous ancestor Pro-One. Above and beyond its vintage character, whole new vistas of sonic and performance possibilities open up. The Pro 3 is an outstandingly versatile musical instrument that not only invites you to tinker with analog / hybrid sounds in the studio, but – sequencer! arpeggiator! – live on stage as well.
Anyhow, high-quality sounds and tantalizing performance options are just one side of the coin. Excellent hardware is another! And thanks to its CV outputs (and inputs), the Pro 3 / Pro 3 SE is an ideal master keyboard in the world of Eurorack modulars.
Finally, to the crux of the matter. The Sequential Pro 3 represents a remarkable symbiosis of technical / musical details and user-friendly / performance-orientated operation. All packed in one superior-sounding and easy-to-use music instrument.
In summary, the Sequential Pro 3 / Pro 3 SE is an all-round synthesizer with a strong, versatile analog / hybrid sound, with extensive options for (live) performance and in-depth sound-design, and – the icing on the cake! – with a remarkably intuitive user interface.
Highly recommendable.
---
x
40 minutes of audio files are added, almost exclusively from the Sequential Pro 3. Most drum sounds derive from the neat Korg Monotribe, and both the Oberheim OB-8 and the Roland Jupiter-80 add a bit of polyphonic flair (plus the one or other lead sound).
Sequential Pro 3 / Pro 3 SE
Monophonic/Paraphonic Analog/Hybrid-Synthesizer
with 3 Oscillators and Step-Sequencer/Arpeggiator
Prices:
(10/2023)
Sequential Pro 3
67.7 cm x 33.8 cm x 12.5 cm / 7.25 kg
approx. 1,999 USD / 1,999 Euros
Sequential Pro 3 SE
68.6 cm x 37 cm x 12.8 cm / 12.25 kg
approx. 2,199 USD / 2,299 Euros
Link:
www.sequential.com
Test Report / Comparison:
Sequential Pro-One – best vintage monophonic?
Video / Demo (Sequential):