Let's start with some good, sound advice. For free. "Recommendations from close friends should NOT NECESSARILY be ignored." This could greatly highten the quality of life for those of you who otherwise always do what they are told.
Obviously, I'm not one of those obedient guys. Three years ago, a friend told me "Go and buy a Waldorf Streichfett" – so, of course, I didn't. And spent three empty years without those glorious fully polyphonic choirs and zippy string pads that I had refused access to my studio.
x

x
Why didn't my intuition kick in way back then? That tip had come from a very good friend – let's just call him Steven – who is not only a synth-specialist, but an excellent musician as well.
Meaning, it wasn't until the beginning of 2018 that I got smart and humble. Now I call a Streichfett one of my own. And finally, those glorious fully polyphonic choirs and zippy string pads joyfully bounce off my studio walls.
x

x
What brought about this change of mind?
A short recapitulation. Two years of steadfastly ignoring perfectly good advice left its mark on me. I was secretly unhappy. In the end, the real persuador was a sound-idea that I couldn't get out of my head.
A sound-idea with very promising perspectives: Combining a Waldorf Streichfett with another instrument, a vintage synthesizer with MIDI. That would do it: Unlimited – if digital – polyphony "with the charme of a string-machine" combined with the warmth of a real analog polyphonic synthesizer.
x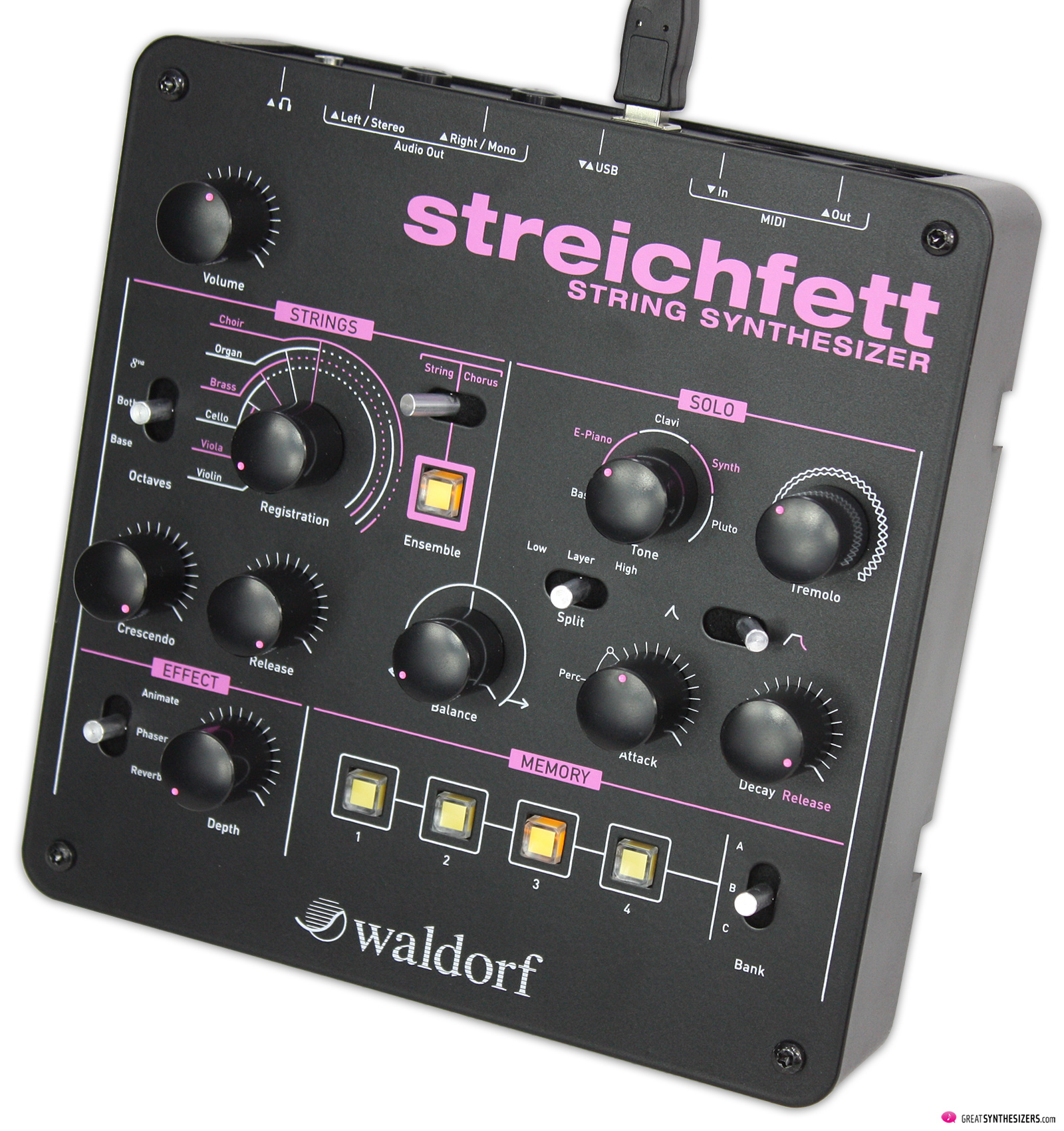 x
For a mere 250 Euros, Streichfett found its way into my studio.
Paired with my Elka Synthex, the Waldorf synth became part of a dream-team: Streichfett strings/choirs mix gracefully with Synthex strings, filter sweeps and PWM sounds. That extra pinch of something in the myriad of (layered) sound: I'd call it Waldorf Streichfett "PLUS".
In addition to great sound, the non-velocity Synthex keyboard comes close to the original Streichfett idea of replicating vintage string-machines. Simply Note-On/Note-Off, and that's it. Not even pitchbend- or modulation wheel-information via MIDI, nothing.
x
x
What really saved the day, admittedly, was the outstanding Synthex step-sequencer. The perfect glue for many a musical performance.
Whereby, there are other paths to such unusual sound performances (basic Streichfett MIDI-controlling plus the addition of real analog sounds): Next to the Elka Synthex (with MIDI) the Memorymoog Plus, Oberheim OB-8, Roland Jupiter-6 and other (analog) polysynths with MIDI can also do the job.
And yes, the external processing of Streichfett's audio signal would also be worth discussing. Curious? See "Tip of the day" below …
Doing more with less
The specifics of Streichfett are quickly listed:
Sound module for polyphonic vintage sounds
with focus on strings and choirs
STRINGS: 128-voice polyphony
– Strings (Violin, Viola, Cello)
– Brass
– Organ
– Choir
SOLO: 8-voice polyphony
– Bass
– E-Piano
– Clavi(net)
– Synth(esizer)
– Pluto (?)
Effects
– Animator
– Phase
– Reverb
12 Memories
Stereo Audio Out
Headphones Out
MIDI, USB
STRINGS – double octaves and morphing

The STRINGS sounds can be set to Base / 8va / Both (base tone + doubled at the octave). Attack- and releasetime can be adjusted to a wide range.
And not to forget: one twist of the REGISTRATION knob morphs from one sound to another (from violin to cello to organ to choir, etc.).
An optional chorus-effect (ENSEMBLE) with 3 modes brings you the typical shimmering stringsound-character of the late 70s / early 80s.
SOLO – tremolo STEREO effect

SOLO sounds can be layered over STRINGS or split via keyboard (for that classic string-solosound-combination). Two envelope-parameters-knobs (attack and decay/release) yeeld important (and necessary) sound design options. Also worth mentioning, of course, the TREMOLO effect, resulting in a classic stereo-sound image.
Balance
This mixes the signals of the Strings- and Solo-section. The far left position selects Strings only, while on the far right only the Solo section is audible. In the middle position, both Strings and Solo are mixed with full scale.
Effects
Animator (Vibrato-LFO), Phaser and Reverb add additional life (and some vintage character) to the overall result. All three effects can be combined simultaneously.
Memories
The memory section offers twelve patches for accessing and storing sound settings. Three banks of four sounds each are available. Such a limitation in choice is really – beneficiary!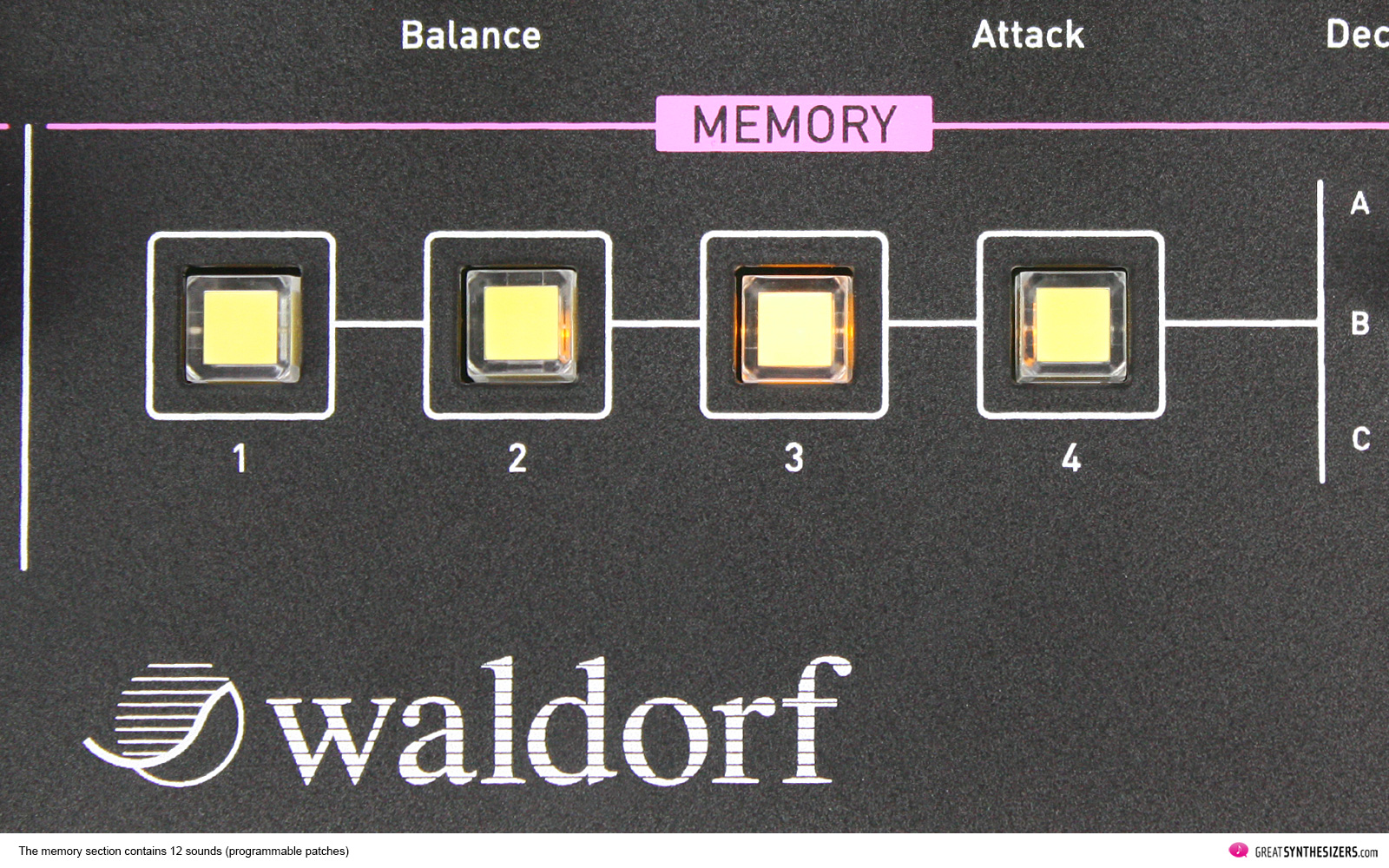 So, as we say, less is more. In this case that means that the limitation of possibilites will in no way be detrimental to your music making. Waldorf Streichfett is a real plug & play instrument. Those few knobs are good for spontaneous changes in sound. And Streichfett's massive choirs and pads are guaranteed to impress!
Those of you who are not disinclined to combine Streichfett with other synthesizers (see above) have the possibility to widen your musical realms. Its amazing polyphonic extend (128 voices) means this String Synthesizer can do magic, especially when layered with other sounds. A little David turning into Goliath in your studio.
Vintage sound with edge
Streichfett is splendid: lively, down-to-earth, eery. Frame-filling, dramatic, mysterious. The combination of octave ranges and morphing (within the STRINGS section) along with diverse effect mutations (ensemble yes/no, phaser, animator, reverb) allows for impressive non-mainstream sounds.
Whereby there's always a reduction of the reduction. That's when less than less becomes even more! Strip the STRINGS bare of the ensemble effect and they gain in ascetic character.
The SOLO sounds are absolutely practical (whereby they do not build the heart of the instrument). Mix them with STRINGS and add a hint of tremolo (stereo panorama) and you find yourself in the Streichfett's premium sound class.
But, blue ribbon or not, – there are a couple of minor limitations to be kept in mind. We're essentially talking about 2 restrictions:
First, there's that typical WALDORF edge. "Typically" digital. An external EQ can be a help here – reduction of peaks and some boosting of the bass. That should round off the Streichfett sound to your satisfaction.
Point two concerns dynamics. These don't do much! They seem to remain – independent of polyphony – at the same (uniform) level. Whether one note or a whole arsenal of sounds – the dynamic level appears to be stuck.
This, of course, is also a result of digital technology, so it's absolutely no criticism of the Streichfett itself.
Tip of the day: external sound processing
Concerning dynamics, we have a simple solution. Use an external filter to put a little life into that Streichfett sound. In our case, we used the GRP A4 stereo VCF (hear DEMO 1 …).
The first and best solution would be a Waldorf 2-Pole VCF, of course. Principally of the same construction as Streichfett, the two units form an optical and acoustical symbiosis.
Streichfett + Vocoder + Keyboard = STVC
Just a quick note: The new Waldorf STVC is essentially a Streichfett with Vocoder and Keyboard (and also including memory expansion). So, if you're enamoured of the Streichfett sound, you might take a "hear" at this alternative keyboard version.
x
My kingdom for a String-Machine
Really? Is Streichfett that good? Admittedly (and depending on your perspectives), such a deal might be worth considering. Forget all that kingdom business. A Streichfett means ascetic life style, relaxation, settling down. Slow food for the ears.
Streichfett means immediate, intuitive music making. And despite all that intuition, this String Synthesizer carries surprising variation possibilities. 21st-century reflections of the great string-machines and multi-keyboards of the late 70s and early 80s.
Charming. Vintage. Magic.
---
x
Streichfett Demo by Jürgen Driessen:
---
x
Aside from those breath-taking Streichfett strings, choirs and solo-sounds, we used Elka Synthex (for pads, filter-sweeps and sequencing), Oberheim OB-8 (for grumbling bass tones), GRP A8 (for stereo sequences), GRP A4 (for Streichfett sound processing) and Roland's TR-808 Rhythm Composer.