The bards, those "popstars" of the middle ages famous for their sonorous voices and for their poetic talents, are still widely known today. Walther von der Vogelweide and Oswald von Wolkenstein – names we all recognize (at least here in Europe).
The Vermona '14 Analogsynthesizer is a bard of modern times. A true individualist on the electronic music scene. This bard doesn't just sound, it sings! Mind you, synthesizers in the singing category are rare. Oberheim OB-1 ("exact VCO tuning") and the Moog Prodigy ("sync sounds") are among the few vintage synths in this field. Vermona Mono Lancet (and Mono Lancet '15) do sing a little. And that's about it. The rest of the synths just – sound.
Which isn't to say that the rest are mediocre instruments. But only rarely – very rarely – does a synth appear with lyrical and poetic qualities as well. The Vermona '14, for instance. (This is also a perfect arpeggio-synth, by the way.)
A few quick words about design: The instrument's blue is very noble (not always apparent in the photos) – shimmering silver, appealing. Switches, sockets, knobs: Everything harmoniously solid. The panel topped with white and black knobs. White for tone generation (VCO-MIXER-VCF-VCA), black for modulation (ENV-VCF MOD-LFO-VIBRATO) and performance (BENDER-VEL-ARP-EDIT). A logical and user-friendly layout.

Paradoxically, the '14 isn't a synth you can just pick up at your local dealer. Of course, you can ask, but you're bound to hear "sorry, sold out!" … A mere 222 units of this very refined synth are scheduled to be built. So be quick, should you want to call one of these modern bards your own.
Superiority in acousto-electrical manufacturing
Vermona's '14 Analogsynthesizer stands in a tradition going back 350 years to the days when Vogtland (at the border to the Czech Republic) was a global player in musical instrument making. Going from bowed string instruments to plucked instruments and all kinds of wind instruments, Vogtland has recently (meaning the 70s) arrived in the field of musical electronics.
Take the superb craftsmanship inherent in the beautiful parcel itself when the Vermona '14 is delivered at your doorstep. The package includes not only the synth and its power cord, but also a really well-written user's manual in German and English (linen-bound), …
… as well as a certificate of origin with the instrument's serial number (17 of 222, whatever), that customary Vermona dust cover, a microfiber dust cloth and a good old-fashioned foot switch for sustain and for arpeggio recording-mode.
This synthesizer is very well made, a solid and real instrument in the good tradition of hand-made instrument making, a rarity these days.
Features
Short and to the point. The '14 Analogsynthesizer features:
2 VCOs
2 sub-oscillators
Audio-in, noise
Cross-modulation and oscillator-synchronization
12/18/24db LowPass VCF
VCO1-to-VCF modulation
2 ADSR envelopes
2 LFOs (vibrato-LFO and a powerful main-LFO, incl. random)
Arpeggiator with "sequencer" mode / 16 memories
44-note keyboard with velocity and aftertouch
Pitchbend- and modulation-wheel
Glide and a special legato-mode
CV/Gate-out (6,3mm and 3,6mm)
Pitchbend- and modulation-wheel-CV-out (!)
Audio-out (balanced, unbalanced)
Headphones-out (again, 6,3mm and 3,6mm)
MIDI in/out/thru
USB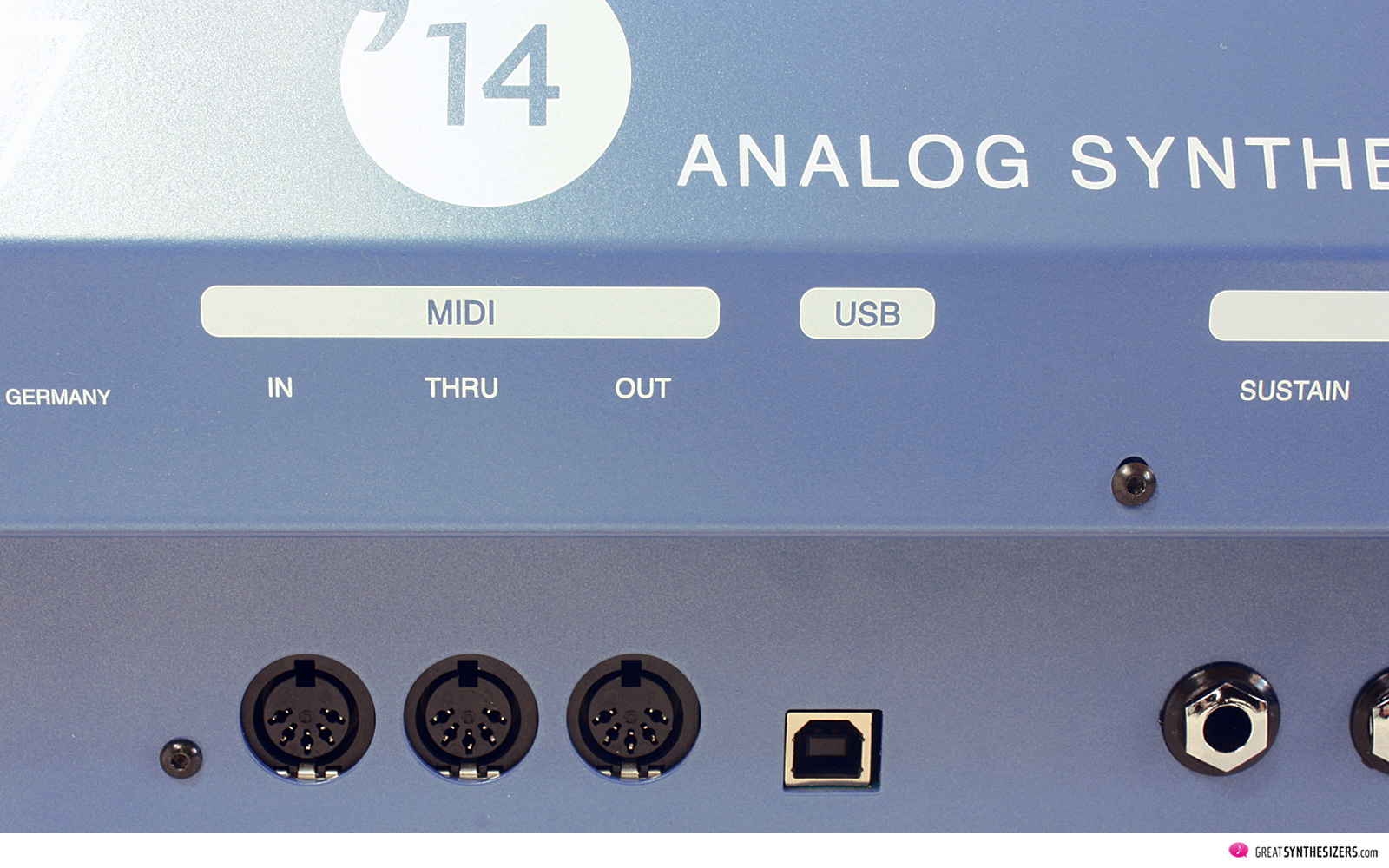 Ok, ok … many of the above-listed features are standards these days with 2-VCO analog synths. So, instead of a long table of oscillator waveforms and other specific indications, we now turn to the …
Unique aspects of the `14 Analogsynthesizer
Some of these aspects are not immediately obvious.
Let's start with the oscillators:
VCO: Wide tonal range, flexible bending
– Both VCOs can be modulated by envelope 1 (positive and negative).
– Both VCOs can be modulated by the Vibrato-LFO.
– In addition, VCO2 can be modulated by the main LFO, but also by VCO1 (cross-modulation, Osc-Sync is possible, too.
– The oscillator's octave range is limited to 16' / 8' / 4'. Anyway, there's a COARSE knob that allows extra tuning of +/- 12 semi-tones. And a FINE tune knob allows exact adjustments of oscillator beatings. AND there's an extra octave-switch (OCTAVE UP) right next to the keyboard.
– Setting the oscillator's range knob to FIX decouples the VCO from the keyboard. This allows you to sweep through the whole audio range via the COARSE knob. Great for extreme audio glides and for Theremin-like music.
– The pitchbender is programmable (2 to 12 semi-tones), so you gain an extra 2 octaves with this performance tool. All in all, the instrument's audio range is impressive.
VCF: FM-Modulation
– Filter-modulation via LFO, EG1 (plus velocity) and VCO1.
– FM-intensity of VCO1 can be set manually or dynamically (by envelope 1).
– FM-intensity of VCO1 can also be controlled by modulation-wheel and aftertouch. Powerful!
VCF: The color makes the difference
– The output level of the mixer significantly influences the sonic character of the filter (and thus the overall sound character). Which is why the '14 Analogsynthesizer is equipped with 3 LEDs (yellow, green, red), displaying the filter input level. Yellow tells you the signal is low, green stands for the "ideal" audio level, and red tells you the filter will saturate / distort.
– Each of these 3 areas (low / mid / high) results in a different filter timbre. The distorted VCF sound is extremely beautiful, even if it's to be "over the top" sometimes – raw, uncontrollable, very aggressive. Anyway – this is gorgeous analog behaviour!
VCA: Special mix of envelope- and LFO-modulation
– The amplifier can be modulated by its envelope (EG2) and – quite unusual – by the main LFO. This only works as long as the sustain level of EG2 is below 100% (otherwise there's no LFO modulation audible).
– There's an extra VCA-hold-function: select ON.
Arpeggiator: Individual "sequences" of up to 60 notes
– The '14 arpeggiator is a bold tool. It offers 16 arpeggio-modes (including random and order), AND it allows you to record your own individual arpeggio as a "sequence" (16 extra memory locations).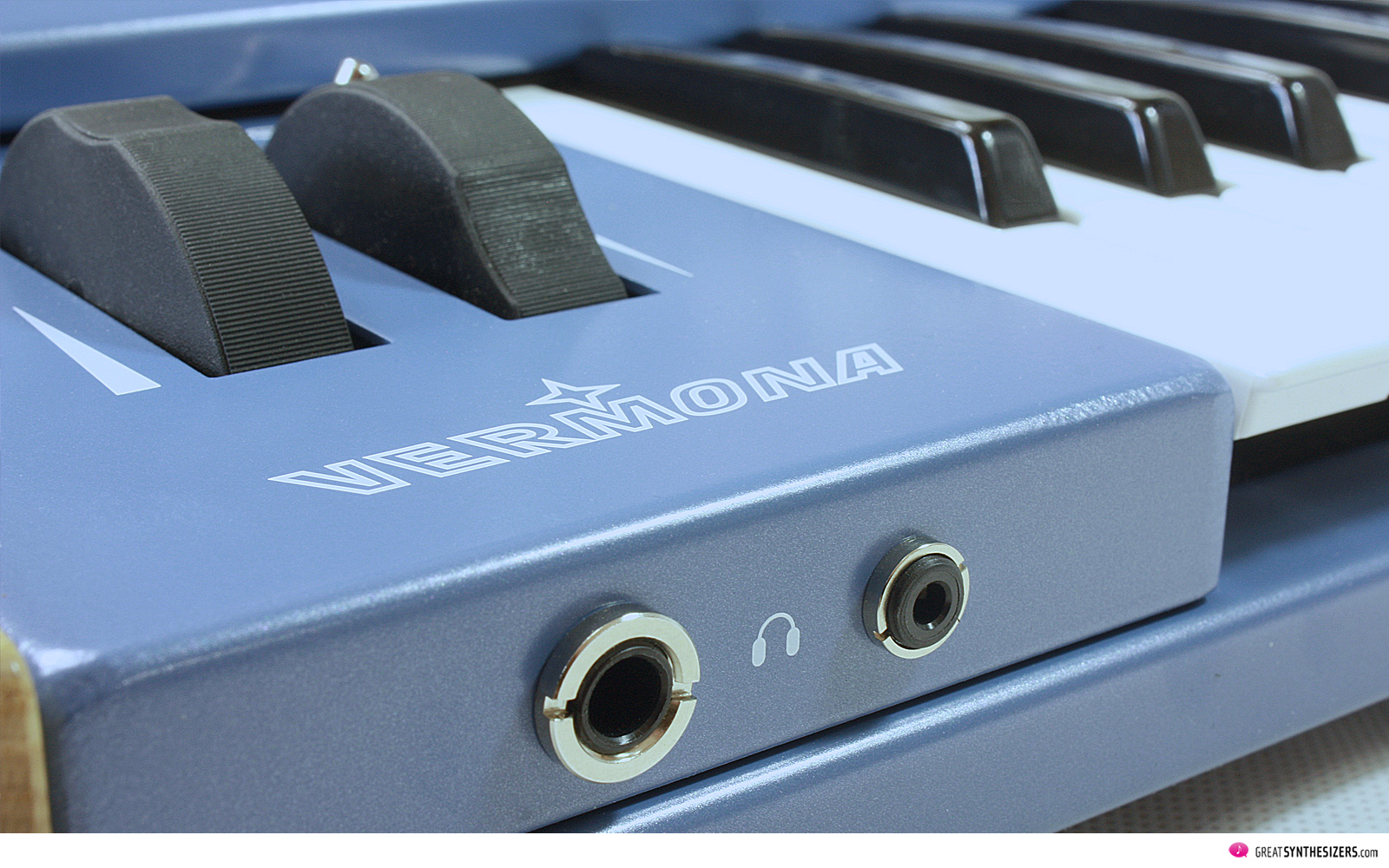 – Recording your own arpeggio / sequence is absolutely simple. Switch to ARP mode (next to the keyboard), press the sustain foot switch and enter notes on the keyboard – that's it. The arpeggio grows with every new note you hit. A single recording can hold up to 60 notes, which is not bad, really! Velocity and rests are recorded as well. The only difference to a "real" step-sequencer is the fact that you're always stuck to one of these arpeggio modes: up, down, alternating, random, whatever … as the basis of your "sequence".
– If you're not happy with your recording, simply release the foot switch and start anew.
– As soon as you're satisified with your recorded arpeggio / sequence, switch to SEQ and store the pattern in one of 16 memory locations. Once the pattern is saved, it can be repeated and transposed at will via the entire keyboard.
– Two aspects make the arpeggios / sequences particularly exciting: Playback of all recorded velocity data on the one hand, and special GATE presets on the other. Those GATE presets range from 20 % (snappy) to 100% (legato) note length to random mode (each note of the sequence has a random GATE time between 20 and 100 %). Great stuff!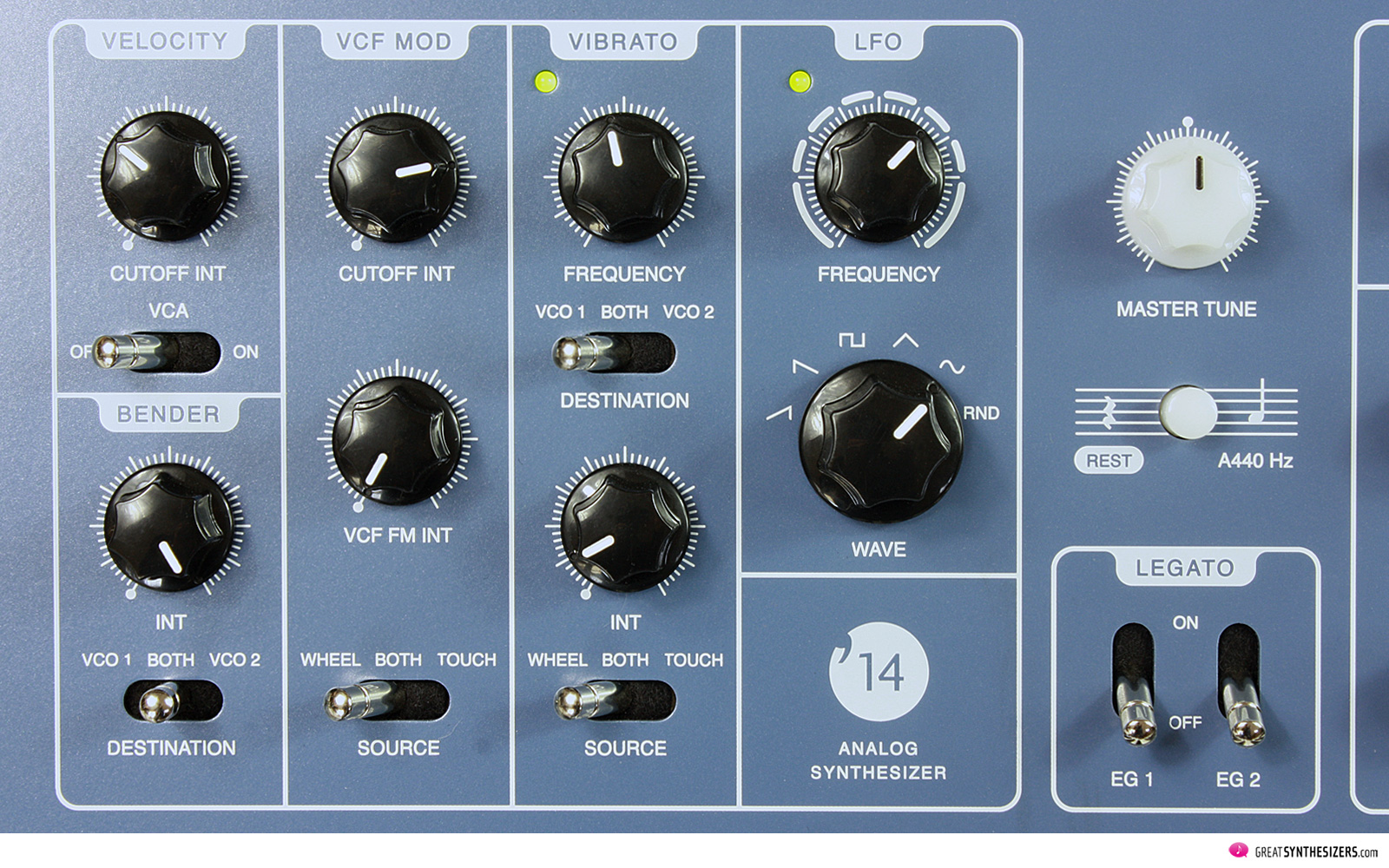 – Various arpeggio CLOCK options: an internal master clock (enter tempo via the tap-button), as well as the main-LFO or and an external MIDI clock (in which case there's an extra clock division option).
– Arpeggios/sequences are outputted via the CV/Gate port and – if desired – via MIDI as well.
LFO: Clock division extras
– Similar to the arpeggiator, the LFO can be synced to the internal master clock and to MIDI. Again, there's a clock division option … to set LFO speed half-time or double-speed in relation to the selected clock source.
– Frequency of both the vibrato-LFO and main-LFO is 0,05 Hz (20 seconds!) up to 100 Hz!
CV/Gate and MIDI: The '14 as your masterkeyboard
– Good CV/Gate and MIDI masterkeyboard functions ensure unique support for your analog / digital synth studio.
– Let's start with the analog part. The '14 Analogsynthesizer sends keyboard data as analog voltage. In this way, it is possible to control modular systems (including Eurorack systems!) and other analog synthesizers directly from this synth.
– The doubled CV/Gate outputs (both small and big jacks) are stereo-jacks. Along with keyboard data, they also transmit pitchwheel- / modulationwheel-voltages (have a look at the graphic below). Thus, the '14 becomes a full (analog) masterkeyboard.
– LOCAL OFF: the '14 keyboard can be decoupled from the internal sound engine. This way, the '14 is able to receive MIDI notes from an external source (computer, sequencer, …), while the remaining '14 keyboard can be used as a polyphonic (!) masterkeyboard for other external MIDI synths.
Musically speaking …
The '14 Analogsynthesizer is probably one of the most remarkable instruments being built today. It can't do "everything" (we could suggest a few modest improvements), but what it does, it does 100%.
This "Full Mounty" starts with the sound itself. The '14's sound is honest through and through. Neither are there internal effects, nor bombastic extras. Instead, we have a solid VCO-VCF-VCA signal path and a single mono-out. And yet, this synth definitely ones-up all competition, singing like no other analog synth on the market.
What exactly does this mean?
Leadsounds are of the very best. They profit not only from a myriad of tone colors mixable with 2 VCOs, 2 sub-oscillators, an external audio signal and noise …
… they also guarantee vibrant lively playing, thanks to great keyboard action (velocity, aftertouch) and detailed performance features (modulation-wheel-to-VCF, separate vibrato-LFO, cross modulation, etc.).
A real booster guaranteeing those expressive lead sounds is the fact that the special LEGATO mode can activate envelope 1 and 2, depending on your type of playing. Tight notes (legato, of course) follow the envelope-shape until fade-out. This enables accentuated solo passages (portato – each note triggers the envelopes) and legato fade-outs. Brio pure!
'14 Analogsynthesizer has bass-sounds to strike fear into the hearts of other, wannabe analog synths. Thanks to the 2 sub-oscillators and to fine beating adjustments, this synth really gets down to business.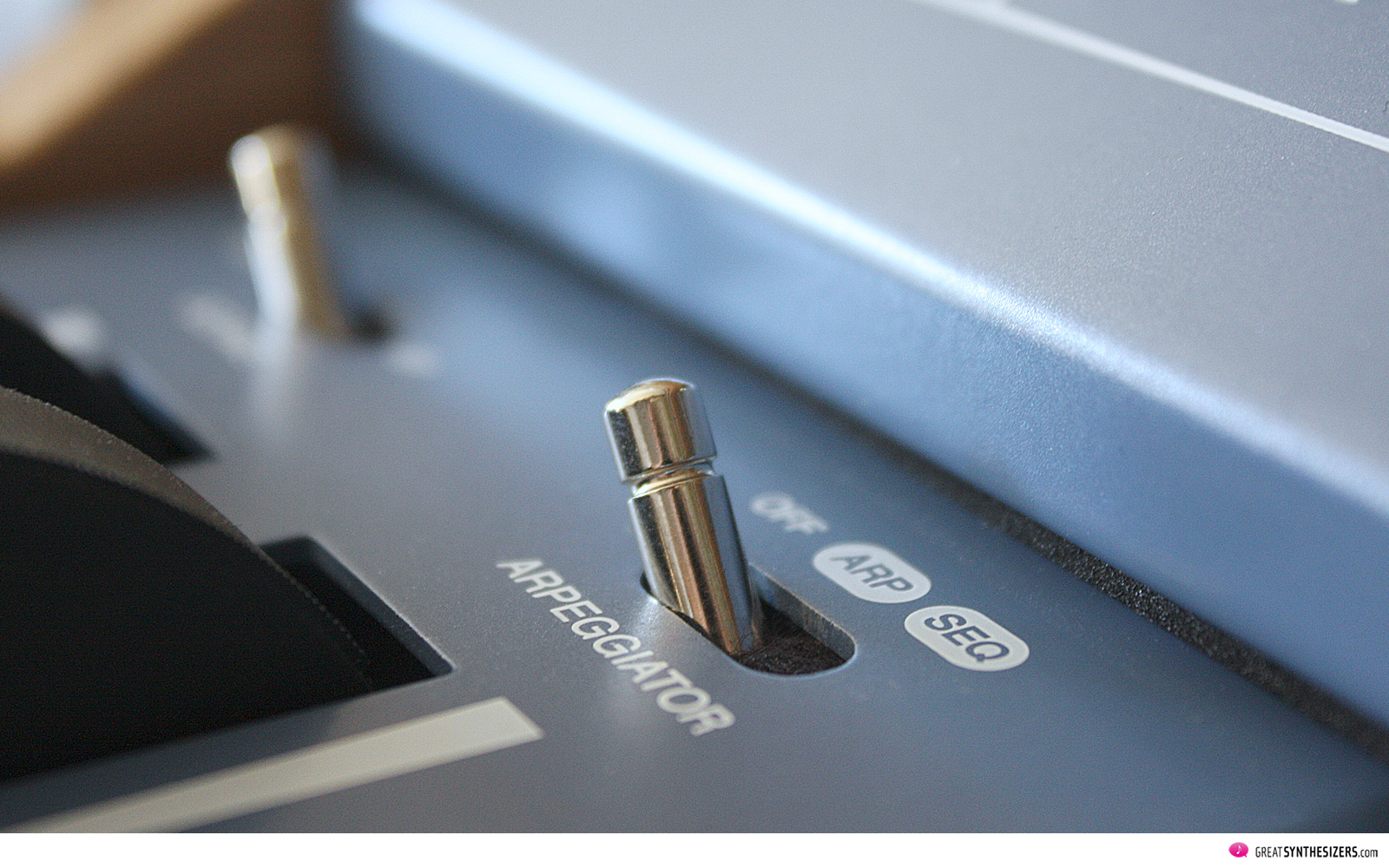 You get the idea. Playing the '14 is in itself a joy, not the least because of the versatile arpeggiator and its sequencer-function. 60-note-patterns, fully utilized, are no small thing, nor are the simultaneous recording of velocity data and the transposition of final patterns up and down the keyboard. Pearling arpeggios are a special characteristic of this instrument, to say the least.
As to FX-sounds, the '14 Analogsynthesizer is remarkably (if not infinitely) flexible. Crossmodulation, filter-FM, 2 LFOs (each up to 100 Hz), noise, VCO-sync, … the features are impressive. By the way, an unintentional aspect of FX-sounds results out of the filter characteristics. As soon as the red light flashes, the sound can just run away – overdriven, monstruous, completely out of control …  intoxicating!
Afterthoughts
The following aspects are debatable, to say the least:
VCO scaling is limited to a modest 3 steps (16, 8, 4 foot). We agree that the instrument's tonal range is huge, but still: 4 directly accessible octave settings are generally considered to be standard.


x

Then again, the extra octave-switch (OCTAVE UP) right next to the keyboard is indeed a small compensation. Although, a 3-position switch with OCT DOWN, 0, OCT UP would have been great. And, it would have been possible, since there are 3-way switches located all over the instrument.


x

We prophesy that the extreme filter-resonance will find the users divided into enthusiasts and opponents. We're not talking about a Moog imitation, but indeed about extremely aggressive, if not to say unmannerly resonance behaviour (vaguely reminiscent of the Korg MS-20), which does, admittedly, deliver spectacular (unusual, to say the least) filter sounds.


x

The powerful arpeggiator has a sort-of sequencer-mode, but it's not a substitute for a real step-sequencer. Notes, rests, velocity … everything is recorded. Everything fine – so far. But …

x




x


… creating patterns is a world of its own, since the '14 arpeggiator, once activated, fires a constant battery of 16th notes (interruptable, of course) as the basis for your recording. The player is challenged to interrupt that permanent 16th-note-battery (press the sustain pedal and hit new keys, insert rests, …) without getting rattled. And – ! – patterns can't begin with a rest. Giving you an almost-step-sequencer that needs a little getting used to.
In a nutshell
The above mild protests are just afterthoughts in our discussion of a really wonderful synth. The '14 Analogsynthesizer is a musical instrument through and through. Limited to 222 units. It is a vibrant, strong and nonconformist lead-, bass- and arpeggio-synth, which can well serve as a universal master-keyboard (CV/gate and MIDI).
The 14's characteristic "singing" is a result of its many flexible performance features and its high-quality touch-sensitive keyboard. This synth doesn't need any special internal effects. Its powerful VCO-VCF-VCA sound structure is the perfect basis for state-of-the-art analog expressibility.
For those of you looking for a noble instrument with character and "bite", we highly recommend the Vermona '14 Analogsynthesizer. This hand-crafted one-of-a-kind instrument will be your muscial companion for many years (if not decades). A loner in the annales of synth history – a modern bard with a sonorous voice.
---
x
We have attached 50 minutes of audio-files. Enjoy listening!
PS: The '14 Analogsynthesizer is capable of controlling some of the parameters of its little brothers Mono Lancet and Mono Lancet '15. Pitchbender-, modulationwheel-, aftertouch-, velocity-, filter-velocity-, auto-glide- and legato-info may be sent via MIDI CC messages.