The ASM Hydrasynth is one of those instruments that automatically triggers that dreaded MUST-HAVE reflex. A reflex from which many synthesizer enthusiasts suffer their whole life. Diagnosis: MUST-HAVE. Therapy: BUY IT NOW. Alternative therapy (the hard way): Try withstanding the reflex, suffering extreme mental torture coupled with complete physical lethargy for months, maybe for years … until you finally give in and buy it.
x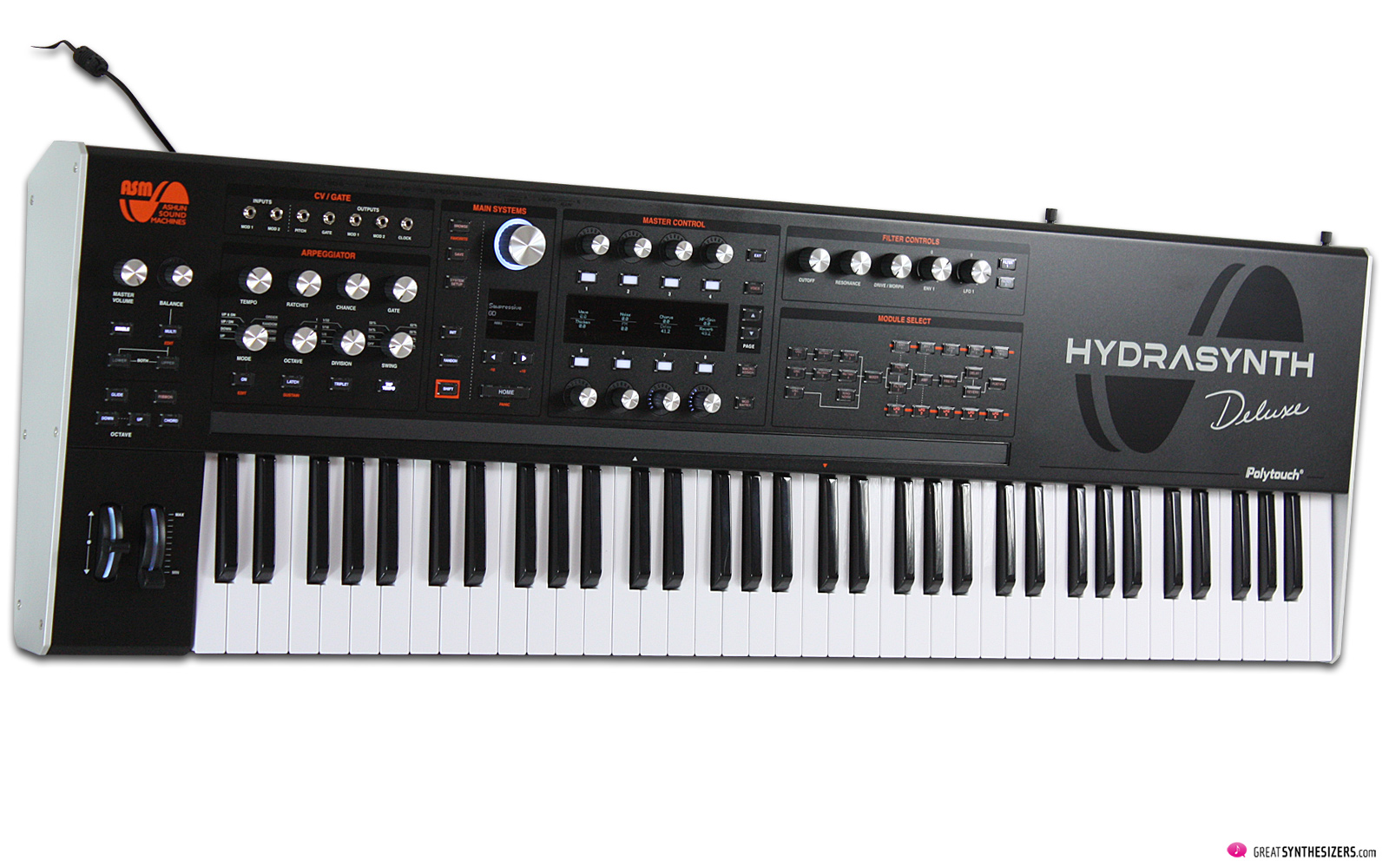 Withstanding the MUST-HAVE reflex was easy for us, since some details of the first Hydrasynth version just weren't promising. Above all, the short 4-octave keyboard and the limited 8-voice polyphony. An inner voice urged us to be patient. And, lo and behold, two years later, the Hydrasynth Deluxe came along, with a 6-octave keyboard and 16 voices.
Getting there must have been sticky at times. The Hydrasynth Deluxe in its final form first saw the light of day after the development of the Hydrasynth Keyboard, the Hydrasynth Desktop and the Hydrasynth Explorer. These four models all contain the same ASM sound engine, but their layouts and concepts vary significantly, intended for a wide variety of target groups. The models – from small to large – at a glance …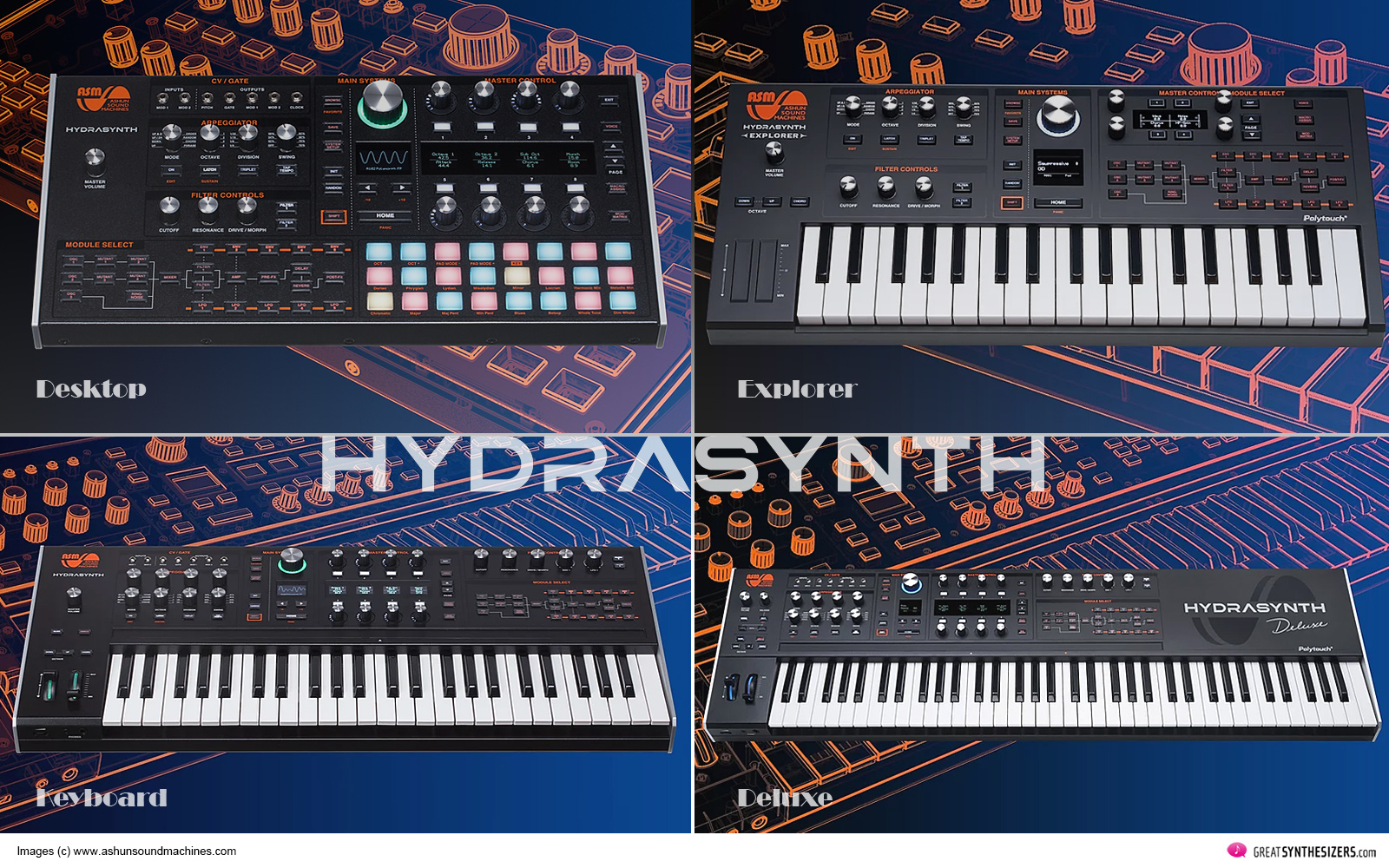 Hydrasynth Desktop
8 voices (Advanced Wavetable Synthesis)
Hydrasynth synth / modulation / effect engine
24 PolyTouch pads (velocity and pressure sensitive)
8 encoders, CV/Gate connections just as with the larger models
Dimensions: 44 x 22.3 x 7 cm; Weight: 3,6 kg
Price: approx. 840 Euros
Hydrasynth Explorer
8 voices (Advanced Wavetable Synthesis)
Hydrasynth synth / modulation / effect engine
37-note keyboard (slim keys) with velocity and polyphonic aftertouch
2 Ribbon pads instead wheels, 4 encoders and a smaller display, very compact
Dimensions: 55,6 x 25,5 x 8 cm; Weight: 3,4 kg
Price: approx. 555 Euros
Hydrasynth Keyboard
8 voices (Advanced Wavetable Synthesis)
Hydrasynth synth / modulation / effect engine
49-note keyboard with velocity and polyphonic aftertouch
4-octave (67 cm) ribbon controller with special Theremin mode
8 encoders and comprehensive CV/Gate connections
Dimensions: 80 x 35 x 10,3 cm; Weight: 10 kg
Price: approx. 1,300 Euros
Hydrasynth Deluxe
16 voices (Advanced Wavetable Synthesis)
Hydrasynth synth / modulation / effect engine

Single mode: 2 independent synthesizers à 8 voices

(plus 2x stereo-outs)

Multi mode: Keysplit and Dual mode; Balance knob (Lower/Upper volume)
73-note keyboard with velocity and polyphonic aftertouch
4-octave (67 cm) ribbon controller with special Theremin mode
8 encoders and comprehensive CV/Gate connections, laptop-shelf
Dimensions: 113,1 x 35,9 x 11,9 cm; Weight: 13,5 kg
Price: approx. 1,750 Euros
ASM (Ashun Sound Machines, belonging to MEDELI Electronics (ShangHai) Co., LTD.) have created an imposing synth family under the all-embracing slogan "DIGITAL IS THE NEW ANALOG". Is that really true? Let's take a closer look at – and a closer listen to – the magic Hydrasynth …
Sound Specifications
– 2 "dynamic" Oscillators (each with Analog-Modelling / Wave-Scanning)
219 single-cycle waveforms
8 user selectable 'wavelists' per osc to build user wavetables
Each osc and patch can have its own user wavetables
WaveScan for morphing between waves
– 1 "fixed" Oscillator (Analog-Modelling)
219 single-cycle waveforms
– 4 Mutants (2 pairs for Osc1 and Osc2)
FM – Linear FM
Selectable Modulator source: Built-in Sine & Triangle, OSC1, OSC2, OSC3, Mutants A, B, C, D, Noise gen, Ring Mod, External Mod 1&2 input
WaveStack – generates 5 detuned waves from the input source; detune amount
Pulse Width Mod – adjusts pulse width of ALL (!) waveforms
PW-Squeeze – compresses the center section of the waveform
PW-ASM – 8 user-adjustable wave squeeze/stretch points
Hard Sync – gives that classic sync sweep sound
Harmonic Sweep – will scan through the harmonics of the incoming sound
Phaz Diff – creates a new sound by combining phase shifting and summing techniques
Dry/Wet Mix to blend the original OSC source
– Noise Generator
White, Pink, Brown, Red, Blue, Violet, Grey Noise
– Ring Modulator
Selectable input sources:
OSC1, OSC2, OSC3, Noise, All Mutator outputs, External Mod In
– Audio Mixer
Mix the following sources – OSC1, OSC2, OSC3, Noise, and Ring Mod.
Panning for each source
Filter routing mix
Solo mode for each source
– 2 Filters
Serial or parallel routing
Filter drive (for aggressive sounds)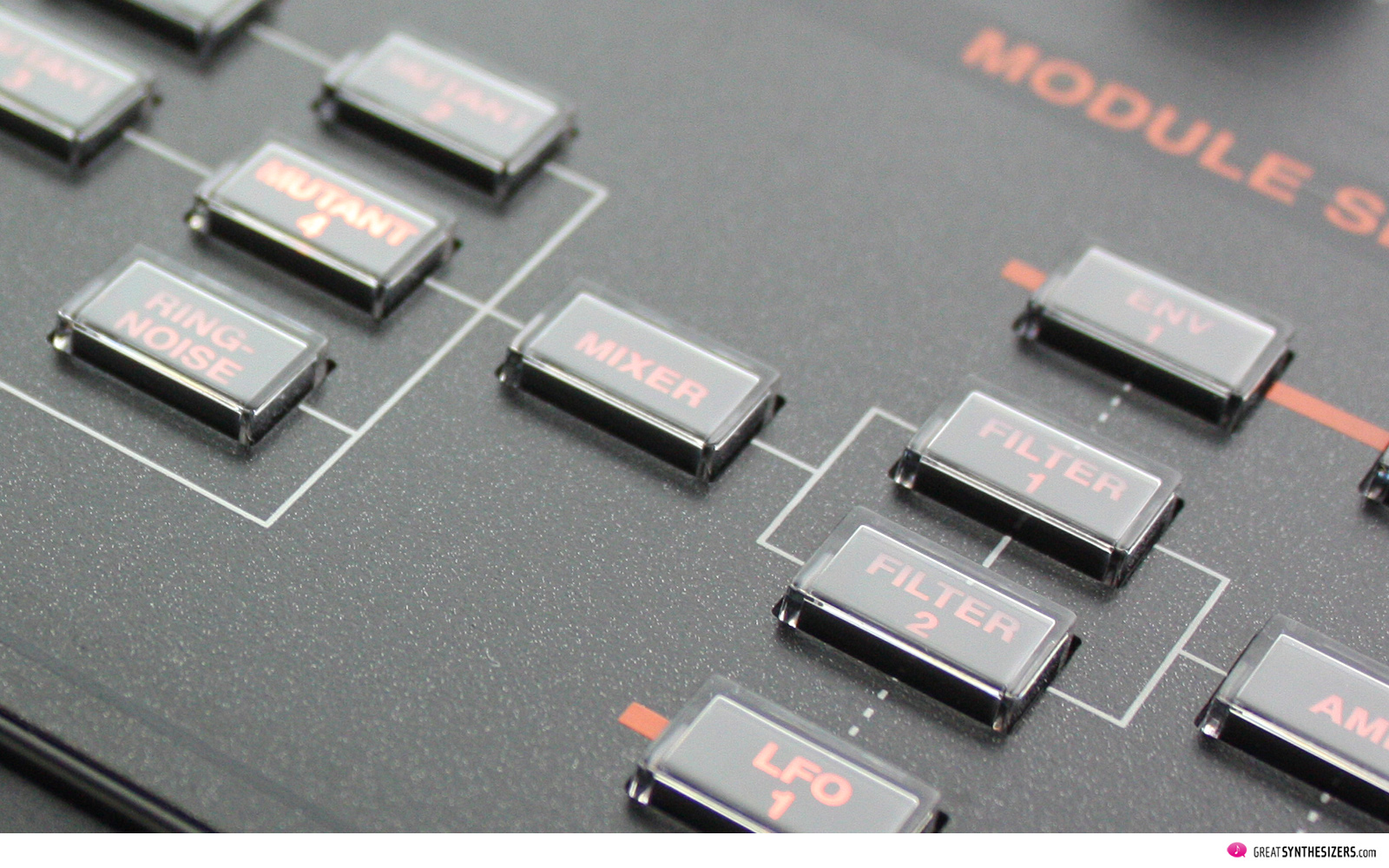 – Filter 1 (Ladder/Moog, Steiner, Vocal, …)
12 & 24db Modern ladder filter
12 & 24db Vintage ladder filter
Threeler HP, BP, LP
(ASM version of the Moog Modular System III VCF)
MS20 HP, LP
Low Pass Gate
STN LP, BP, HP
(ASM version of the Steiner-Parker VCF)
1 Pole LP
8 Pole LP
Vocal Formant Filter
(with various AEIOU / UIEAO / …  vocal options)
– Filter 2 (2-Pole/Oberheim SEM)
Continuously variable Low pass > Band pass > High pass
Continuously variable Low pass > Notch > High pass
– 5 + 1 LFOs
5 Main LFOs
– With 10 static waveforms each (Sine, triangle, Square, Saw up, Saw down, S&H, Low random, Noise, Pulse width 25%, Pulse Width 12.5%)
– Step Wave function – 64 steps that the user can set (like a step sequencer)
– Clock synchronisation
– One-shot mode
1 global Vibrato-LFO (located in the VOICE Mode)
– 5 Envelopes
6-stage DAHDSR Mode
3-stage ADR Mode
Loop function (for AHD)
Clock synchronisation
various trigger modes (legato, reset, re-trigger)
– Modulation Matrix
Up to 32 Modulation Slots
Modulation slots can be mod destinations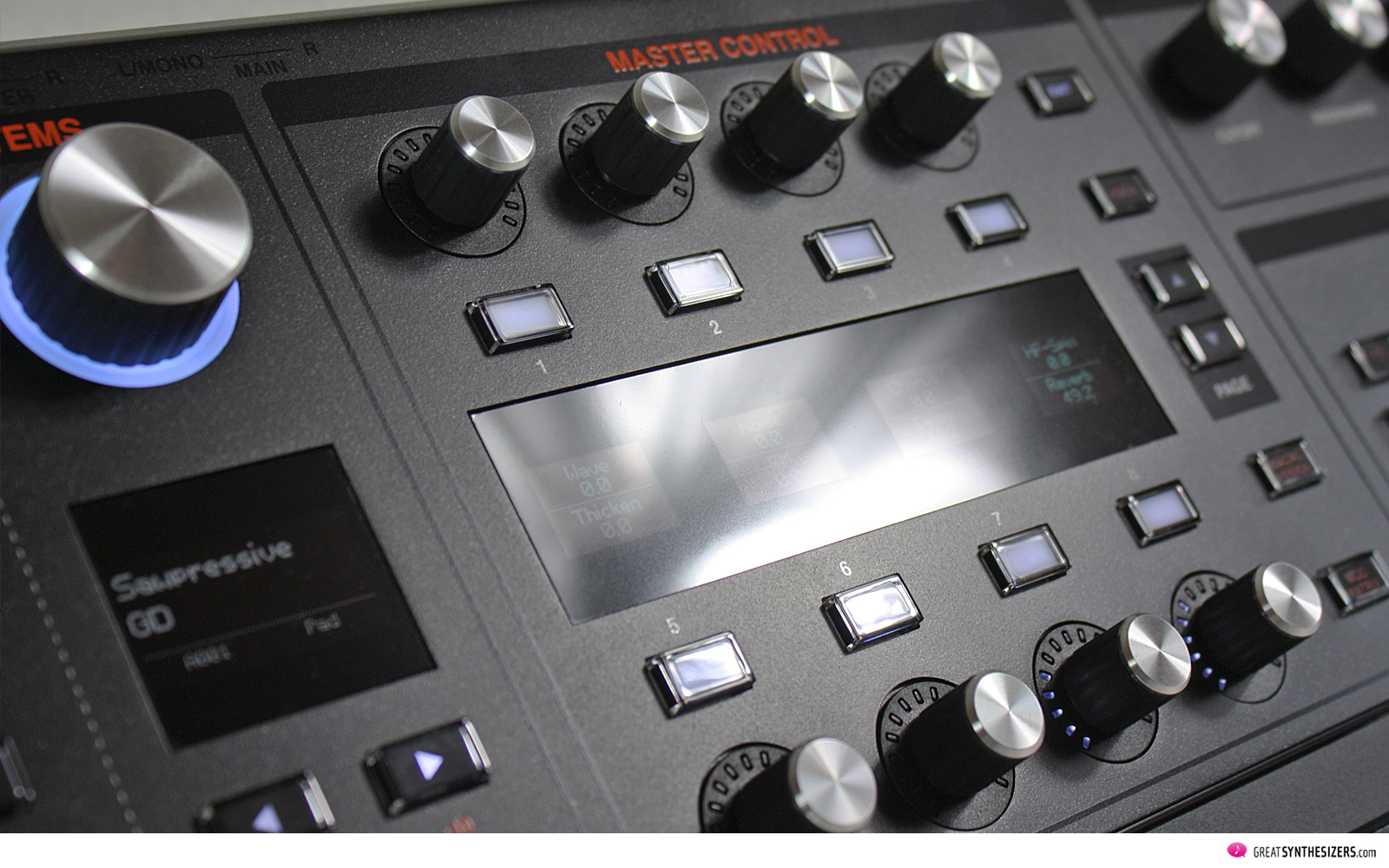 – 8 Macro-Controller
Each Macro knob allows up to 8 destination controls
Macros can be modulation destinations themselves
– Ribbon Controller, 2 Wheels, CV/Gate Section
– Comprehensive Effekt Section (pre and post effects)
– Comprehensive Arpeggiator Section
– Single Mode: 8×128 sounds
– Multi Mode: 5×128 sound-combinations (LOWER / UPPER)
The Hydrasynth in use
Feature lists may be a pain in the neck, but they are necessary at times. A quick look at the various filter types, at the number of LFOs, a glance at the features … all there. But as is often the case, the most important information is not contained in the lists. What about the Hydrasynth in practice? Is there a gap between theory and reality?
Wave-Scanning, Audio-Panning and Vocal Filter
What we particularly like: The flexible sound engine. Analog modelling combined with wavetables or wave-scanning. The user himself can create 8 wavetable slots (from 219 waveforms) with the first 2 oscillators, and then morph between his own wavetables: Wave-Scanning.
What we also like: The direct panning of all audio sources. Select oscillator 1 (or any source) and turn the appropriate of the 8 silver knobs, causing the oscillator to move from left to right or to adjust its PAN position. Exactly according to your taste, so to speak. This allows for quick and intuitive sound design in the Hydrasynth mixer section. Set oscillator 1 to left, oscillator 2 to center, oscillator 3 to right, noise just slightly to the left and the ring modulator just slightly to the right … simple, but already effective. And while we're at it: There are special Stereo Modes (Rotate / Alter / Random) in VOICE mode. Reminiscent of the good old Oberheim Matrix-12 / Xpander.
What we definitely like is the Vocal Filter. This filter type distinguishes the Hydrasynth from many other synthesizers. As to the rest of the Hydrasynth filter modes (à la Moog III etc.) created by digital filters … they are nice and surely useable, but … so what? ASM compared with Steiner? ASM compared with a Korg MS-20? Digital technology makes it possible to emulate anything with acceptable tonal results! But does that make DIGITAL the NEW ANALOG? Digital Ladder Filter is a contradiction in itself, digital has nothing to do with ladders. But the Vocal Filter (A-E-I-O-U, …) is nice. The Vocal Filter is new.
LFOs with hidden 64-Step Sequencer(s)
With so many sound-design possibilities, the musician may want to quickly get past all that "up and down" and "random" arpeggiator hopping to real melodies. Not only via MIDI, but directly on the Hydrasynth. And, lo and behold, a comprehensive 64-step sequencer is hidden in the LFO area. A bit tricky to program step-by-step, but there is also the possibility to record those spontaneous melodies using Keyboard Note Entry.
Particularly remarkable: Since there are 5 Main LFOs, you can generate up to 5 (!) step sequencers – and control each audio source with its own LFO/sequencer: the bassline, the melody, the rhythm pattern (noise source), the experimental track (ring modulator), etc. Setting the Fade-In and Fade-Out of the audio sources (each with a slightly different PAN position) enables you to spontaneously perform in the Hydrasynth mixer section live. Not bad.
Hydrasynth Workflow
Whoever was responsible for the development and conception of the Hydrasynths (according to the manual, it was a large team of professionals) did a great job! With regard to the comprehensive synth architecture, the Hydrasynth workflow is well-thought-out and user-friendly. The module path is clearly laid out, with each individual access button at your fingertips. Then there are silver knobs which allow spontaneous adjustments in the filter- and arpeggiator section. Obviously, the designers were focussing on instant musical performance.
Beyond that, there are the Macros …
"Macros are powerful, expressive tools for song creation and live performance. Every Single mode patch can have up to 8 Macros, so a Multi has access to as many as 16 of them. Each Macro is a combination of one of the Control knob / button pairs and a list of destinations, sort of like a private Mod Matrix grouped around the right display. In fact, Macros can even control the Mod Matrix mod routes (and vice versa). You can create and modify Macros to match your music and your style."
(Hydrasynth_Deluxe_Owners_Manual_1.0.0.pdf, page 81)
In addition, there are individual buttons for LATCH (Hold), BROWSE (targeted sound selection), RANDOM (random sound design) and Octave DOWN / UP, CHORD, HOME, as well as buttons dedicated to the multi-mode: UPPER / LOWER and (the useful) volume BALANCE knob. The latter elements, with their simple, logical workflow, have stood the test of time since their first appearance in the Roland Jupiter-8 some 40 years ago.
All in all, the light-footed operation of the ASM Hydrasynth is a product of its quality hardware (knobs, switches, wheels, ribbon controller, …), effective design (colored illuminated buttons, …), and its clearly written manual (although this would have been even better printed in color).
Reality in the studio
There is no one reality. Reality in the singular is a contradiction in itself. Everyone experiences differently. So when we speak, we are speaking from our own point of view. Only. Here's our Hydrasynth reality in the studio …
In contrast to its well-thought-out user surface and sound architecture / structure, the Hydrasynth abounds in technical details. For those willing to intensively involve themselves with all the workings of the Hydrasynth, the instrument can open new windows to programming, sound design and performance.
But woe to those who cannot devote themselves intensively to the Hydrasynth, to those who have to interrupt their work occasionally, to those who can only return to the instrument every few weeks … those musicians may be in danger of getting lost in the multitude of Hydrasynth functions, sub-menues, etc. Where do I find the global vibrato LFO? (Not in the LFO section.) How do I select individual sounds in multi mode? How do I reduce a too-high dosis of effects? Or, better yet, how do I switch the effects off altogether? How do I modulate the filter frequency via ribbon … in just a few steps?
Or: Where is the snap function for particularly fast envelopes? (Not in the envelope section.) How can certain work steps be reduced? (Ah yes … by way of the countless shortcuts described in the user manual. But what were those in detail again?) Where is Warm Mode for a "more analog" sound? Where is Micro Tuning and where is oscillator spreading in unison mode? Questions over questions.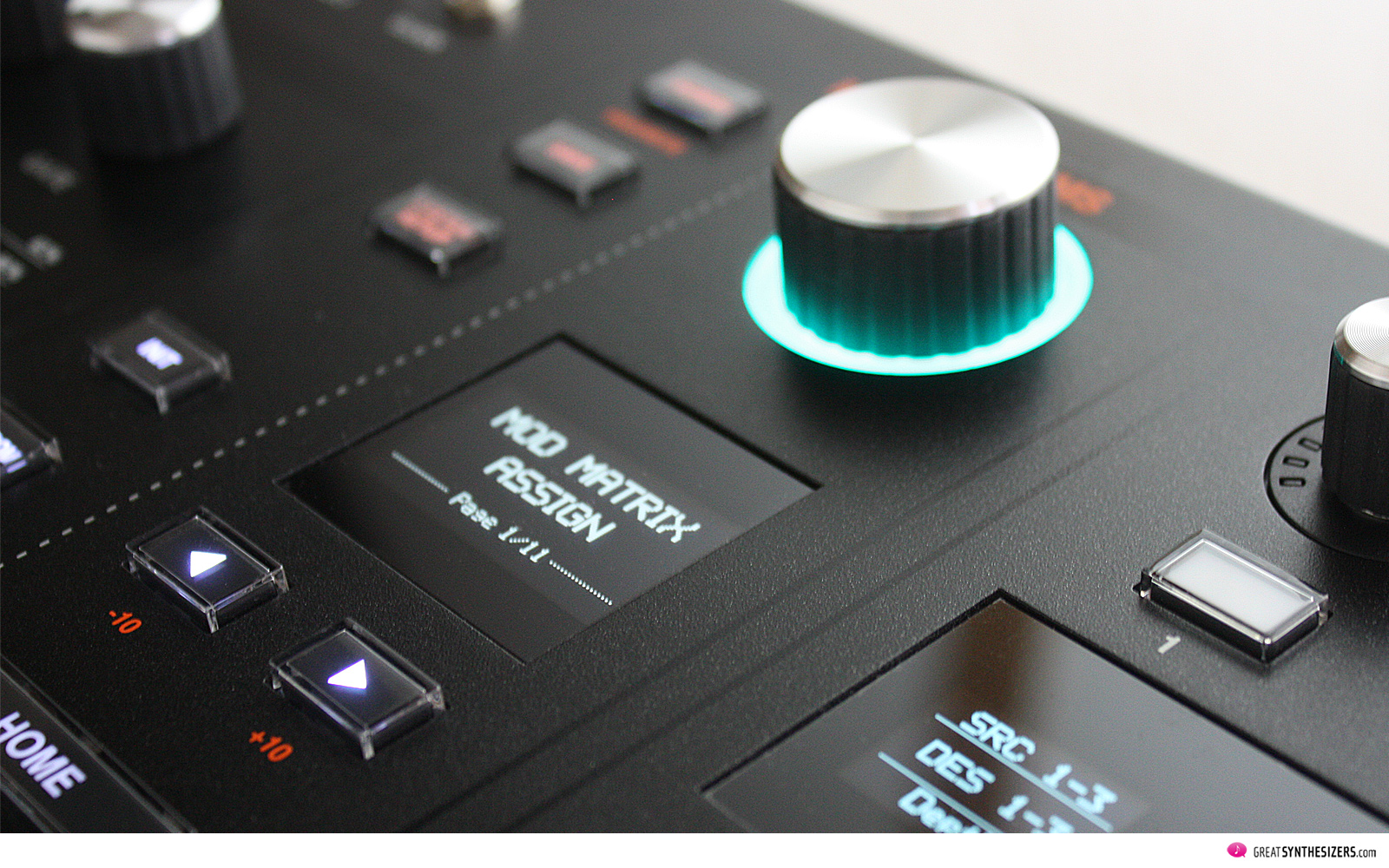 In a nutshell: Anyone using the Hydrasynth as his main synthesizer, anyone working intensively on the instrument will internalize the complex but manageable user interface and will quickly benefit from its intricacy. After a few days of programming, he will surf through the Hydrasynth menus and switch from one scenario to another with the agility of a pro. However, if he has other synthesizers in the studio and only occasionally switches to the Hydrasynth, he could be overwhelmed ad hoc with the complex user guidance. After every break, the operative perspective might be missing as well as the one or the other shortcut, that direct path to fast and enjoyable work in the studio. Knowing that such and such solutions theoretically exist does no mean knowing where they are in practice and in detail.
A tricky situation …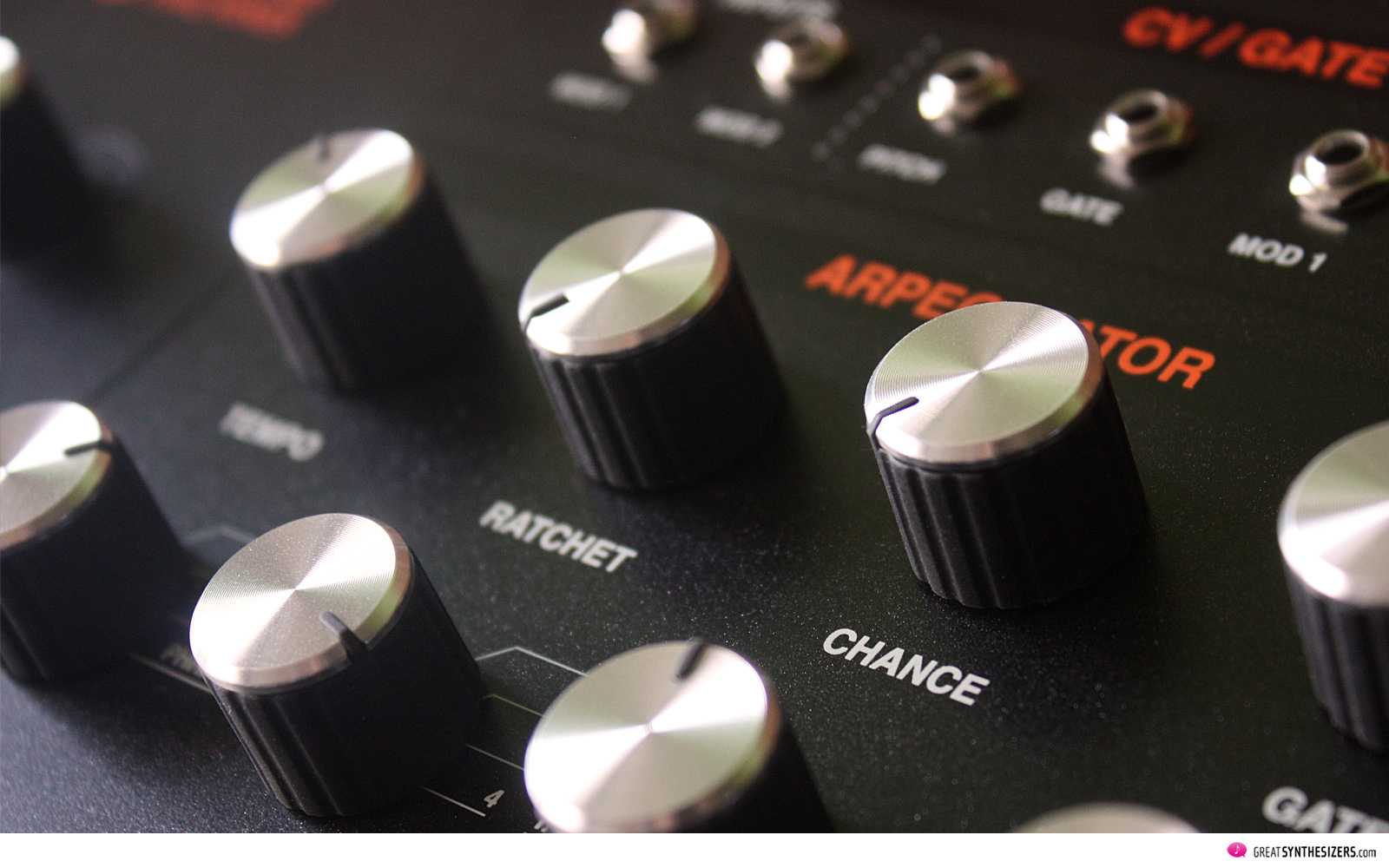 The Hydrasynth SOUND and its Digital / Analog quality
The Hydrasynth sounds good. Not very good, not excellent. but good. Which may seem a little harsh, but relates to ASM talking about the "New Analog". From that point of view, our rating has to remain a good. The one reality of the Hydrasynth is its enormous variety of sounds, creative possibilities, many modulation routings, etc. Everything, technically, a Chinese tour de force.
But there is another reality. Listen to the attached example "Osc Sync" and you will realize: That what you are hearing – one of the presets, at the same time a prime example of the analog sound type par excellence – sounds as if it was wrapped in cotton wool. Not bad, but a far cry from the brutal "I'm-sitting-in-front-of-the-speaker-and-jumping-into-your-mixer-console" presence of many historic analog sync sounds. Maybe this wrapped-in-cotton-wool Hydrasynth sound comes from the internal effect/audio routing. Maybe you can increase the presence of the sound by using parameter X or parameter Y. Yes, maybe.
Nonetheless, the basic Hydrasynth sound is what it is: versatile, good, exciting at times, but occasionally a bit muffled, a bit reserved. And if things do get loud (by setting all AMPlifier settings to maximum, for example), digital clipping kicks in instead of the analog dynamics we were looking for. So, digital isn't the new analog here.
We have to admit that we haven't tested the behavior of the Hydrasynth sound extensively in the mix. It is very possible that this somewhat reserved sound character fits perfectly into the overall audio picture. So, our conservative view of the synthesizer as a solo instrument is certainly only one side of the story. One reality, so to speak.
CV-Panel and Audio-Modulation
Nice: The Hydrasynth CV-panel. For interactions with a variety of Eurorack equipment and all kinds of analog voltages. For experimental, for hybrid, for comprehensive sound design of all kinds.
Being a curious lot, we wanted to get to the bottom of the ASM assertion that MOD 1 and MOD 2 inputs can process CV modulations in the audio frequency range. To the point: With our Hydrasynth Deluxe, the external modulation with audio frequency ranges doesn't work all that well. Regular LFO modulations yes, but, into the audio range, the sound breaks down.
The result can be heard in the attached soundfile "External CV Modulation". A classic 921 (Moog) VCO is routed to the Hydrasynth filter via MOD 1 and the 921 frequency is changed from LOW Frequ to HIGH Frequ. As soon as it moves in the direction of "high audio/modulation rate", the recognizable filter modulation stops and the rattling starts. So this doesn't work without digital artefacts / background noises. Which is not a reproach, because all digital synthesizers are faced with this challenge of processing audio modulation stuff.
Polyphonic Aftertouch
Poly aftertouch is a real rarity and musically a fine thing. Expressive playing on the keyboard with an emphasis on individual tones opens up musical levels that come as close as we can get to the very essence of polyphony. We're talking about several individual voices that sound together as a whole, while retaining their individualilty: their unique timbre, their individual volume, etc. Poly aftertouch makes this possible.
On the Hydrasynth Deluxe, the polyphonic aftertouch works, but things become a bit distorted. Filter frequency modulation via Poly-AT is a telling example. Listen carefully: zipper noises / digital artefacts accompany the emphases of the individual voices. Meaning the polyphonic tour de force cannot always be effected without digital background noise (once again). And, unlike playing a Yamaha CS-80 or Prophet T8, the perception here is not so much that of a natural instrument, as of an electronic instrument in the process of integrating polyphonic aftertouch. And that's the big difference.
Despite all: Stunning Hydrasynth Potential. Some compliments …
To end on a positive note, we mention three particularly notable aspects of the Hydrasynth Deluxe: The Modulation Matrix, the Multi-Mode (only bi-timbral, but with a double stereo output) and the comprehensive Effects Department. Each of these features can mean a rich field of activity in terms of musical expressiveness and comprehensive sound design.
The above epitomes of digital technology, now standard in many synthesizers, may be the key to the ASM slogan "DIGITAL IS THE NEW ANALOG". Our explanation: "Digital … is … digital." To us, that's obvious, of course. Nobody wants to do without it. And that was never part of the plan. Whereas the sound of a Hydrasynth – despite its polyphonic aftertouch – isn't quite equivalent to that of a legendary Yamaha CS-80, nobody would actually expect it. We simply have to accept the fact that analog is analog and digital is digital. Meaning, while we enjoy the benefits of digital technology, we have, at the same, to accept its side-effects.
Conclusion
A quick look at the price of the "big" instrument: For around 1,750 Euros, the new Hydrasynth Deluxe owner gets a comprehensive 16-voice Wavetable & Co. synthesizer with 73 keys, polyphonic aftertouch, ribbon controller (including Theremin mode) and – in addition to digital refinements such as LFO step sequencers – with an extra CV patch panel. Not bad.
The Hydrasynth line-up is noteworthy: tasteful controls, stable hardware (we see the 12V PSU connection as the only vulnerable aspect), enormous sound resources, macros for particularly dynamic performances, as well as such little things as comprehensive online support and the detailed manual. A pretty good package!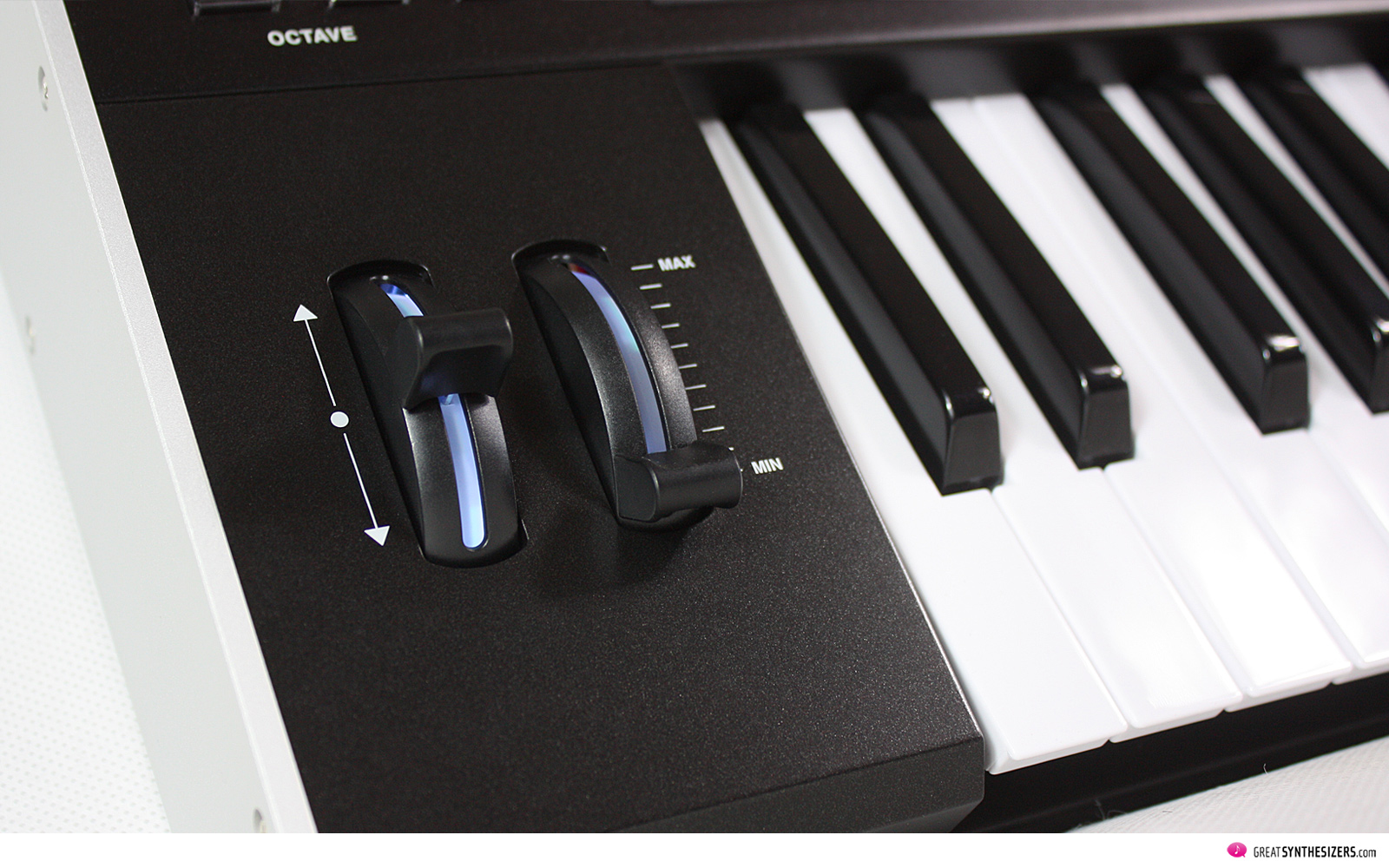 Then, however, there are other considerations. Reflections on the not-quite-modest slogan "DIGITAL IS THE NEW ANALOG". What if the base sound is good, but generally a little understated? What if modulations in extreme frequency ranges only work to a limited extent and the widely advertised polyphonic aftertouch produces subtle, but still present, digital background noise? Is that still a good package? It is, if you are fully aware of what you are buying.
Leaving the boasting aside, let's look at the Hydrasynth Deluxe for that which it is: a DIGITAL WAVE MORPHING SYNTHESIZER with good sounds, equipped with many refinements. Designed for instant and satisfying musical performance.
From this point of view, it's a wonderful instrument.
Even if it's not analog.
---
x
50+ minutes of audio samples are attached. In addition to the wavetables, the acoustic highlights include, above all, various oscillator panorama modulations (manually or via LFO), the sound of the unmistakable vocal filter, various ribbon controller performances (for tonal effects and for CV-modulations), LFO clock synchronization, the LFO step sequencer function and the sophisticated arpeggiator. The ASM Hydrasynth Deluxe is the one and only synthesizer used. To be exact, the drums in "Demo 2" derive from a Roland R-8 Human Rhythm Composer.
ASM Hydrasynth
Desktop / Explorer / Keyboard / Deluxe
Polyphonic Digital Synthesizer
Analog Modelling / Wave Scanning
8 to 16 Voices
Prices (as of 09/2023):
Hydrasynth Explorer: 599 USD / 597 Euros
Hydrasynth Desktop: 799 USD / 799 Euros
Hydrasynth Keyboard: 1,299 USD / 1,219 Euros
Hydrasynth Deluxe: 1,799 USD / 1,699 Euros
Website Manufacturer:
www.ashunsoundmachines.com