For a long time I was ambivalent about the ELKA Synthex. Strong, powerful and brilliant on the one hand, too brilliant (perhaps), too clean and maybe even too digital on the other.
So, it's not surprising I went through quite a few Synthex – bought them, sold them, bought them, sold them – until, several months after selling the last one, I finally realized the special value of the instrument. My own soundfiles have since convinced me that this strange analog synthesizer is in a class of its very own.
My resulting search for that last-Synthex-after-my-final-Synthex took almost half a year (since we all know that if you really need something, you won't be able to find it right away). I found my prize there, where ELKA originally had its production factory – in Ancona, Italy.
Ah, yes … Ancona … (and thanks to Enrico Cosimi for this information):
"The Elka factory was near Ancona; Mario Maggi lives in Rome and, for the preproduction of the synth, was driving Rome – Ancona / Ancona – Rome all the time …"
Update Nov. 2012: The Elka factory was in Zona Industriale Squartabue, Villa Musone,  Recanati, which, to be exact, is southwest of Ancona. Thanks to Marcello for this detailled information.
Today I'm of the opinion that the Synthex is among the Top-10 analog polyphonic synthesizers ever made, and probably among the Top-5 analog poly-synths of all time. That sort of analog/digital sound I hated (and loved) for many years is marvellous to my ears today. (Interesting: sensitivity and taste of hearing can change radically within a couple of years.)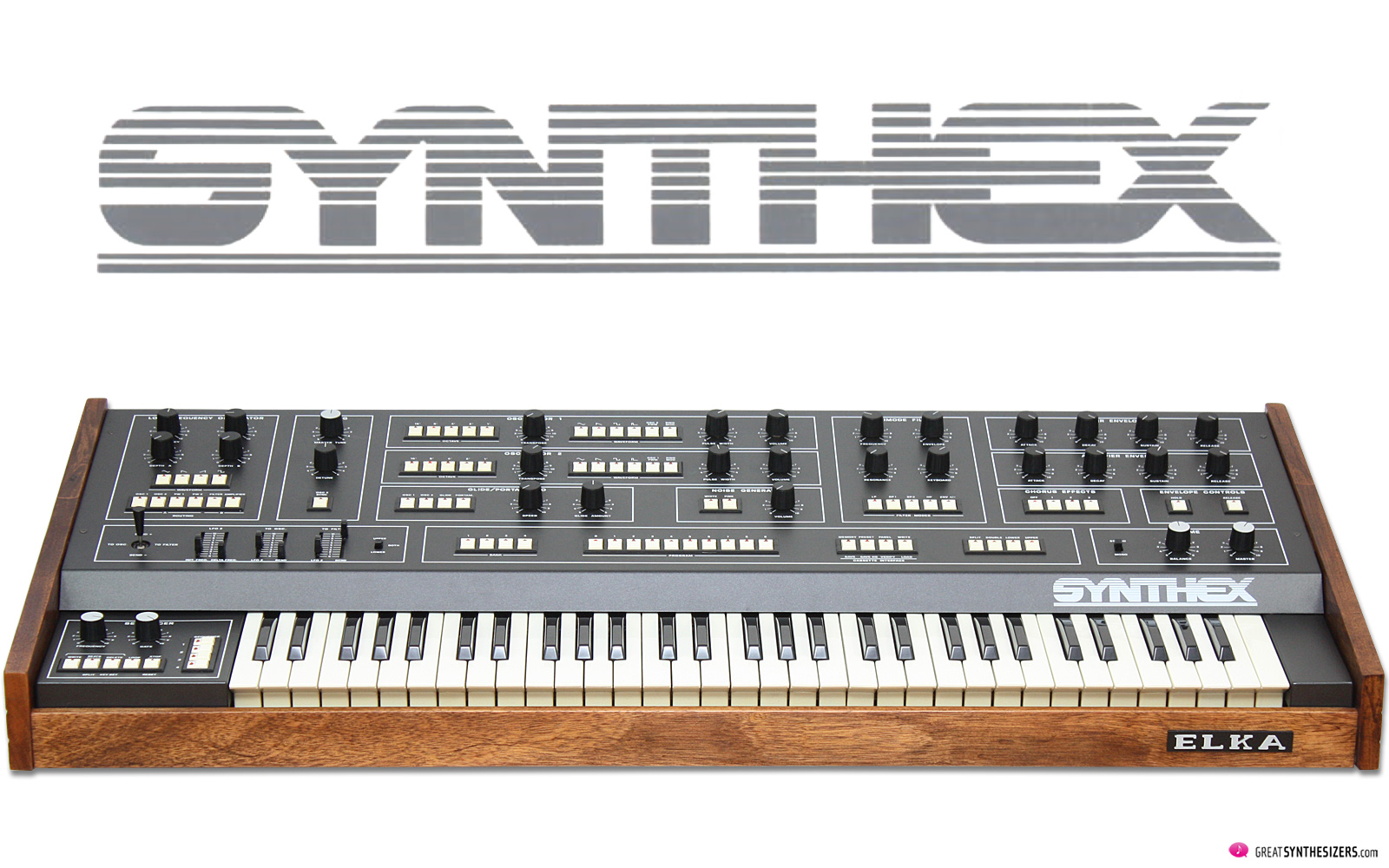 To be honest, you might be happier with a Roland Jupiter-8, Oberheim OB-X, Sequential Prophet-5 or Memorymoog, if you're looking for an aggressive, vibrant analog poly-synth.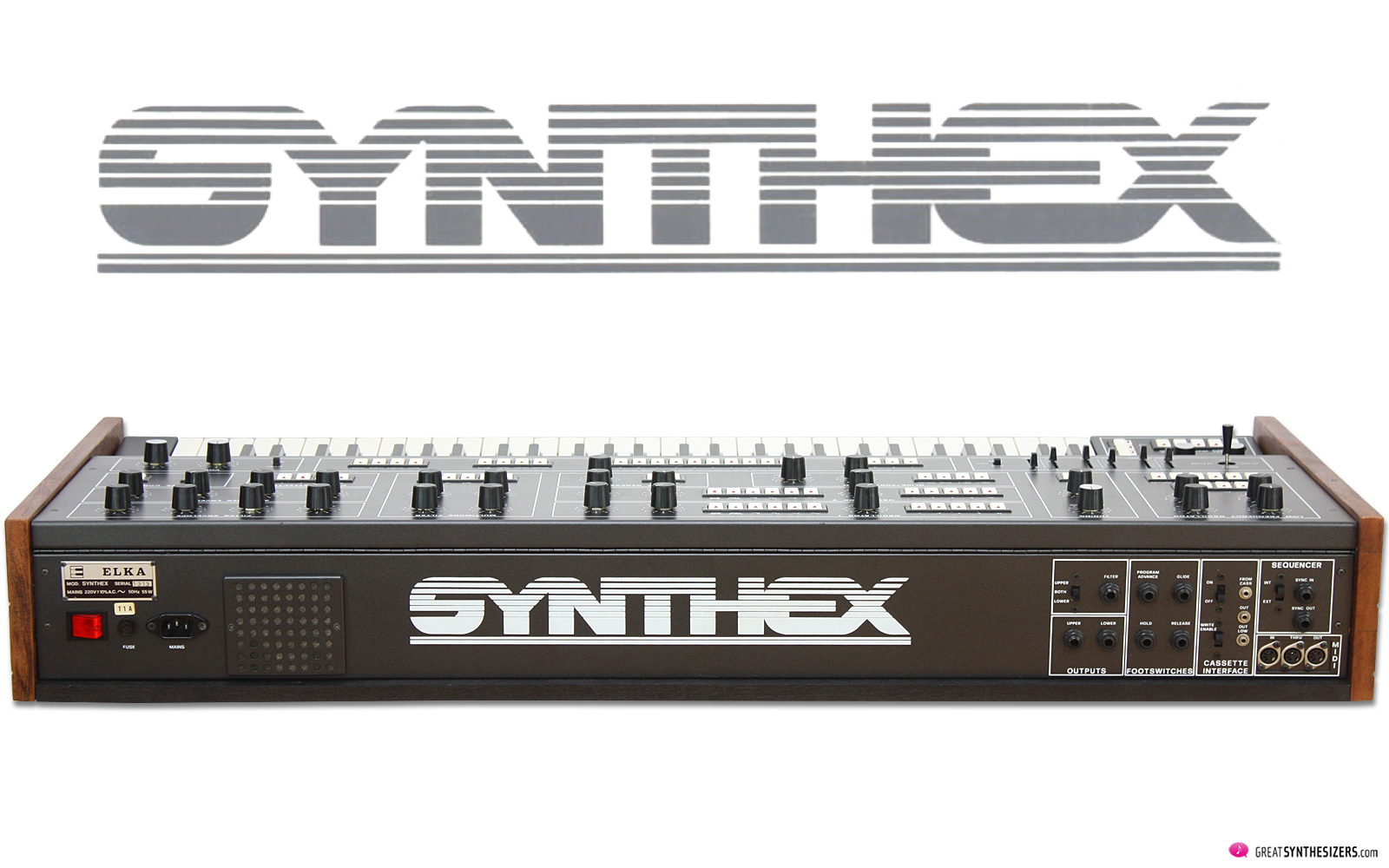 Still, that specifically clear, powerful and warm sound the Synthex emanates is unique, in a class of its own.
ELKA … who ..?
As everyone knows, ELKA never produced professional synthesizers until the Synthex. It was way back in the early 80s when the company recognized that they needed some flexibility in their production line. Organs, Hammond-substitutes and cheap electric pianos – their staples for many years – had gone out of fashion. Like CRUMAR (a few years later), ELKA established, in a bid for survival, a new production of synthesizers. This scheme didn't really work out, and they had to close in 1988.
However, thanks to that marketing plan of the early 80s, the Synthex was on production. What luck!
Their 8-voice 16-DCO synthesizer was originally developed by Mario Maggi. That modest and skilled technician from Rome oversaw the production of many excellent instruments: the CRUMAR Bit One, the Bit 99 and … the ELKA Synthex.
Maggi had been developing and building one-of-a-kind synthesizers since the early 1970s: a quasi-Italian ARP 2600, or the Memory Controlled Synthesizer MCS-70, a massive monophonic synth with memories. The latter instrument, restored in 2020 (see this Youtube video), can be heard on the recommended LP "Automat" from 1978. In that year, the glorious Sequential Prophet-5 came on the market and Maggi was immediately inspired to create his own poly-synthesizer.
Maggi completed the prototype of that 8-voice polyphonic analog synth, after 3 years of development, in 1981. But his project did not arouse any interest among Italian synthesizer manufacturers. Rejections from all sides. More or less by chance (joining a friend who was taking a broken instrument to service), he made one last attempt and showed the project to the organ manufacturer ELKA. That historical meeting took place under a good omen: One had what the other was looking for.
After a final revision, Maggi's polyphonic synthesizer appeared as SYNTHEX at the Frankfurt Musikmesse in 1982. Exemplary of the positive responses, the British guitarist, keyboardist and sound designer Paul Wiffen praised the 8-voice Synthex for its then modern and particularly advanced features: stable oscillators, multi-mode filter, 4-track sequencer and chorus.
Wiffen, founder, together with Chris Huggett, of the Oxford Synthesizer Company at the end of 1981, and co-designer of the OSCar, was asked by ELKA to create the Synthex factory presets. Those excellent factory sounds – programmed in 1982! – would later write synth-pop history, especially due to the recordings of Jean-Michel Jarre. Wiffen:
"I needed to go earn some money, so became Elka's Synthex demonstrator at the [ … ] Frankfurt [ … ]. Elka followed [ … ] with an offer to do all the factory presets, which I did in my flat on the Goldhawk Road that summer."

(Paul Wiffen in: www.electricityclub.co.uk/synth-guru-interview)
Positive responses from the Frankfurt Musikmesse encouraged ELKA to sign on Mario Maggi, who imparted synthesizer skills to their in-house organ technicians, a prerequisite for the serial production of the Synthex. (Needless to say, those Italian organ technicians learned their lessons well.)
By the way: Only a small part of Maggi's ideas and conceptional plans for his polyphonic synthesizer were actually materialized by ELKA. What a shame. The time schedule was tight and money was short. It remains for us to imagine what that true Synthex might have been like. Maggi had a multitude of ideas and many great concepts for developing that synth …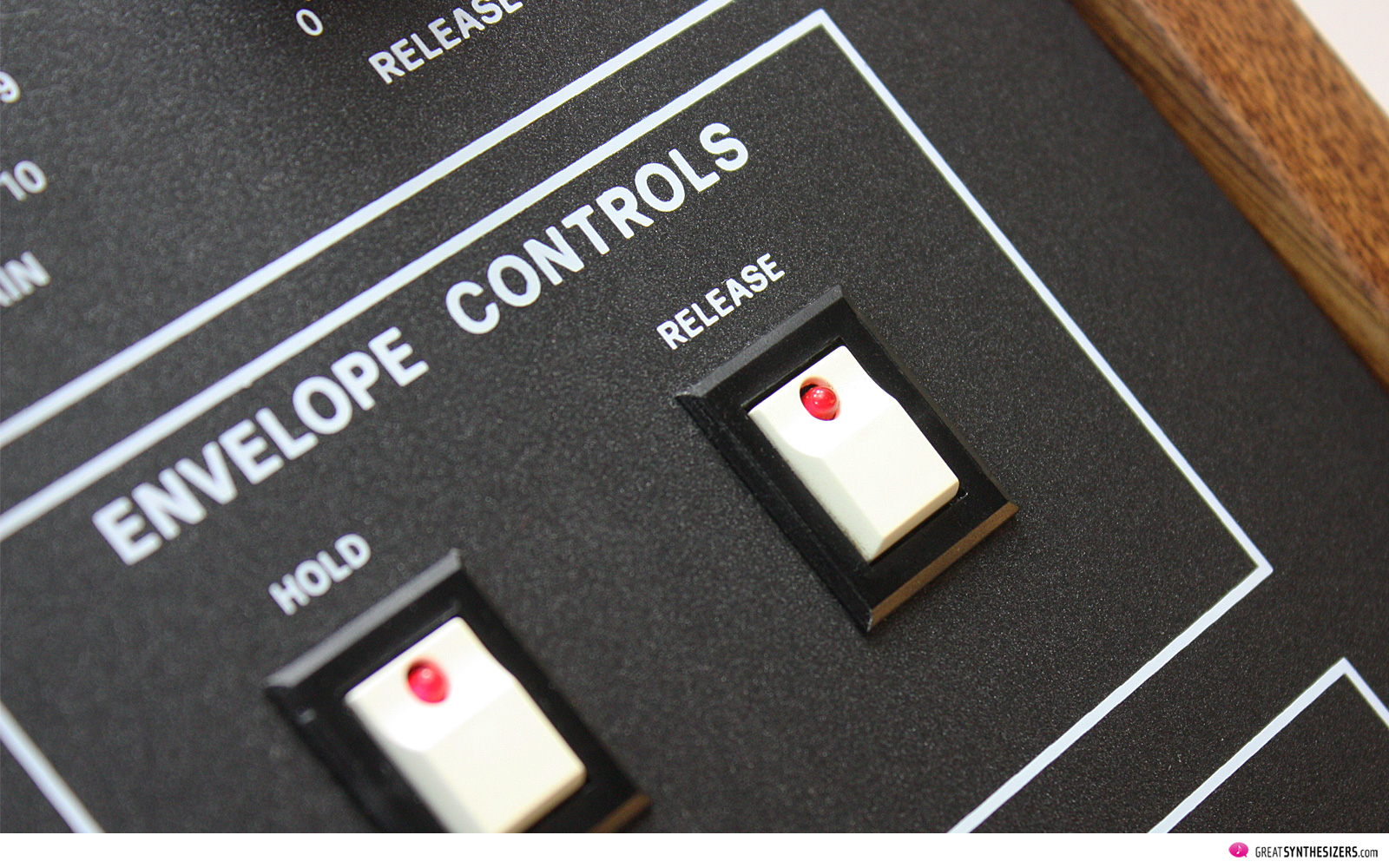 It happened as it always does: Mario Maggi was hired to oversee production and check that first batch of instruments (at the end of the contract, ELKA told him to leave). Aside from some small technical upgrades (such as a basic MIDI implementation), the synth remained pretty much the same throughout its manufacturing. Production (starting in 1982) ended around 1987.
[ A friend of Mario Maggi, Paolo Groppioni (GRP), reports that the engineer has been working on a Synthex 2 since the 1990s. Regrettably, the personable (possibly too perfectionist) Maggi has not succeeded in bringing this latter project to a close. The vision of a Synthex 2 might just remain that: a vision … ]
Back to the years 1982/1983. Since ELKA had not previously been a synthesizer company, it comes as no surprise that marketing the Synthex was problematic. (CRUMAR was clever enough to change its name to BIT when it produced the first MIDI keyboards …).
Then again, 1983 wasn't a good year to sell any keyboard other than the Yamaha DX7. Be that as it may, ELKA wasn't happy with their highly professional Synthex.
Paul Wiffen:
"Unfortunately, by the time my guerilla marketing started to pay off – getting the Synthex on TV with players like Peter Oxendale in Bonnie Tyler's 'Total Eclipse of the Heart', Mark Stanway of Magnum and Phil Lynott in Grand Slam – Elka had lost faith in the instrument and were selling it off directly for £500 through the music technology magazine Electronics and Music Maker. Some people got a magnificent bargain, considering the original retail price was over three grand.
As payment for programming work on some hideous FM-based unit that Elka came out with (my mind has deliberately blanked out the model number), I got Elka-Orla to give me two of the last Synthexes and to ship one of them to Los Angeles, where I was moving. Called in to try to make sense of Stevie Wonder's new Sequential Studio 440 drum machine (into which my Prophet 2000 samples would thankfully load), I was soon up to my old tricks, asking if I could bring in other synths. Next thing we were MIDIing the OSCar and Synthex together for the killer bass sound on his 1987 single 'Skeletons' and I was in there.

After the album's release, I toured the world with Stevie as MIDI programmer, ensconced under the stage with the Synclavier guy. Unfortunately, because of their limited MIDI implementation, neither the Synthex nor the OSCar went on the road (except recorded into the Synclavier), but Elka-Orla cobbled together one last Synthex for Stevie from several ones that had been cannibalised for parts (because I refused to sell him mine)."

(from the Sound on Sound Interview with Paul Wiffen, December 1999)
How many Synthex were produced?
I have no production statistics, but I've been watching the instruments on the used market for at least 15 years. Interestingly enough, there seems to be no Synthex with a serial number lower than #700. (The lowest Ser. No. we've ever seen is #705.)
The Synthexes with serials around #700 were 117V models and probably for overseas shipping. Instruments from #800 were 220V models and for the European market. All those early units were not equipped with MIDI, so many of them were later retrofitted with the Computer-Interface / MIDI Break-Out-Box. Direct installation of the MIDI-Trio only found its way into the last 300 units (from #1300 to #1600).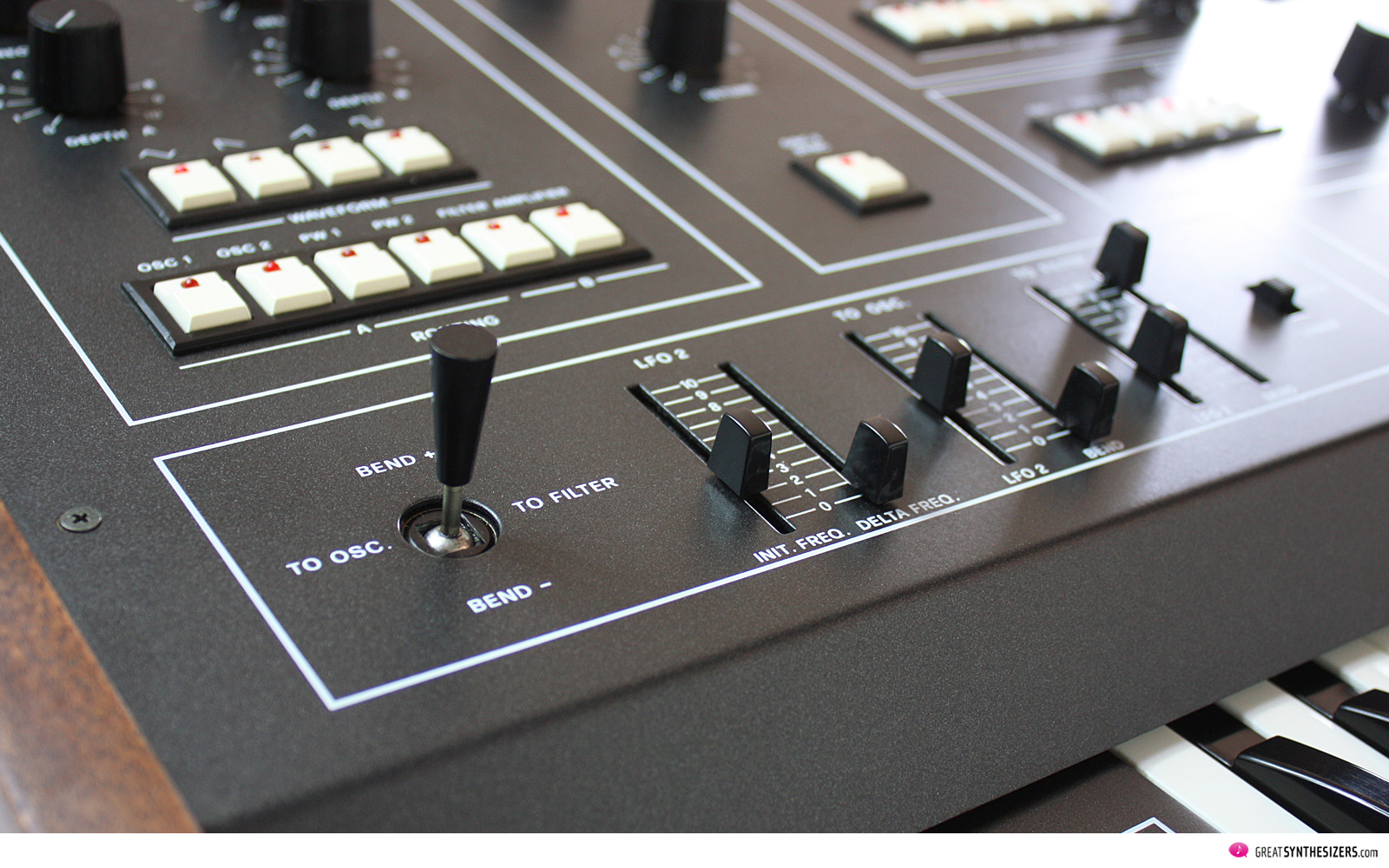 Assuming that main production started with Ser. No. #700 and ended slightly above #1600, and taking early units without serial numbers into account, a total of 900 – 1000 Synthex were made. And there was one last Synthex ELKA made for Stevie Wonder just before the company closed its doors in 1988, as Paul Wiffen explained in the interview quoted above.
Hardware
In general, Italian synths have a poor reputation regarding reliability. Take any Siel, Crumar, Farfisa instrument … most of them contain poor to medium quality hardware. The Synthex is one big exception! Great knobs, quality switches, solid housing, a well-thought-out interior and a very playable keyboard (much better than any of those cumbersome early Oberheim keyboards, even better than that of a Jupiter-8). A truly professional instrument.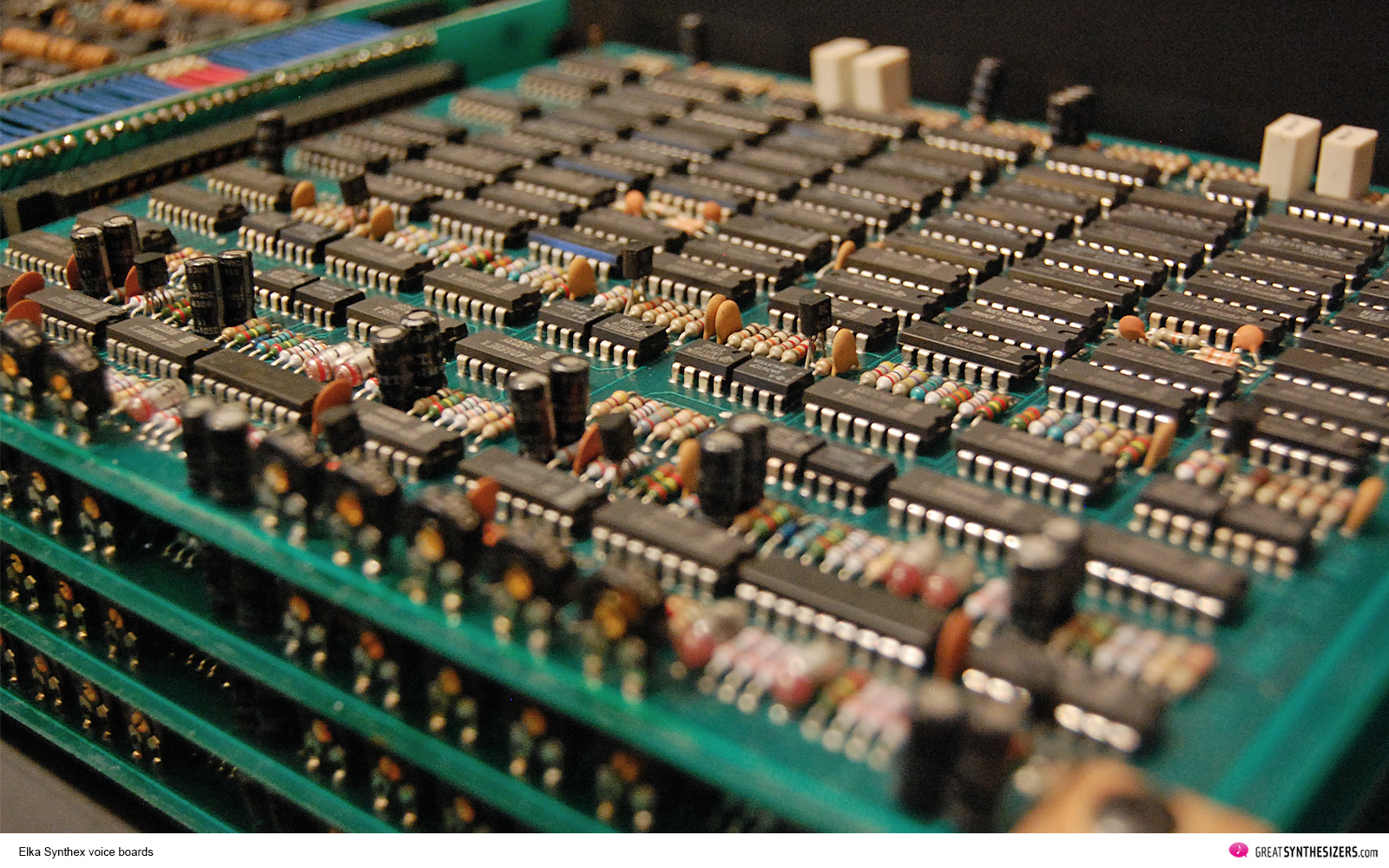 Still, we have to be honest. The Synthex is, once in a while, a bit unreliable. Which is no wonder – there are 1000 ICs inside. So, on the very rare occasion, breakdowns do occur. But then again, spare parts are an important consideration with all vintage synthesizers. What happens if one of those displays on your Matrix-12 or Xpander stops functioning properly? What if any of those special chips in a Prophet VS need to be replaced? And what about the Yamaha IC used in early polyphonic CS-synths? Vintage synthesizers sometimes carry an inherent risk.
A singular advantage of the ELKA Synthex is that 99% of its electronic parts are standard parts and easily available, even today. (Deficient parts are not the problem, it's finding out where they are. Localizing the defect may take several hours, while replacing the broken part could be just a matter of minutes.)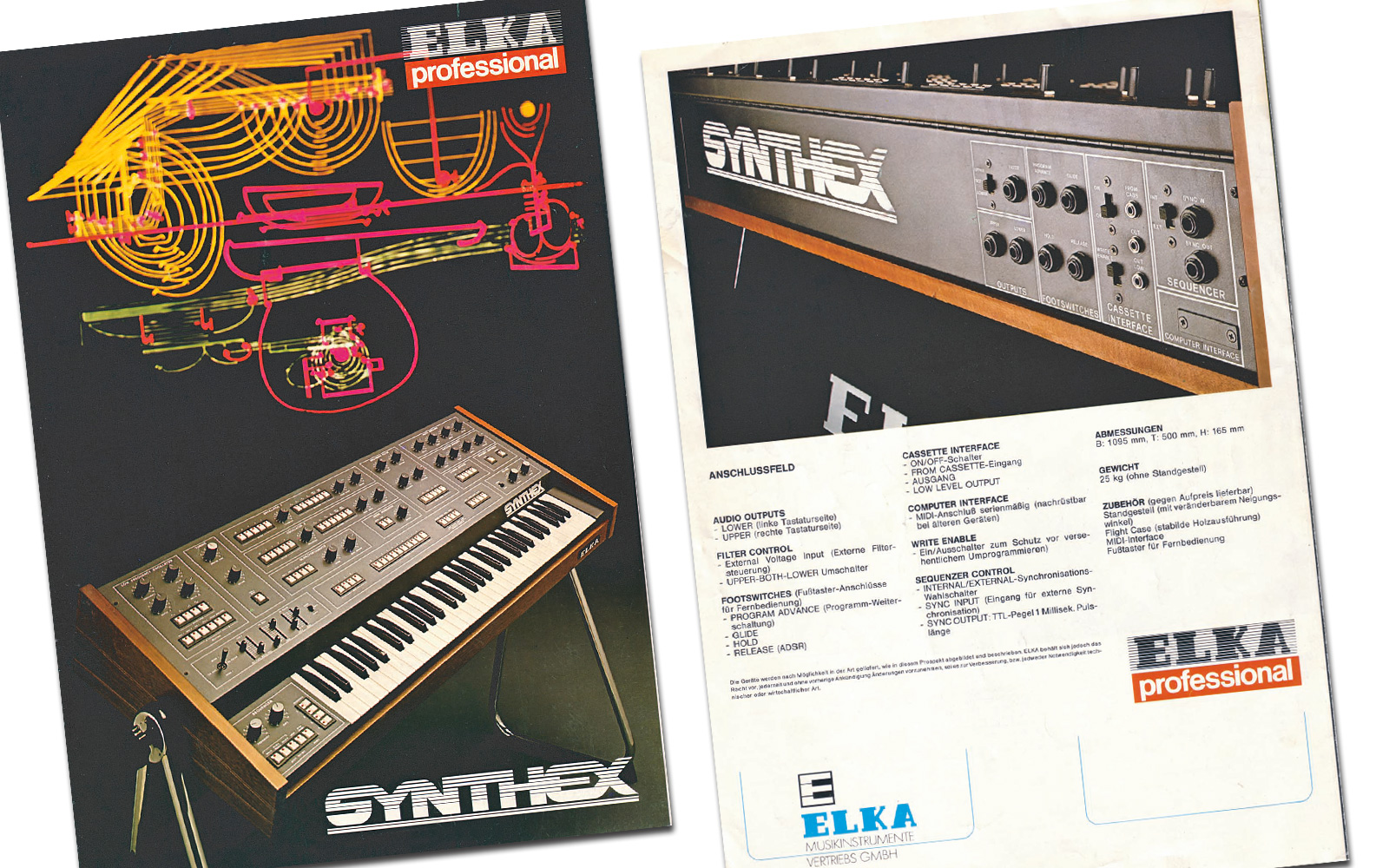 Synthex and MIDI – interface stage
– Very early models do not have that little fan-housing of the later Synthex. Instead, the fan guard – round circles – are drilled directly into the metallic backside of the instrument. Not important, but interesting. Further, these early Synthex only contain the Sequencer In / Out, without any additional interface.
– Next step: implementation of the Computer Interface. The first batch toted a blind metal plate, lettered, but without any electronics inside. Many early Non-MIDI Synthex featured that interface dummy. But that was not without reason. The instruments could thus be retrofitted with the necessary electronics that arrived with the MIDI Break-Out Box.
The next stage saw the Computer Interface implemented as standard – a simple port that hooked up the extra box containing MIDI IN / OUT / THRU (MIDI Break-Out Box, once again). From that point on, MIDI was standard with all Synthex instruments. Most models feature this Computer Interface + MIDI Break-Out Box solution.
– The very last 300 instruments were no longer outfitted with that clumsy combination of Computer Interface + MIDI Break-Out Box. Instead, the MIDI sockets were implemented directly into the rear side of the Synthex. Sadly, the basic MIDI functionality underwent no improvements. MIDI Note On/Off is – more or less – all you Synthex give you.
Picture above: different interface stages of the ELKA Synthex.
Early models (A) featured the Sequencer In / Out interface only.
Next version (B) – Computer Interface with MIDI Break-Out Box, which went through different stages. And: SEQUENCER and COMPUTER INTERFACE were sometimes written above, sometimes below the sockets.
Finally, the last version (C) with MIDIdirectly implemented into the instrument. The MIDI ports were fitted at a 45° angle to accommodate for limited space.
Features
For those of you in hurry, here's a summary of Synthex features:
8-voice polyphony (4-voice in split/layer mode)
2 DCOs per voice
digital ring modulation feature
crossmodulation of PWM
LFO1 with extensive modulation routings
LFO2 controlled by joystick
elaborate glide/portamento features
VCF section with 4 filter modes: lowpass, bandpass 1, bandpass 2, highpass
ADSR envelope for VCF
ADSR envelope for VCA
chorus section – 3 modes
4-track sequencer
40 factory presets, 40 user memories, cassette interface
MIDI on most Synthex models
Let's talk specifically about four aspects of the instrument: OSCILLATORS, FILTER, ENVELOPES and LFOs.
The Oscillators
… offer vast possibilities and they're great to use (easy to programme).
Scaling is simply realized via switches. Further, each OSC can be transposed in semi-tones within one octave (via a rotary knob).
Waveforms are selected via switches again, including two special features: PW crossmodulation and digital ring modulation.

The Filter
… is one Synthex jewel. This multimode filter surpasses any filter of those other classic analog poly-synthesizers, such as Sequential Prophet-5, Roland Jupiter-8, Memorymoog, Oberheim OB-X / OB-Xa or OB-8.
Multimode tells us there are different types of filters – as on the Roland Jupiter-6. On the Synthex, there's lowpass, two types of bandpass and highpass filtering. Bandpass and highpass are the unique ones. Even at higher filter resonance settings they don't falter, but deliver smooth and dramatically strong sounds.
The Envelopes
… are not quite up to those of a Prophet-5, Jupiter-6/8 or OB-X. They're a bit slow. Prophet- and Jupiter-envelopes are superior, no doubt.

But those musicians who appreciate the soft and brilliant Synthex sound will learn to accept this small detriment. Besides, the envelope's behaviour somehow fits to the instrument's overall – clean? – slightly digital? – sound character.
The LFOs
… to be exact, there are two LFOs – are quite flexible, really. That's one reason why a Synthex is capable of stunning FX-tones and interesting sweep-sounds. LFO 1 offers different waveforms, as on the Prophet-5 or Jupiter-8. Modulation routings lead either to OSC 1, OSC 2, PW 1, PW 2, FILTER, or to the AMPLIFIER.
LFO 2 is getting into play via the joystick. Routings go to the FILTER and/or to both OSCILLATORS. In Double / Split mode, a switch lets you determine whether joystick movements affect the UPPER / the LOWER sound only, or BOTH sounds at the same time.
When using the joystick as a pitch-bender for UPPER or LOWER sound only, this allows you to control minor or major frequency differences between the two sounds (from slow beatings up to a fifth) directly, quickly available at your fingertips with the movement of the joystick.
Sequencer – a simple tool of great musical value
Not many sequencers are as flexible and user-friendly as the Synthex sequencer. Its simplicity belies its many options. In my opinion, it allows musical expression beyond the scope of any software / computer-based sequencer. On the Synthex, the implementation of complex grooves and poly-rhythmic patterns is just a question of seconds.
And … yeah, there is MIDI, of course, so – theoretically – you don't need the internal sequencer at all. Nevertheless, that analog groove is unique.
Don't even think the sequencer is a primitive substitute for MIDI. Once you learned how to program it, it offers a lot of surprises and comes up with some useful tricks. The Synthex sequencer is a goldmine for instant patterns à la Berlin School, for over-the-top arpeggios and much more …
The sequencer has four tracks, each with 128 steps. Later Synthex models also feature multimode playback: two sounds can be independently assigned to any of the four tracks. Occasionally, earlier Synthex models had this feature as well … (honestly, we're not quite clear about this point.)
Sequencer key features:
4 independent tracks (128 steps each)
Multimode: two different sounds can be assigned to any of the four tracks
Step-by-step mode
Realtime mode
Recording of staccato– and legato notes
Independent step-length on each track (!)
Live-transposing of all tracks over the total keyboard range (or split at any point, as you wish: use the bottom two octaves to transpose arpeggios in realtime, while playing your live solo in the upper section)
The sounds themselves can be transposed in a wide range BEFORE starting to play the sequencer. That's extremely useful. You don't have to edit each sound independently (change scaling), you simply press "key set" in the seqencer section and hold down any key you like … the sound is immediately shifted down or up, as you wish.
Simple sequencer editing functions such as Delete, Loop, Reset etc…
Triggering the sequencer by an external device – this is great! Especially when using a rhythmically complex trigger signal. Now, imagine what happens when your four Synthex-tracks of independent length are triggered by an external source of another (and different) length. There is no way you can produce boring music with those features.

Sequencer-data is transmitted to other instruments via MIDI-OUT. A great feature I wasn't aware of for a long time. Use the Synthex to control your Xpander, PPG Wave 2.3, OSCar, Opera-6, JD-800, or whatever MIDI-synth is at your fingertips
General GATE control for the sequenced sound
Stereo-Out: For impressive depths of sound
A friend of mine got his Synthex some months ago. When I visited him, he demonstrated this new pride of his collection, and, well, I wondered why the synthesizer sounded OK, but not nearly as spectacular as I would have expected – until I figured out that the Synthex stereo function wasn't activated. "You don't know what the Synthex really sounds like" I told him. We flipped the mono/stereo switch and voilà – there it was, the massive ingeniousness of the Synthex.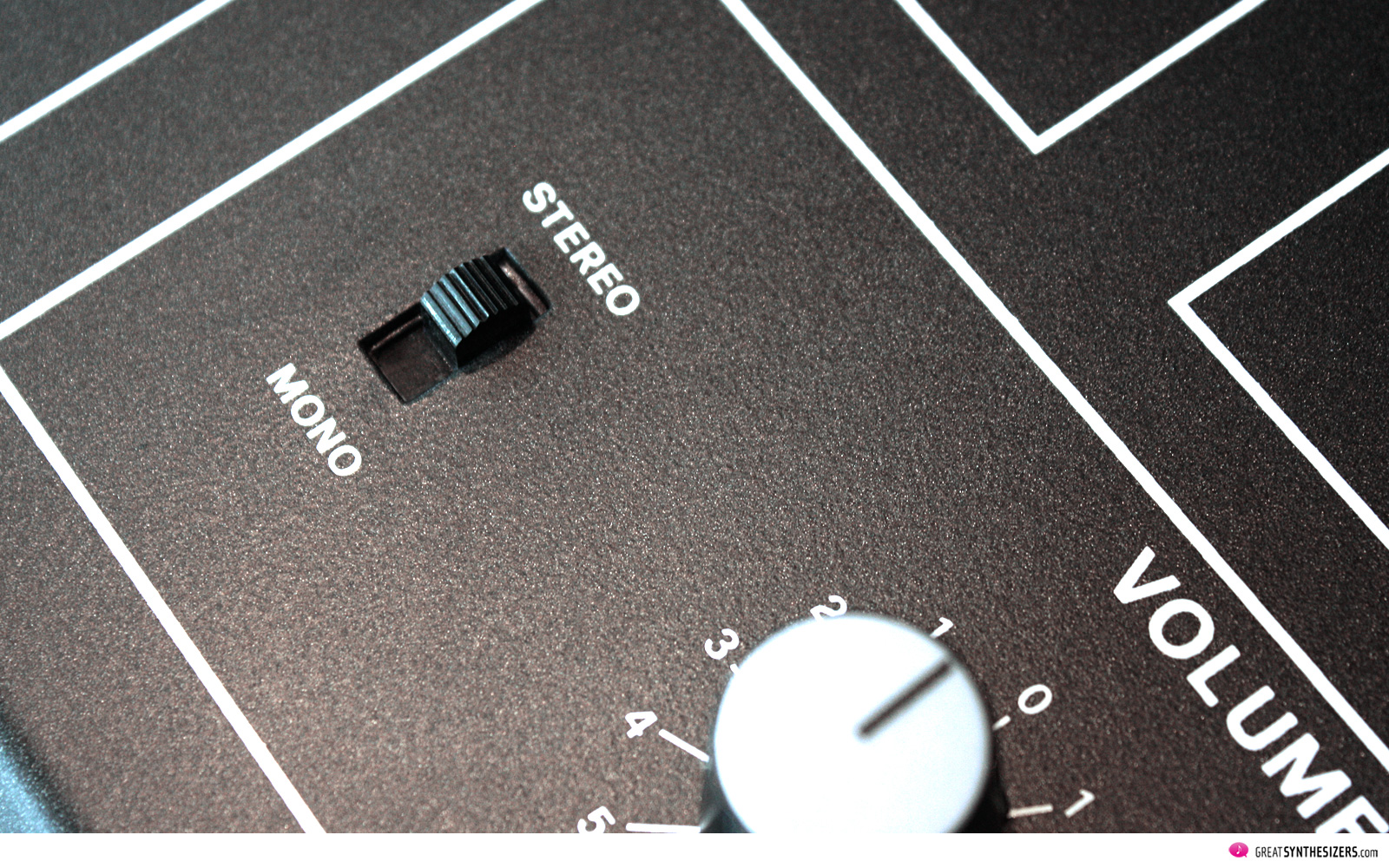 Be assured: playing the Synthex in DOUBLE mode can be a revelation, especially when using the same sound for UPPER and LOWER. You end up with a four-voice, four-DCO synth – one sound to the left, one to the right. Just as stereo works.
But that's not the end of the story. In stereo-mode, the Synthex automatically detunes both parts. Just slightly, but enough for subtle beatings between both channels. Which means you get an unbelievably large, fat sound. No Jupiter-8 (despite its stereo out) gives you this wide sonical scope. No other polyphonic analog synth can top the Synthex in terms of that wide stereo-panorama-mode.
Speaking of stereo-mode, we must admit that the classic Oberheim synthesizers OB-X/Xa/8, Matrix12/Xpander are impressive in their own (with their stereo panorama positioning of each voice) …
… but that Synthex Double-Sound with two de-tuned voice-paths comes straight out of another planet. In combination with the massive on-board chorus, the Synthex thus can produce magic vintage strings. And, well, if both sounds only differ slighty in OSC tuning, LFO speed (filter frequency modulation) and other details, the stereo-image seems to expand out into the universe. Excellent.
By the way: if stereo, activated via that small switch, is used in NORMAL mode (one sound only), the sound appears randomly left and right. Let's call it Ping-Pong Stereo. Another small, another impressive, detail of the Synthex.
Sound
There's not much to say here. The instrument owes its reputation to Jean-Michel Jarre. As with Vangelis and the CS-problem – when using a CS-80, your music needs to sound Vangelis-like … or at least that's what many people think – the Synthex is much more than that famous Jarre-Laser-Harp-Sound to be found on Rendez-Vous.
Great (deep!) basses, sensible sequencer-eminations, wide (warm) strings, unusual FX-noises … you've got the lot. Textures in the beguiling style of the late 70s string machines, strong solo-sounds, thrilling effect-sounds in combination with external CV-to-VCF modulations (at high filter resonance settings), ingenuine sequencer / arpeggio sounds: this all is the musical world of Elka Synthex.
A propos sound: we really appreciate the use of the sequencer, especially for programming. While the instrument grooves, it simultaneously generates newness and individuality. Thus, the Synthex is not only a professional tool for in-depth programming, but also an instrument that is instant fun to perform and play.
Small Minuses
There are points of criticism, if only a few. First, its loud fan. A tractor in your studio, technically a necessary evil (well, there might have been other possibilities for temperature stabilization), but acoustically a no-go. Solution: Have a quieter fan installed. Second, the lack of additional XLR audio outputs. See Jupiter-8, see Memorymoog – both offer unbalanced and balanced output(s). And third, the lack of a headphone socket. So, that was it.
Conclusion
You are already aware of my opinion: the Synthex is a tremenduously useful and unique musical instrument.
Noble hardware, high quality of workmanship. And then there is that special Synthex SOUND. A strong, clean, sometimes over-the-top, straight (DCO) sound, true. Unbeatable wide panorama image in stereo-mode (you don't even need the internal chorus). True as well. That specific Synthex STEREO SOUND is something no other synth offers.
Well, nonetheless, despite all enthusiasm – whether the Synthex would be the right instrument for specific needs cannot be determined in any test report or video demonstration. Every musician has individual requirements. It takes time to find answers. And commitment. Try the Synthex out, feel it, listen to it well, explore its performance possibilities, subject your intuitive access to the synthesizer to a longer test … only then can priorities be recognized and decisions made.
Some say the Sequential Prophet-5 is the ultimate analog solution (and sometimes that's true, no doubt). Others say they would never sell their Roland Jupiter-8, no way. Proud owners of a Memorymoog (especially of the Lintronics upgraded LAMM) can hardly imagine a better polyphonic analog synth than theirs. But let's not pit one synthesizer against another. They are all very individual, and the best of them all have their place.
Synthex in summery: user-friendly concept, great four-track sequencer, expressive overall sound, and heaps more. A polyphonic classic, one of the great analog polysynths of all time. Absolutely unbeatable, in some ways.
That's my opinion, to be sure.
---
x
Update April 2015: the Elka Synthex seems to be staging a comeback. Finnish company Soundion Oy Ltd bought the bankrupt estate of GeneralMusic (Elka, GEM, LEM, …) and plans to bring back the Elka Synthex.
Update July 2015: unfortunately, the Bring-Elka-Back refunding attempt was not successful. Soundion Oy Ltd stays tuned, though … maybe a "new" Synthex project will bring Elka back to life one day.
Update 2021: Synthex prices seem to have stabilised during the last year. Asking price nowadays is between 7,000 and 10,000 USD / Euros. If you're interested in buying a Synthex and can't find one on eBay.com or Reverb.com – look in Italy! Synthex are regularly offered on www.mercatinomusicale.com …

Febrary 2021: Major test report update.
---
x
We have attached 40 minutes of Synthex audio files. Main performance feature of the demos: the internal 4-track Synthex sequencer, performed live, of course. An external high-frequency LFO provided – via VCF CV-IN – for extreme / ring modulator-like sounds (all Synthex) … and, yes, Roland's JD-800 contributed some noble pad sounds. The last two sound files are (c) by John Parkins – definitely worth listening to (!)