Sequential's Pro-One synthesizer is a miracle. It was released at a time when monophonic synths had to fight a final battle against polyphonics, which became more and more popular.
Quite at the end of the great analog aera, Sequential Circuits presented their first and only monophonic in 1981. A strange move, considering that the company paved the way for polyphonic synthesizers back in 1978 with their all-time-classic (original) Prophet-5.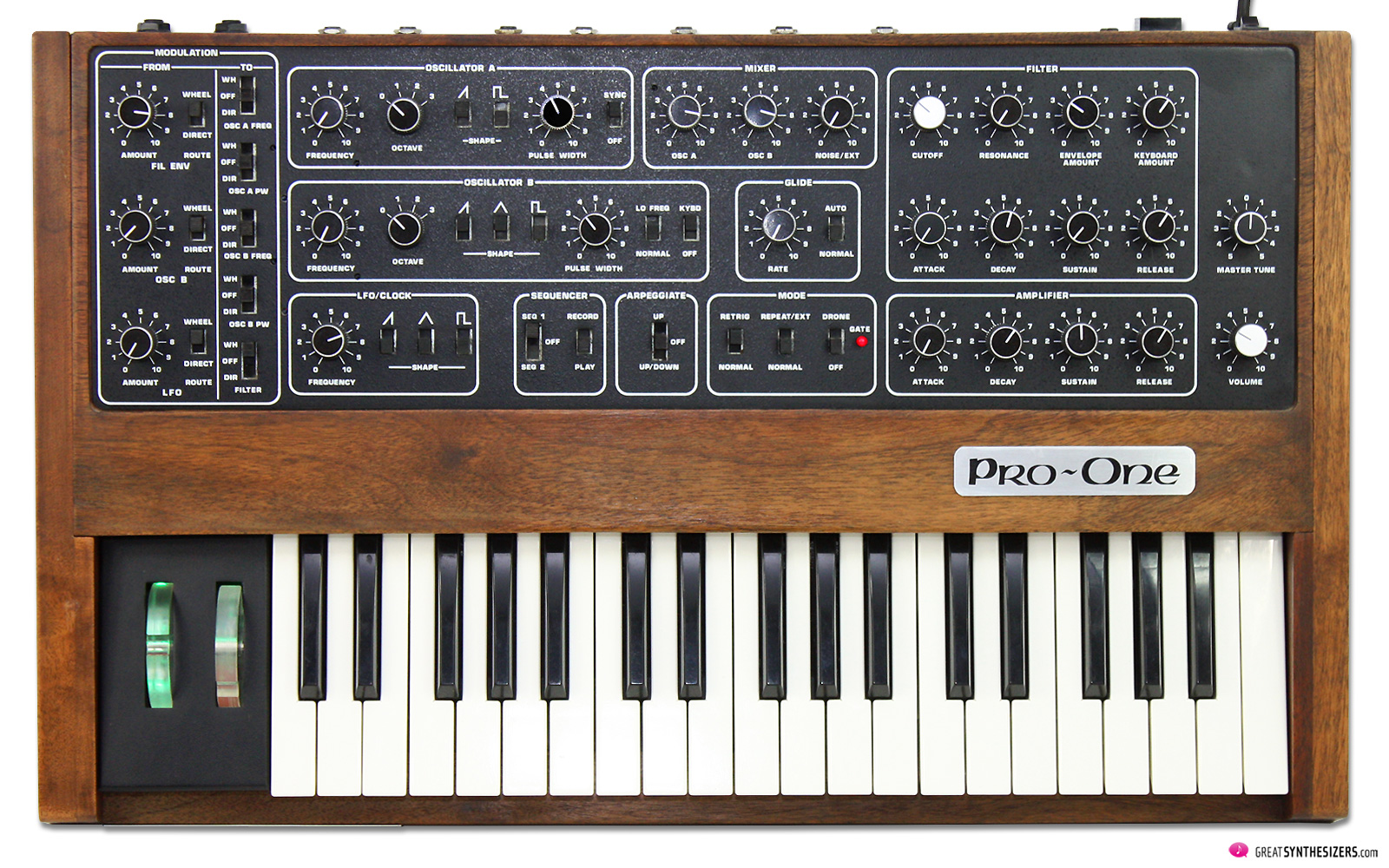 While the original five-voice Prophet was called Model 1000, its smaller single-voice brother, released 3 years later, was called Model 100 …
The majority of Pro-One owners doesn't know that at all, simply because many instruments lost their serial-plaquette. Wheather some were never sticked on Pro-Ones at all or if they fell off after some time … who knows!
While the cute Pro-One Model 100 might be only one tenth of the great Prophet-5 Model 1000 considering hardware, it has its own musical territory, its own power that probably never will be beaten. It must rate as one of the most complete of the commonly available (vintage) monosynths ever. It may be ranked among the Top-3 monosynths, right next to the Minimoog and ARP 2600.
A wolf in sheep's clothing
The Pro-One is NOT a simple synthesizer with just nice VCOs and a great filter. And it is NOT synonymous with a Prophet-5 single voice. That rumour – the one Prophet-5 voice – seems to be very insistent. Anyway, when listening to each instrument's power, you'll recognize it's not true, not at all.
Further, the Pro-One won't build up another battle line between ARP-enthusiasts on the one side and MOOG-admirers on the other side. It is not a dominating instrument and seems to be camouflaged with some really weak hardware components.
That might be an unexperienced musician's downfall! When playing the instrument for the first time, when recognizing first small damages on the speakers, most people might be worried about that strong audio signal leaving the mixing console. Sure, it must be the mixing console, it's simple not gained correctly, isn't it? What the hell is happening …?
Might it be that small unimposing synthesizer named Pro-One? Well, it is.
Some features of this monophonic are truely dangerous:
a high-class concept of the signal path with strong VCOs and a powerful VCF
a unique modulation matrix system
an equally unique (and simple!) sequencer/arpeggiator unit
Two facts seem to be less excellent:
the minor-quality hardware
a clunky and clattering keyboard (on most Pro-Ones)
But times are changing. Upgrades available today for the Pro-One essentially eliminate the above-mentioned negative points.
Facelifting: The Pro-One of the 21 Century
What's remarkable about those wooden cases is that the Pro-One now (for the first time) looks like a smaller version of the legendary Prophet-5. The new wooden frame replaces that less appealing plastic chassis. New knobs and a unit of illuminated wheels are included.
The conversion kit requires minimal technical knowledge – you need a drill (4 holes), a screw driver and a soldering iron. But more important, you need a lot of time and much patience. It might take a whole weekend (and a few bottles of beer) to completely restore a Pro-One (including cleaning all the keys).
Now, a Pro-One Deluxe of this sort is (also) object of our test report. It looks very classy and is a pleasure to operate. Two modifications were carried out in addition to the above mentioned: the crumbly rubber pads under the keys were replaced (keyboard upgrade from Virtual Music) and all pots were stabilized with shims (available in any DIY store) – so the knob action now feels more reliable.
Note: Since there are many ways to improve your Pro-One synthesizer nowadays, we focused on that topic and released the following trilogy:
Pro-One: A hard worker
The Pro-One features:
2 VCOs: all waveforms are available simultaneously. VCO 1 has a sync switch. VCO 2 can be set to LFO mode (with or without keyboard voltage control)
VCF: a powerful 24 dB low pass filter with brilliant resonance
2 envelopes: one ADSR for VCF and VCA each
LFO: as with the VCOs – all waveforms are available simultaneously. LFO-clock serves as masterclock for SEQ and ARP
a powerful modulation matrix
noise, glide, various trigger modes, 2 wheels
sequenzer and arpeggiator (with EXT clock input)
Well, the Pro-One is simply the best! No other vintage mono-synth matches its excellent sound. At the most, it could be surpassed by the much more expensive ARP 2600.
However, a Pro-One is a hard worker, no doubt! In some way it is truely unique flexible, maybe it is the most versatile allround-monophonic on earth (I believe so). Sure, a Korg MS-20 is outstanding as well, but its special sound character will always put it in its own corner in any musical context. No Minimoog will be used for generating extreme effect-sounds, whilst it is the unchallenged king of lead- and basslines. That's why an ARP Odyssey is a very effective addition with its vast modulation routings and a rather neutral sound character (whatever "neutral" means, I'm not sure up to now).
So, Sequential's Pro One is part of all! Not character-wise (sure!) but regarding its versatility. Musical-wise there are not limits at all! It offers scarifying bass-sounds (punchy dry analog beats as well as warm, softsounding ones). Further, it's one of the best FX-machines ever made (just have a look at the modulation matrix and you know what's going on…). Last but not least high-quality leadsounds and especially outstanding sync-leads are just a simple job for the all-time-classic Pro-One as well.
Envelopes are very short and percussive sounding and the filter is strong (with that great resonance!). All waveforms of the VCOs may be used at the same time (just like on old granny ARP 2600). If the single LFO is not enough for your musical inspiration, use VCO2 as great high-end LFO that lets you slide from Low Frequency to the oudio range (whilst modulating the filter – it is great!).
Modulation matrix and vast filter-cv routings
If you're one of those who love to create new, crazy sounds, the modulation matrix is your thing!
Following three modulation sources are offered:
FILTER ENVELOPE (ENV 1)
OSCILLATOR B (VCO 2)
LFO
Modulation destinations are:
VCO 1 FREQUENCY
VCO 1 PWM
VCO 2 FREQUENCY
VCO 2 PWM
FILTER FREQUENCY
Two possibilities of ROUTING: either via WHEEL or DIRECTly
This small modulation matrix offers incredible sonical possibilities. Just imagine you synchronize both VCOs, while the second oscillator is in LOW FREQ position and via the matrix system you let it (and VCO1) modulate by itself. This is not at an end: route any modulation source to FILTER FREQ and use the FILTER-IN port for extended (external) filter modulation… Maybe you got an idea how flexible the Pro-One is. It can produce sounds that an ARP 2600 or even more elaborate modular system might offer.
Comprehensive control of the filter is of great importance for good sound effects. So it's good to hear the Pro-One has a FILTER IN jack. That means the filter can not only be modulated by its envelope, by keyboard tracking and by any of those weird routings in the modulation matrix, but also (simultaneously) by any external CV-source (e.g. analog sequencer, an additional LFO, another envelope).
Connections
The Pro-One is – almost – perfectly fitted with:
AUDIO OUT
AUDIO IN
CV/GATE OUT
CV/GATE IN (CLOCK IN)
FILTER CV IN
"Perfect" would include the addition of two more connections: VCA IN (like on the early Oberheim OB-1) and VCO1 IN (for cv-control of oscillator synchronization, as on the Crumar Spirit). Such modifications might be possible by skilled technicians, I'm sure they're worth the money.
Trigger Modes and Glide
There are several Trigger Modes (like repititon via LFO clock and external triggering) as well as DRONE (= hold)… The only LED found on the Pro-One shows the trigger signal – like on the OSCar.
GLIDE is not extraordinary, but very important. First, there are two modes (NORMAL > each note glides, AUTO > legato played notes glide). Second, when triggering another synthesizer via the Pro-One sequencer (that's possible, great!), glide also effects on the external synth … sounds very good!
Sequencer and Arpeggiator
As mentioned above, sequencer and arpeggiator are simple, but brilliant. Arpeggiator: Two play modes are offered: UP and UP/DOWN.
What a shame Random (like with those great Roland Jupiter arpeggiators) is not implemented. We just havce to accept it.
But the Pro-One arpeggiator features an interesting extra. Peter Forrest describes it as follows:
"[…] the arpeggiator looks basic at first, with just Up and Up/Down options, but by a bit of dual-purpose switching, SCI have made it very flexible and usable: you can latch notes by holding them down and sliding the sequencer switch to RECORD. (It might mean using your nose, if you want to hold down a lot of notes, but it's almost worth it.) […] You can then add bits to the arpeggio in real time, which will disappear again when you take your hands off, leaving the original arpeggio still going strong."

(Peter Forrest, "The A-Z of Analogue Synthesizers Part Two: N-Z", revised, page 163/164)
The sequencer comprehends two rows (useable separately, not together – it's a monophonic machine) with a maximum capacity of 40 steps. Not too much, honestly, but for simple – but effective – pattern music it is still a perfect tool. Rests and held notes may be programmed to give you at least some rhythmical possibilities. (Just trigger the Pro-One sequencer with a varying external trigger signal, and you're the king …).
Finally – and that's tremendously important – sequences can be transposed in realtime (not over the whole keyboard length, but over two octaves, that's fine). Best of all, any other monophonic synth (1Volt/Oct) can be controlled via the Pro-One sequencer as well. Making music really gets easy as soon as the groovy Pro-One pumpes out some weird FX-noises, while the ARP Odyssey or any other synth plays a nice bass line in parallel.
Sound
Simple reason the Pro-One is worth every Cent: Its strong and versatile musical sound. Great VCOs and a powerful filter (with that clear and effective resonance), fast and percussive envelopes, vast modulation routings, good connection panel … what else do you wish for?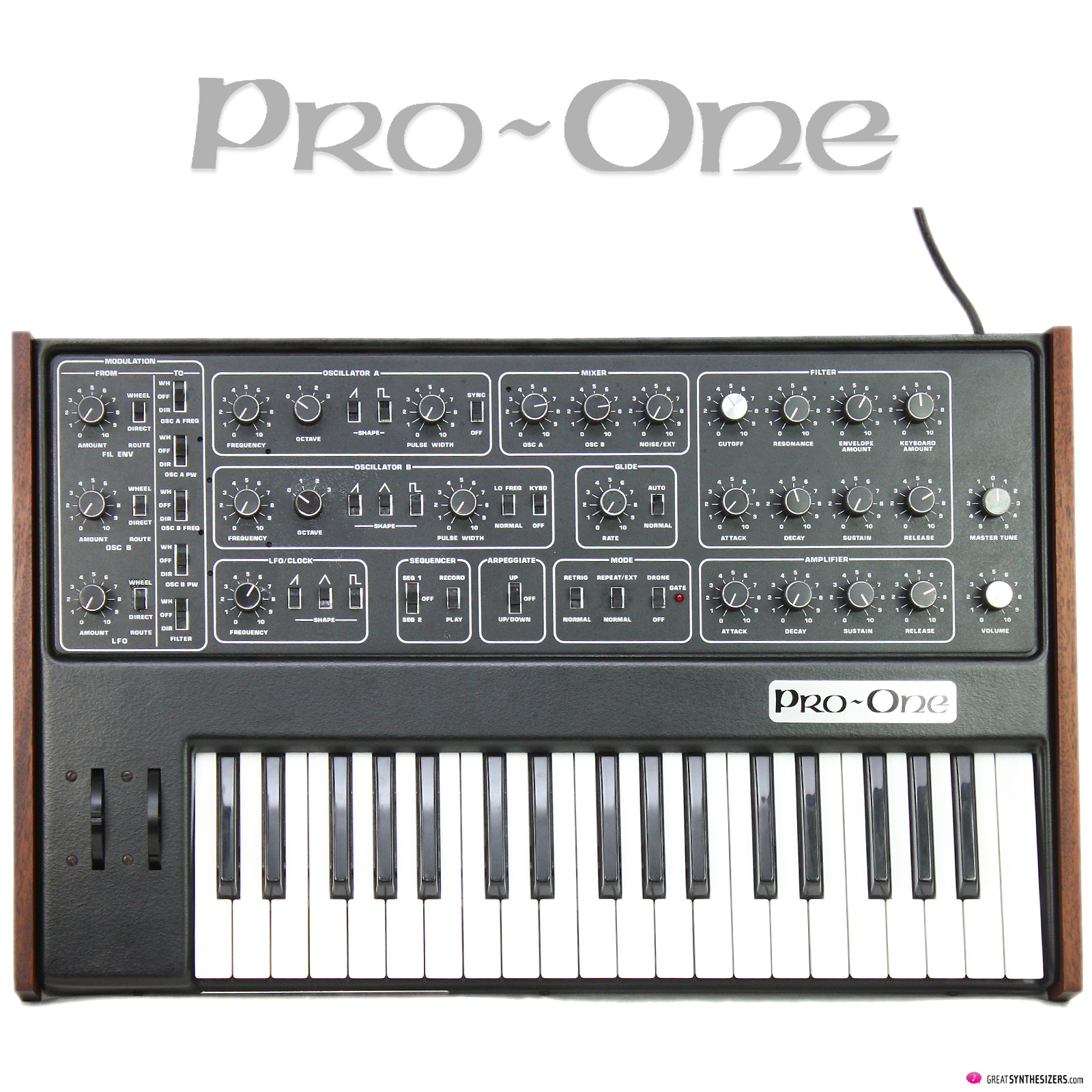 Peter Forrest perfectly describes the instrument:
"[The Pro-One is] simply one of the most powerful and enjoyable monosynths ever made. It's capable if the full range of the monophonic repertoire, from bizarre twiddlings to fat bass: soundwise it seems to get as much out of the standard (3340/3320/3310) Curtis chips it uses as any non-modular design has ever done. You could play it as your only instrument for years, and still be coming up with new sounds."

(Peter Forrest, "The A-Z of Analogue Synthesizers Part Two: N-Z", revised, page 163)
Pro-One today
It becomes immediately obvious that the Pro-One is the most versatile of all vintage monophonic (non-modular) synthesizers. Not necessarily the best (if there can be such an assessment for any instrument) and not even the most powerful synth. But its flexibility – due to modulation matrix and sequencer / arpeggiator – has not been achieved by any other vintage mono-synth.
For many years, the Pro-One was easily available on the second hand market (just like the Korg MS-20). This situation has changed. It is rarely seen and is becoming increasingly expensive. In 2023, you'd have to calculate 1,800 – 2,800 Euros/Dollar for a Pro-One in fair condition. However, the price does remain reasonable considering the instrument's incredible sonic strengths.
Finding vintage synthesizers in reasonable condition at reasonable prices, is getting more and more difficult, I have to admit.
On the other hand, many new high-quality analog synthesizers are available on the market today.
For the above-mentioned 1,800 – 2,800 Euros, you could get (more or less):
Or a few DSI Mophos:
"The Mopho is an excellent choice for anyone looking for large, aggressive analog sound combined with extreme flexibility at a very low price. It's tempting to make the Pro-One comparison, but it's much more accurate to think of the Mopho as a descendant rather than a reproduction." (www.vintagesynth.com)
Finally, the sounds of new analog synthesizers and vintage synths are of pretty much equal quality (hm, or at least: of sufficiently quality). And most modern instruments offer significant advantages, such as MIDI, USB, extended performance options, etc.
So, there are cheaper alternatives to the Sequential Pro-One, but you may prefer to own a classic – a true legend. 30 minutes of Pro-One sound samples are waiting for you below. Enjoy listening …