It is always praiseworthy when a manufacturer continues to maintain a product "after" its release. Just like Waldorf does with its Quantum. All improvements up to the very latest OS (1.2.3) put the already enormously powerful instrument another big step forward.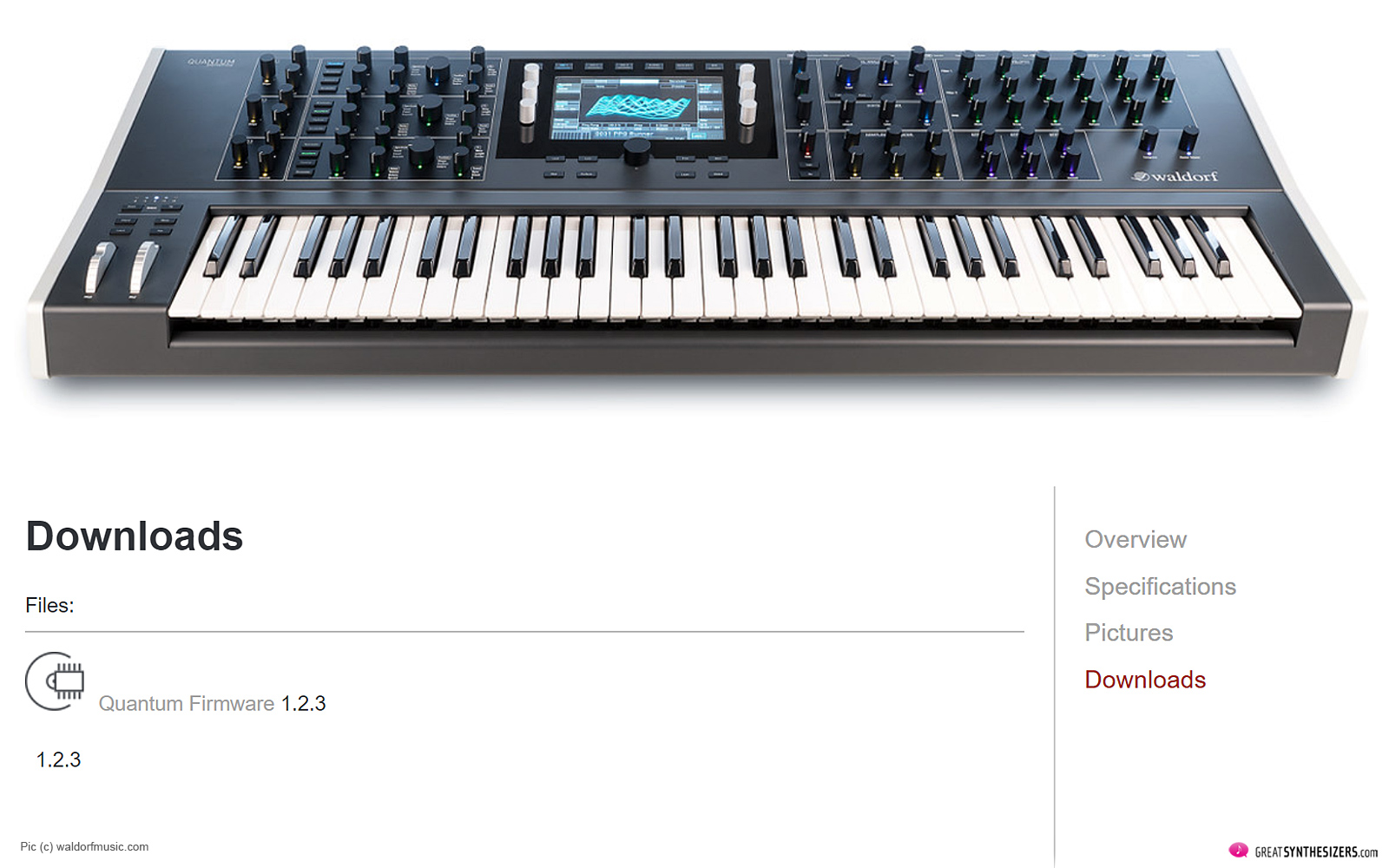 We'd like to focus on two aspects that benefit the user immediately.
Sonic potential: The (double) analog filter does not overdrive at high resonance as wild as it did before. Still, the beautiful filter-self-resonance remains preserved. In addition, the analog filter-section can now be calibrated.
Conceptual upgrade: The workflow has been simplified. The main button (right above the display) now act as multi-trigger buttons. For easy and direct access to "all" parts of the dedicated area.
Example: Pressing "LFOs" several times takes you (directly) from LFO 1 to LFO 2 to LFO 3, etc. Up to now – after selecting "LFOs" – you needed to press virtual buttons (central display) for selection of LFO 1 to 5. Now it's far easier, all done with one (physical) button. Same with the filters, same with the envelopes. The overall workflow is not only easier, but also more intuitive.
In addition, the accuracy of MIDI synchronization has been refined – and much more. All changes can be found on the Waldorf website, where the new OS is available for free download.
---
Update 01/2020: The latest OS version is 1.3. Theoretically, there is OS version 2, too, but as of now, it's still in working process.
---
x
Furthermore, we recommend the following Youtube video:
"Unleash the true power of your Waldorf Quantum with this complete set of 32 complex & evolutive pads presets!" (https://gumroad.com/l/STRATOS)
---
x
Whether it is necessary to buy Quantum sounds (or not) is up to you. Anyway, we took the opportunity of the OS upgrade to expand our own Quantum sound examples. The following demos focus on two aspects: The integrated compressor (which gives the Quantum more "presence") and the calibrated analog filter package.
"Koyaanisqatsi" (Glass Miner à la Philip Glass) and "P5 Mid Strings" are modified factory presets originally programmed by Howard Scarr. And ah, yes … the Quantum is no Prophet-5, of course. It has completely different strengths …
---
x
Links: