Part 1 was dedicated to an overall view of the features of the R24. The following (part 2) takes a closer look at the R24 hardware, along with some thoughts concerning the musical flexibility of the sequencer. Let's start with the hardware. The R24 sports a whole arsenal of analog and digital in/outputs – which you would expect, of course, of a good hardware sequencer.
Analog In/Outputs
Each row features …
CV OUT
GATE OUT
– Gate 1
– Gate 2
– First Gate (= step 1, automatically generated)
– End Gate (user-selectable, each step has an END STEP switch)
… as well as some remote-inputs:
CONTROL IN
– Step Repeat
– Advance Division (which is, in fact, Clock Division)
– Order
– Row Repeat
– Transpose
The transpose function is especially vital. Connect a control voltage of an anlog synthesizer (keyboard) to the R24 and transpose the sequences in realtime (this, of course, can also be done via MIDI).
Then there are some "global" in/outputs. R24 general controls, so to speak …
REMOTE
– Run/Stop (> use an END-GATE trigger-signal to run two or more sequencers in series)
– Loop On/Off
– Glide On/Off
CLOCK
– Clock IN
– Clock OUT
CONTROL IN
– Advance Mode (CV-control of the play modes)
– Sequencer Mode (CV-control of mode-status A,B,C / A+B,C / A+B+C)
– Sequencer Clock Modulation (… use an external LFO for speed control, e.g.)
– Sequencer Pulse-Width Modulation (CV-modulation of long/short notes)
… plus a RESET-input, e.g. for resetting all steps to STEP no. 1 via foot-switch.
MIDI / USB
The MIDI we're talking about is located on the top of the R24 at the back. What a shame there's just "one" MIDI OUT: 2 or 3 OUTs would have been a welcome luxury. MIDI THRU A2 is actually relegated to the synthesizer (see test report GRP A2) – since the synthesizer and the sequencer make use of the same housing.
USB is there, too (will be activated in 2017). A new firmware will then turn this port to a USB-MIDI interface. Be patient, coming soon! Which brings us to the interesting question of how firmware updates actually work … well, this works by means of an internal …
SD-Card
As to the SD-card, this doesn't come with the synth (but then, we all have some of those at home, somewhere), although the card slot is there, of course.
Updating the firmware goes like this: download the new update (available, of course, for free), save this onto the card, unscrew 8 screws on the (unplugged) R24 and lift the panel to insert the card. Then power up (plug the R24 in) … the sequencer now counts 0 to 100, at which time … voilà: the new firmware has been loaded! Then do everything backwards: unplug the R24 again, remove the SD-card, re-attach the 8 screw panels. All done!
This takes all of 3 minutes and gives you, in addition, deep insight into the …
Craftmanship
that has gone into the R24. As with all GRP products, the R24 is equipped with excellent hardware. The metal switches are stabilized by metal shafts, and the knobs are firmly mounted – so no wobbling! The tiny (white) switches react suprisingly well, but we have to admit that the bigger (black and red) switches can be minimally inexact. Meaning pressing STOP twice may be necessary – very rarely, but it happens – to bring the R24 to a full stop (no big deal, of course).
But enough of technical details. Let's turn now to …
Musical Flexibility
Naturally, this is vast, not to say (in the eyes of some musicians) even a bit "over the top". Not a concern for the pros among you, of course. Here the 8 steps of row A, there the 5 steps of row B, row C for sequencer-speed-modulation, a couple of excursions into transpose, portamento and some Repeat- and Order-modes … it doesn't get boring, in any case!
Let's face it: the musician is the composer, and the sequencer is his tool! The results can range from relatively simple to unbelievably creative!
Common to ALL users is the necessity to be exact! That overwhelming number of GATE / FNC / END STEP switches in every row does have to be kept under careful observance. This doesn't go as far as to say the knobs have a life of their own, but working in dim surroundings may turn out to be tricky.
We all agree that life isn't just a piece of chocolate. Those of you out for creative potential will just have to be on your toes (or invest in one of those slightly boring Moog 960 sequencer clones). Being creative naturally necessitates work. That's the fun of it.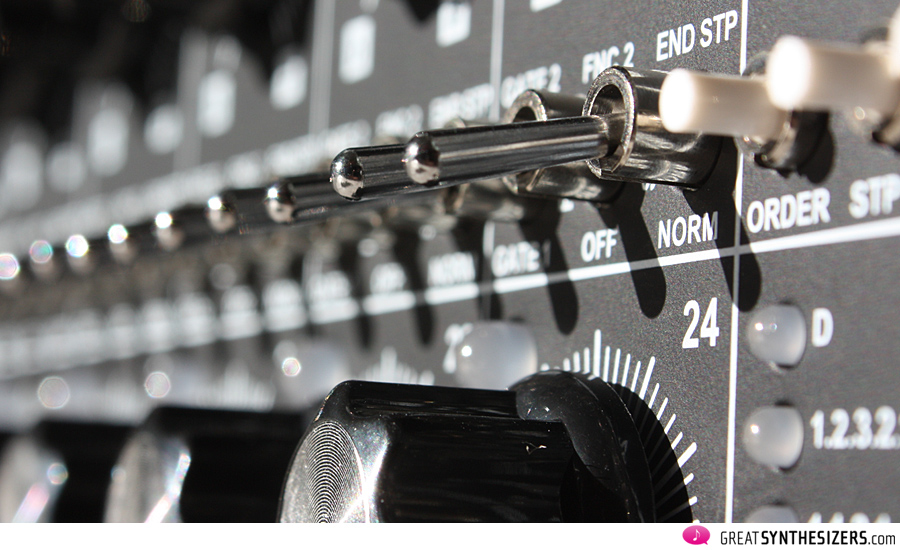 Today's good news: even with dim lighting, you won't be dependent on switching just the right switches, since – Abracadabra! – the R24 will help you out with its 64 memories. Not that those sequences get into the R24 on their own, they are dependent on some rather sophisticated programming (that's where you come in). But done is done – and as soon as that programming has been done, you'll have a lot of creative sequencer-DNA at your fingertips.
The Essence
The GRP R24 turns out to be one of the most flexible and elaborate step-sequencers of the last few years.
The unit is keyed to a variety of uses: stand-alone (on the table, in the rack), or as part of a 5U modular-system …
… and its performance flexibility is impressive: it has CV/Gate and MIDI (and USB); use it in a simple and straight-forward way (3×8-Steps, as with the good old Moog 960 sequencer), or sound out its many optional creative possibilities; create groovy music performances with a "real" step-sequencer. 64 memory locations, some spiffy extras (Order, Step-Repeat, Row-Repeat, Clock Divider, etc.) – a myriad of unusual musical results will be your reward.
GRP R24
MIDI / CV-Gate Step-Sequencer
Price:
1,990 Euros + VAT. + shipping
= approx. 2,350 Euros / 2,499 USD
(07/2022)
Website: www.grpsynthesizer.it
Open / Download:
Link: