One aspect of the '14 soundfiles available up to now has always fallen short: the special singing quality – the soul of the bard – isn't really transmitted. So we have something to make up for – and, indeed, to offer – concerning the central question of what technical and (above all) acoustic differences exist between the Vermona PERfourMER MKII and the '14 Analogsynthesizer.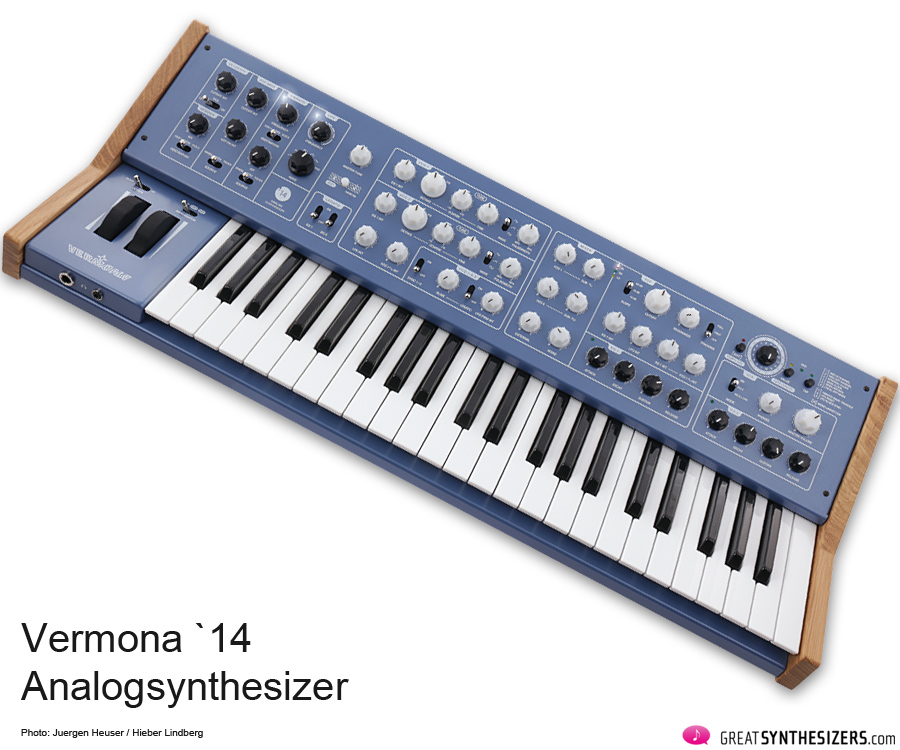 Let's have a look at the technical details first:
PERfourMER MKII
'14 Analogsynthesizer
Concept
Quadruple desktop-/rack-synthesizer
Mono-synthesizer with keyboard, wheels and arpeggiator
Voices
4 independent voices
Single voice
Connections
MIDI
CV/Gate IN (optional)
MIDI, USB
CV/Gate OUT
(sadly no CV/Gate IN)
Sound structure
4 VCOs
4 VCFs
4 VCAs
4 LFOs
4 envelopes
2 VCOs + 2 sub-oscillators
1 VCF
1 VCA
2 LFOs
2 envelopes
Musical strengths

sequential electronic patterns with 4 different, alternating voices
vibrant pad sounds (4-voice "true" polyphony)
monstruous monophonic sounds (unison mode: 4 VCOs, 4 VCFs, 4 LFOs, … VCOs can modulate each other … quite impressive fx-sounds possible)
genious quadruple CV/gate analog synth rack (even though CV/gate is optional and costs extra)
gorgeous "panorama" settings of the 4 voices; audio: 4 single outs, independent VCO outputs

excellent lead-, solo- and arpeggio-synthesizer
great expressiveness: high-quality keyboard with VEL and AT, precise wheel performance, various legato-options (relating to the envelopes and to glide)
monstruous monophonic sounds: 2 VCOs plus 2 sub-oscillators
arpeggiator with recording function and numerous extras (16 arp-modes plus 16 memories for own patterns, random gate-mode, etc.)
allround-masterkeyboard … polyphonic (!) MIDI-OUT, plus CV/gate (OUT)

Price
1,299 Euros (MIDI)
1,449 Euros (MIDI + CV/Gate IN)
2,400 Euros
(MIDI / USB / CV/Gate OUT)
Acoustically, it actually boils down to this: whereas the PERfourMER MKII is the ideal pattern-synthesizer, absolutely unique for its special concept of 4-part polyphony (keyword: vibrant padsounds), the '14 Analogsynthesizer is a luxurious lead-synthesizer (with the additional asset of sparkling arpeggio-performances). Depending on your musical needs, the choice of the one or the other should be perfectly clear.
The following soundfiles offer a comparison of the two instruments. "Troubadour 1" and "Troubadour 2" are new – and they come pretty close to the special singing quality of the '14 Analogsynthesizer. Steeped in reverb, the expressive qualities of the synth (via keyboard and wheels) become more than obvious.
—————————————————————————————————————
Links:
Manufacturer: