Maybe you've heard some of those ever-persistent murmurings about the GeneralMusic S-series: "The S2 synthesizer – a secret sound weapon", "GEM S2 and S3 are among the best master keyboards on the market", "great polyphonic aftertouch", "some intriguing sounds"… and on and on.
Let's have a look at that GeneralMusic S-Series. Are these synthesizers from the early 90s as innovative as rumours have it?
GEM – a respectable name in the home organ/keyboard/e-piano market
GeneralMusic unfortunately filed for bankruptcy some time ago. It was among the last Italian keyboard manufacturers, along with Ketron (Solton). The company had grown substantially, especially in the late 80ies / early 90ies. But let's start even further back and have a look at Crumar first. When the great keyboard & organ manufacturer closed its doors in 1986, it was bought by LEM. The latter was taken over by GEM a few years later, as was ELKA.
1994 GEM changed their company name to GeneralMusic, but kept GEM as a brand. That means that GeneralMusic now hosted GEM, LEM and ELKA. GEM was still a name to take seriously in the portable keyboard, workstation and e-piano market. LEM produced mixing consoles and loudspeakers, while ELKA offered guitar/bass amplifiers and portable p.a. systems.
In the early 90ies, GEM/GeneralMusic had some 500 employees in five locations. The R&D (Research and Development) department alone employed 25 technicians. That's where, among other things, some of the S-series custom chips were developed.
The S-series actually was one of the last products ELKA began. After its collapse in 1988, GEM/GeneralMusic took over the plans and brought the innovative "S" synthesizer project to realization. Sadly, the success of the S-series was limited, so GEM/GeneralMusic cancelled the whole product line once the Turbokit had been released. A few years later another, very "S"-like synthesizer appeared, the GEM Equinox. It closely resembles the S2/S3 and seems to be GeneralMusic's last delving into high tech synthesizers.
I bought the GEM Equinox Pro 88 in 2010 and, to be honest, I can tell you the old S2 / S3 is much better (… it's mainly the quality and originality of the sounds which is much better and a lot more inspiring).
In 2007, GeneralMusic's product line contained arranger-keyboards, multimedia workstations, e-pianos, mixing consoles, loudspeakers and p.a. systems. But there was a time when the Italian company could easily have competed with any Japanese or American hi-tech synthesizer manufacturer. That was in the days of the S-series …
Meanwhile, Generalmusic closed its doors. On February 2009 Generalmusic fired all workers that immediately filed for bankrupt which has been declared in 2011. Very sad.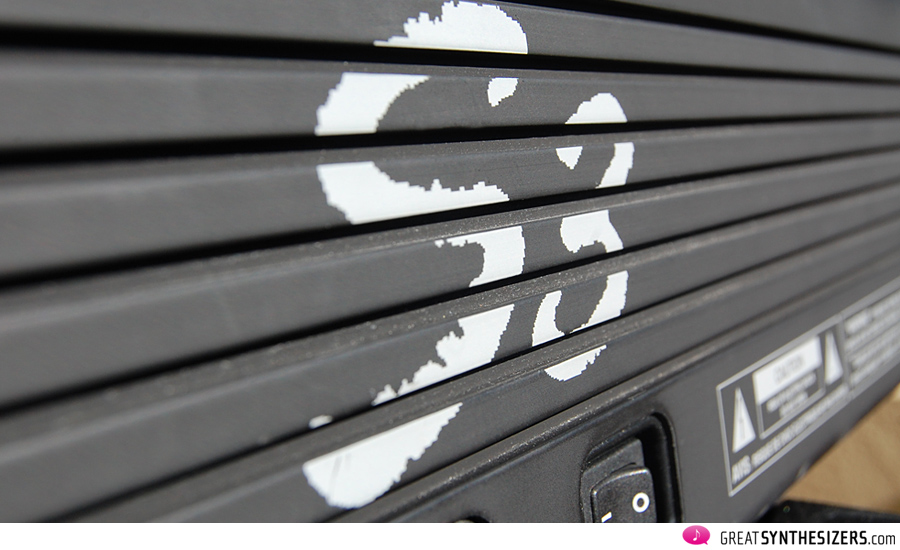 We repeat, GeneralMusic made its first serious move into high tech with the GEM S2/S3 and S2R in 1992. Looking at the S2/S3, they seem like any ordinary sample + synthesis keyboard workstation. But these are professional, genuine synthesizers with some fresh new functions and – best of all – a wonderful sound. Physically speaking, they tote some outstanding features: The enormous, deeply sunken aquamarine LCD, the two moulded (freely programmable) wheels, the masculine 61-note/76-note keyboard, the many panel controls.
Although the panel is crowded with knobs, it doesn't seem cluttered. Most knobs have a specific function, such as EFF. BYPASS, CLIPBOARD or MIDI OFF. The S-serie's flexible (open) operating system (called MIOS) lets you move about the instrument in a free-flowing computer-like style.
The early 90ies – birth hour of many respectable S+S workstations
The field of highly professional S+S (sample + synthesis) concepts was quite crowded back in the early 90ies. Actually, the story should start back in 1988 with the all-time classic Korg M1. Its successor, the 01/W, had a bigger screen, more samples, double polyphony and a new "crazy" feature called waveshaping. It remains a very popular workstation up to this day. Roland tried to continue the success of the D-50 and released a PCM sample-based synthesizer called D-70. Sadly, it was too complex to program – a real pain, once you began delving beneath the surface! Yamaha's SY77 (and its rack version TG77) equally suffered from a too-complex operating system. Although they could have been milestones in synthesizer history (as was the DX7), those wonderfully sounding synthesizers were a pain to operate. Not even the more flexible flagship SY99 was rid of those inherent complexities.
In 1991, Roland's JD-800 should have been the big seller, but it wasn't! Too many knobs! People were too easily intimidated by all those sliders and buttons – although synthesizer designers in their turn must have found it pretty nerve-wracking, trying to figure out what synthesizer-programming concept people were actually looking for. 1991 was the birthday of Kurzweil's K2000, too. This highly respectable instrument was the beginning of a whole bunch of professional synthesizers – up to the latest K2661 now in 2007. One year later – in 1992 – GEM (later GeneralMusic) hit the market with the GEM S-series.
S2, S3 and the rack version S2R were hi-tech instruments, but the company name was by no way an asset. Not many pros knew GEM/GeneralMusic to be a producer of studio synthesizers. The Turbokit for 32-voice polyphony, equipped with an expanded ROM sound bank, didn't help to turn the S-series into a pro's instrument, either.
GEM/GeneralMusic stopped its production and support as soon as it became obvious that the whole range would turn out to be a flop. Completing the list of outstanding early 90ies professional synthesizer / workstation concepts, we should mention the Roland JD-990 and Ensoniq TS-10. Both were introduced in 1993. Finally, there was another innovative workstation from home keyboard producer Technics. The WSA-1, released in 1995, was a fully professional, future tech synth with acoustic modelling synthesis. Once again, the missing reputation in the pro user segment was the company's biggest hindrance to establishing the instrument on the market.
GEM S2/S3/S2R are pro synths with some first-rate sounds, innovative editing procedures and a rarely-to-be-seen polyphonic aftertouch. The only limit was the professionals' willingness to accept a new name. And maybe rumours were still around that the Italians could not manufacture a proper synthesizer. In its days, Crumar, for example, flooded the market with cheaply built instruments. Many of them toted serious sounds and were based on innovative concepts, but the hardware tended to be low quality. Buy a japanese synthesizer and you know what you get!
But history tells us that there were some great pro synths that the Italians definitely got out on the market. The Synthex, for example, is better constructed than the Jupiter-8 or any Oberheim OB-8/Xa/X. That's not to say that it's more reliable, but the whole concept and construction is more professional than any of its competitors' products! The GEM S-series is at least at the same hardware level as a Yamaha SY77/99, or any Korg or Roland workstation. The implementation of polyphonic aftertouch (with release velocity!) afforded high GEM/Generalmusic production costs. And the S-keyboard panels were covered with a special finish (a sort of rubber-encased plastic) that looks very elegant. GEM even produced a Turbokit for the S2/S3 which boosts polyphony up to 32-voices and expands the ROM bank to over 500! IF GEM/Generalmusic had kept producing instruments like this, we might be listing the company name right next to Roland, Yamaha and Korg today – who knows!
Music Processor
Let's have a close look at the S-series. Basically, the instruments are sort of expanded workstations. What's new about them? The flexible operating system allows you to use the S2, S3 as a MIDI merge center. Without using the internal sound engine, you can take advantage of the sequencer or control sliders, route and control any external MIDI device in any way you desire. There are two (!) independant Midi busses – that's a rare one on most workstations, isn't it? But, sure, nowadays you don't buy a S2, S3 solely because of its sequencer or MIDI functions. Today you might be interested in these synths because of their intriguing sounds.
GEM did everything to make the S-series as userfriendly as possible. For instance, there's a row of seven sliders and buttons next to the display, foolproofly marked with volume, attack, release, filter, pan, etc. Although the good point is, you're not locked into these functions. Switching to "user" mode, you may use the sliders and buttons to control any functions within the overall S2, S3 patch. There's 6MB of sample material to start with, and the two 2 pole 12dB filter can be combined to a single 4 pole 24dB state variable multimode-filter.
Two independent effect machines are "standard" for this type of workstation concept, but here again, there's a little bonus: the global rotary effect is not only nice, but extremely useful. I wish more instruments featured this function. The two wheels can be used for standard pitch/vibrato performances, or can be assigned to any other function you wish. Boy, it spells real fun playing a cutting leadsound while changing its attack with the modulation wheel! As with the wheels, the CV/Pedal-IN ports are freely programmable. You're probably getting an idea of how powerful these instruments are!
Reliability
By chance, I got to know Lothar Jenske, who worked for many years as a repair man in the German GeneralMusic compartment. "S2/S3 hardly break down" he says. "Generally, they are very reliable instruments". Sure, as with all electronic gear, some voice less positive experiences as well. In 2002 a user posted the following bloq: "During my last gig the S3 suddenly caught fire. The audience was excited – they thought it was a pyro-effect and part of the show – but it was anything but funny to me".
The instrument's display is breathtaking, it's extremely bright due to special neon background lights. The wheels have a rough surface and are very good to use…
Fader and switches are pretty good quality as well, though some of the switches are very petite. While programming, you need to concentrate in order to make those adjustments exact …
Last but not least, it's the brilliant keyboard action that turns the S2, S3 into a potential master keyboard. The lightly weighted action (to use GEM's own phrase) combined with polyphonic aftertouch sensitivity (with release velocity!) shows the great master key's potential. I think polyphonic aftertouch opens a whole new world to the creative musician. Sadly, this great feature was among the most unpopular ones in the S-series' history. Maybe keyboard (not piano!) players weren't skilled enough to use the polyphonic feature correctly. To be honest, IT IS NOT EASY to control different keys with independent finger pressure.
The following list shows the basic specifications (dimensions, weight) of the GEM S-series:
S2 1055x116x350 mm, 16 kg, 61 keys
S3 1267x116x350 mm, 18,5 kg, 76 keys
S2R 434×132,5×276,5 mm, 7,3 kg, rack version
Turbokit
In 1992, when the S-series was released, the press immediately pointed up several missing or improvable features. 16-voice polyphony wasn't sufficient, important sequencer functions were missing, some day-to-day functions needed to be improved, etc. GeneralMusic, still trying to establish its synthesizers on the pro market, didn't hesitate and released a respectable Turbokit.
Some of the improved features:
a maximum of 32-voice polyphony
more than 500 ROM sounds
100 preloaded performances
integrated sample translator 2
improved sound edit functions
improved disk management
upgraded sequencer
Let's have a look at some details of the Turbokit version. For a start, performance titles are now displayed in BIG letters …
The main page on the display features an "Oct Up" / "Oct Down" option. It's like a virtual silver switch of those good old Roland synths where you could easily transpose the keyboard up and down. Further, you may synchronize LFO to MIDI (!). Exciting, isn't it? Even modern synths sometimes lacks this important function. All sorts of sys-ex data can now to be transmitted via MIDI (very important!). The demo-song is available directly from the ROM area (and not only from the disc), and well… with sample translator 2 you're able to load Akai S-1000 samples …
All in all, I'd say the Turbokit version is the one to keep a look out for !!! IF you spend a couple of hundred Euros for this wonderful instrument, then why not get it right? I have to point out that some minor highlights of the original S-series' sound edit functions were kicked out of the Turbokit version to create space. But to me, MIDI synchable LFOs, sending/receiving sys-ex data and other functions are reason enough to go for the Turbokit. By the way, the Turbokit Manual contains close to 100 pages!
S-Series – Programming and Performance
"The 'theory' behind every keyboard always takes a bit of head-scratching to figure out and, commendably be-buttoned, screened, and what-have-you'd thought it is, the S2 will still take time to understand fully." (Colbeck, Julian: Keyfax 4, page 28)
The raw material for sounds is a bank of 208 waveforms. As usual, they are collected in groups: natural instruments, synth sounds, drums, etc. Their quality is quite good, and – as with Korg's M1 – especially the sax sample seems to have attracted a lot of people. Once you've chosen the basic waveform, it is time to concentrate on the filter section, containing two independant multi-mode (digital) filters. What you get is lowpass, highpass, bandpass, parametric boost and parametric cut mode. Sadly, the filters are digital, which is audible. But they're not too bad. I've personally taken a liking to the highpass mode …
The internal effects are organized in two separate effect units. Static effects contain reverb etc, while dynamic effects offer delay, pans, flanging, etc. The quality of the effects is sufficient. Pros, of course, will mute them in order to do external sound processing. But there's an additional global effect that's worth mentioning. The (stereo) rotary effect really brightens up sounds! This in addition to the vast panorama modulation function that the sound edit menu already offers. Add some high-quality external reverb (or delay) to your going-through-rotary-while-panorama-modulated lead sound, and you're top dog!
I can't tell you too much about the internal sequencer, as I've never used it. Basically, it's a 16 track sequencer with detailed functions such as quantize, loop, track transpose, etc. It controls the internal sound engine and/or external synthesizers. Theoretically, you could run most of your studio equipment from the S2, S3 synthesizer with its two independent MIDI busses.
Although featured with tons of handy functions, the GEM S-series was designed to keep things as simple as possible. Most day-to-day functions are easily accessible. Switching the clock from internal to external mode is a matter of two clicks…
Function Controller
Next to the very animating neon-lit display, the 7 sliders are among the most eye-catching physical aspects of the instrument. Volume, attack, release, filter 1, filter 2 and pan may be directly adjusted simply by moving the sliders. As already mentioned, you may re-program all functions to your own needs and save the new slider/buttons settings. In performance mode, with sounds "stacked" on each other, the sliders function as a little mixer… move the faders to get the right balance between the various sound volumes … very convenient, isn't it?
Moving sliders intuitively may not always lead to absolutely exact programming results, so GEM / GeneralMusic implemented a Show function that displays each fader's value on the large screen. That means you're able to program sounds vaguely – on the run, so to speak – or, if you prefer, very precisely (with the help of that display).
Extras
You may have realized by now that some aspects of the S-series differ from competitor products. Here are a few more extras: The GEM S2, S3 offer…
Different Scalings, such as Equal Temp. (the boring one we're all used to), Pure Major C, Pythag. C (the genuine mathematics is back!), Werck. (~meister), Invers (wanna perform a Joe Zawinul solo?), 1/4 Tone, Arabian, User 1-4. Yes, you may save your own scalings !!! I think this is a wonderful option. It might be a lot of work to programm personal scalings, but musical wise it opens new doors …
Stereo-outputs plus 4 single (sadly mono) outputs
There's an UNDO function, just in case you made some potential heavy mistakes in programming …
Clipboard saves certain settings, it's sort of a screenshot memory. Let's say you created a very complex amplifier envelope (they may be up to 10 stages, in case I didn't mention that!), and now you'd like to use the same settings for the pitch envelope. Simply "save" the amplifier envelope setting into the clipboard memory and recall it once you open the pitch menue. Couldn't be easier …
Yes, the envelopes may be very complex. Up to 10 stages !!! Program a real complex envelope for dramatically different sound shaping once you get bored with the classic ADSR
Two totally independat MIDI busses (just to mention them once again)
Pan may be modulated by its own envelope, by LFO and key pressure
The Manual is quite good (at least the German version). It's very detailed, and written in user friendly style …
Sound
Time to pay attention to the instrument's sonical potential. Most presets are tasty, well programmed sounds that can be immediately implemented in your productions. In my opinion, many of them are too doused in reverb. But again, simply press EFF. BYPASS and use your outboard equipment instead of the internal effect units. The basic sound is very powerful and surprisingly strong. Thanks to all those modulation routings, the brilliant S2 and S3 engines give you expansive, atmospheric sounds.
Being interested in comparing both the original and the digital substitute, I played some simple chords on both the Elka Synthex and the GEM S3 (S3 first, to be exact). To my surprise, the GEM almost sounds better. Two small drawbacks (there've got to be some): The rotary function causes sort of a loop effect at the end, and the filter's resonance is just not as colourful as on the original Synthex …
In other words …
The GEM S-series is a real bargain. Right now in 2012, prices range from 250 to 400 Euros. That's definitely reasonable, considering that any Roland D-50 costs the same money. If there's a chance, try to get an S2 or S3 WITH A CASE (I didn't, but that's my advice!). The instrument's special rubber-covered chassis is a little prone to injury, so a case really makes sense.
Sure, neither S2 nor S3 are dream machines. It takes quite a while to reach into the depths of the programming architecture. You need to learn that track and track may be two different things (a performance consists of up to 7 tracks = sounds, and, of course, the sequencer has its own, different tracks). Speaking about programming – I'd say it'll take several months until you really feel at home.
But GEM/GeneralMusic did its best to create a synthesizer/workstation that offers heaps of functions for a better workflow. The gorgeous display, the freely programmable sliders, wheels and pedal-ins, the wonderful polyphonic aftertouch – just keep those aspects in mind. Most important, programming efforts end up in stunning, expansive sounds. I highly recommend these synthesizers to all programmers and players. GEM S2/S3 are both great sound engines and potential master keyboards as well.