As I sit to write my review of Winter NAMM 2016, I'm reminded of the quote that I must have heard (and repeated) several dozen times over the 4 day experience: "What a great year for synthesizers."
I've only had the better part of a day to recover from the journey and my legs are still burning from the 15,000 steps that I had taken (according to a friends fitness app) on average through the course of each day however, I find that my eagerness to write about my findings can supersede my body's desire to lay in bed.
I woke at 9am on Thursday, the 21st to a barrage of text messages from fellow musicians wanting to be the first to deliver the news of a collaboration that would later win NAMM's "Best In Show" award. Dave Smith (owner of DSI/Sequential) and Tom Oberheim (of Oberheim fame) had joined forces to deliver us the Dave Smith Instruments OB-6. I hadn't yet rubbed the sleep from my eyes and I was already enthralled. I quickly got ready and made my way from my home in Los Angeles, to the Convention Center in Anaheim.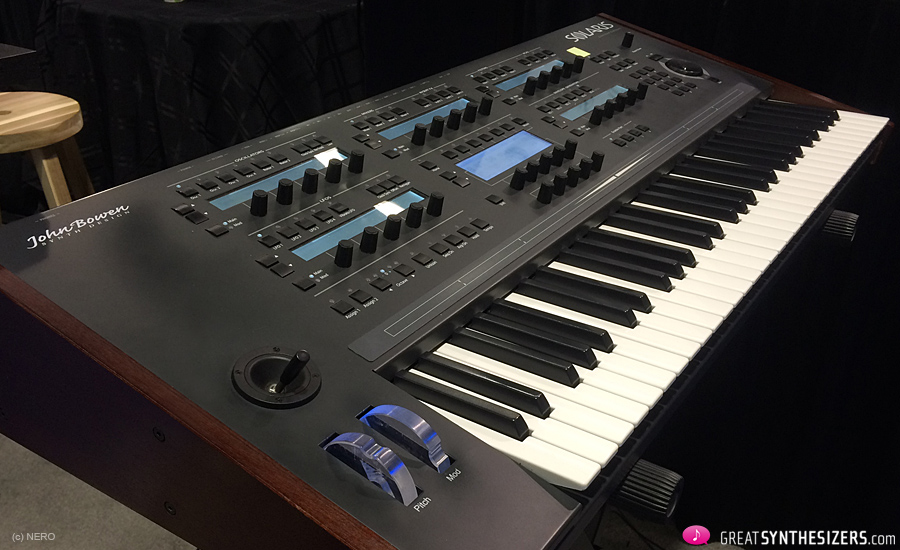 While the order in which I came across many of the new offerings from various companies may allude me, I can clearly remember walking through the entrance and running straight into John Bowen and his "Lamborghini of VA's" Solaris. John and I riffed for quite awhile about his time spent working on such legendary synths such as the Prophet's VS and 5 while I ran through some of the Solaris presets. I quickly found myself addicted to fiddling with the assignable joystick while playing one-handed bass lines.
John had also brought out a behemoth of a conversation piece: A custom enclosure housing a vintage Moog Sonic Six! It seemed that he had the good sense to remove the very capable bulk of the instrument from the extremely unpleasant chassis and case to build himself a towering, semi-modular version of this classic and sought after machine.
Moving past the Solaris, I found myself in an aisle seemingly dedicated to peripheral devices such as the recently (and extremely successfully) crowd-funded Arpeggio from Tangible Instruments. The Arpeggio is a portable arpeggiator, sequencer and two oscillator, VA synthesizer. I had come across the Arpeggio previously during their initial crowd-funding campaign, however didn't know what to think of it at the time.
It was marketed as a "new" and "revolutionary" tool yet, I found myself thinking of the many "band in a box" sequencer synths that I've seen (and some owned) over the years such as the various Korg Electribe models, the Roland Groovebox line and the Yamaha RS-7000. Sadly, viewing the unit in person did nothing to sway my mind as, it seemed rather lackluster in person. Granted, this could have been a 3D-printed prototype that they had on display but, all in all it failed to impress.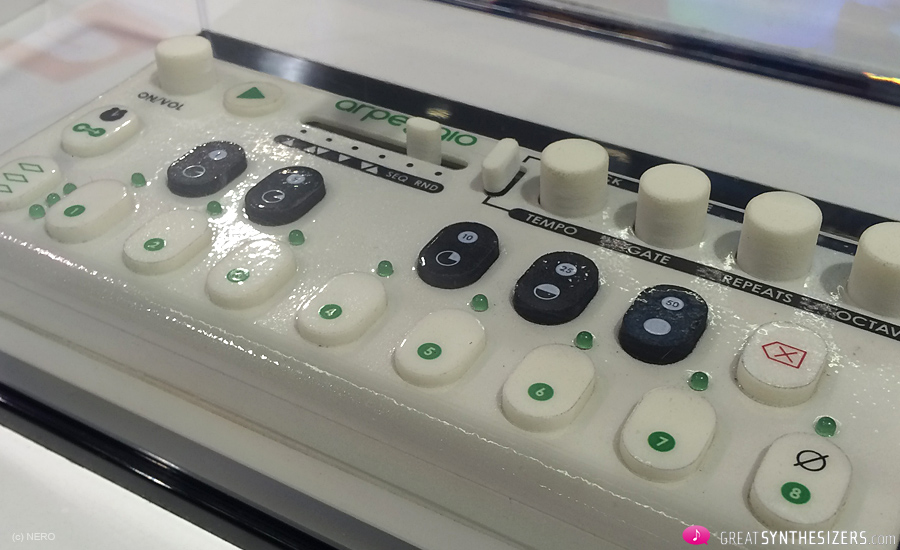 One standalone sequencer that DID impress me was Engine from Social Entropy Electronic Music Instruments. Only one booth down from the aforementioned Arpeggio stood the Social Entropy display. A banner and fliers featuring artwork commissioned from BRUTE (who is known for his work with Industrial band KMFDM) encircled the display and the Engine sequencer sat atop a glass case full of vintage drum machines and desktop synthesizers.
The first thing that really attracted me to Engine aside from the form factor (reminiscent of the 808 only much smaller) was an optional CV (control voltage) expansion board that the good people at Social Entropy were quick to highlight. Currently writing to you from a studio in which I have many hardware synthesizers as well as a full modular system, I can tell you that I was very happy to find what seems to be a very capable (and attractive) alternative to the current offerings such as the Beatstep Pro from Arturia.
Sharing a booth with Social Entropy were Abstrakt Instruments who had their Avalon bass synthesizer on display. While we seem to be riding a wave of 303 clones these days, I have to say that these are the best looking and sounding machines sired from the vintage Roland unit. The thing that separates the Avalon from the rest of the herd is the Synth Cartridge System which allows a user to switch the internal filter with a growing collection of vintage synthesizer inspired filter cards. Currently available options are the Transistor Ladder Filter, the SEM State Variable Filter, the JP Low Pass Filter (Jupiter 8 / Juno 6/60), the 4075 Low Pass Filter (Arp) and the Wasp Multimode Filter.
While wrapping up my conversation with the representative of Abstrakt Instruments, it became increasingly difficult to ignore the crowd growing around the booth at the end of the aisle of standalone peripherals. It was here that I came across the Expressive E Touché. The Touché is a rather bizarre yet inviting invention that was created to allow a user to experience a more intimate level of control over various synth parameters while performing on a traditional synthesizer or controller keyboard and VST. The Touché looks incredibly sleek and is incredibly fun to play with. The unit consists of a black, wooden block cradled in a small, sturdy base.
The wooden block moves when touched and all movement is translated into control voltage. 4 CV outputs and a USB port greet me when picking up and turning the Touché around. While examining the device, I immediately begin to conjure ideas of where and how I would use it in my own performances, which is typically a great sign. For demonstration purposes, the people at Expressive E have the device hooked up to the Dave Smith Instruments Pro 2 and with the Pro 2's vast array of connectivity ports, it's obvious why they would go that route. Inside of 60 seconds, I found myself "strumming" a monophonic bass patch in such a way that one might be forgiven for mistaking the sound source for a cello.
While the Touché was incredibly impressive, I couldn't help but to wonder where I would set if I were to use in on stage? Surely, we all don't drag tables to our concerts with which to hold our synthesizers, right? Apparently the people at Expressive E have already been asked this question and assured me that something was already being planned to address this.
Shortly after wandering past the peripherals I bumped into my friend Scott Jaeger AKA The Harvestman who had recently changed his company name to Industrial Music Electronics. I must admit that I had been looking forward to the unveiling of his Stillson Hammer MKII sequencer for Eurorack modular for some time prior to NAMM and I was far from disappointed with his presentation. 16 sliders featuring inset LEDs adorn the bottom of the silver module. The overall aesthetic conjures images of a Cold War artillery fabrication facility. While watching Scott move sliders and change parameters I was very excited to see that this sequencer wasn't standard Euro-fare.
The 4 separate tracks can be adjusted to various clock divisions and many common adjustments can be grouped by holding down a button while moving a single slider. It's a very well thought out (and DEEP) module. It was also nice to see and hear the fan-favorite Polivoks line. The Harvestman in cooperation with original Formanta Polivoks designer Vladimir Kuzmin has brought the mythic beast back to life in the form of 4 Eurorack modules including an LFO (Modulator), VCA & Envelope, Oscillator and excellent sounding VCF filter.
Having gotten a taste of the modular realm, I decided to take a trip over to the Make Noise booth where, I would find my personal "best in show".  Having become very familiar with Make Noise in recent years (the Black and Gold Shared System is my weapon of choice at home) I knew that I had something interesting awaiting me. The first thing that caught my eye was the new addition to the Make Noise line of modules, Tempi. Tempi is a "polyphonic time-shifting clock" module…
Allow me to translate: The front panel of Tempi features 6 blinking LED buttons with 6 corresponding CV outputs that send clock (tempo) information into a modular system. Each LED button blinks in sync with its tempo. Tapping an LED button will change its tempo to the rhythm in which it was tapped. The rhythms can be quantized quite easily and when a user is happy with what they have tapped, all 6 tempos can be saved as a "state". With space for 16 "states" it's easy to see that this module is going to be the king of complex and recallable timing arrangements.
After spending a little time with Tempi, I was drawn to a table in the center of the Make Noise booth that featured something incredibly out of character for the brand. A standalone, desktop synthesizer called the 0-Coast. The name 0-Coast (or No-Coast) refers to the very different American West Coast and East Coast philosophies of synthesis from electronic pioneers Don Buchla and Dr. Robert Moog. The East Coast philosophy (and most common) is based on subtractive synthesis.
Start with a harmonically rich oscillator and subtract from the sound using resonant filters to taste. The West Coast philosophy doesn't employ the use of resonant filters as the "complex oscillators" developed by Buchla had the ability to start small and then grow into something "bigger" using complex modulation and wave folding techniques. The Make Noise 0-Coast employs a philosophy of its own and breaks through all previous decree to bring us a Frankenstein's Monster of desktop synthesis. Never have I heard a single oscillator with this much sonic character.
The 0-Coast is a chameleon. While running a Korg SQ-1 sequencer into the CV/Gate inputs on the 0-Coast I quickly designed a warm, bottom-heavy sequence reminiscent of something vintage from Moog and with a twist of a knob, I had unleashed something furious and unbridled evoking images of a Buchla Music Easel! Being fully patchable while also being MIDI equipped put the Make Noise 0-Coast over the top and into my spot for 2016's "best in show". We will be seeing a lot from this small synthesizer.
———————————————————————————————–
Continue with NAMM Report 2016 Part 2 …
———————————————————————————————–
(c) Nero Bellum – Facebook.com/SaintBellum