The Two Voice Pro: not just another synth! To be exact, THE hype American mono/duophon analog synth. The reincarnation of the LEGENDARY Two Voice of 1975. And Tom Oberheim's personal synth favourite. The modern Two Voice: something for PROfessionals.
Whereby PRO pertains to those little and big differences between the 70's original and the update of today. The SEM modules haven't really been changed at all (so we've still got that wonderful sound), but in the sequencer- and performance-department, the new Two Voice is a (no, it's two) giant steps.
There's the excellent velocity / aftertouch sensitive keyboard, the important octave transposition switch, real wheels (pitchbend and mod-wheel), a comprehensive patchbay with CV-ins and -outs, a tricky step-sequencer with lots of memory space, a variety of play modes (unison, alternating, split, …) and MIDI plus some extra CV-outputs on the back. Pure luxury!
The analog synth of your dreams? Not necessarily (surprise, surprise). But one after the other. Let's start with the …
… concept
Actually, it's all clear. We already have the legendary (original) SEM-synthesizers. Instruments with the most powerful analog filter of all time (well, maybe)! Around since 1974/75 and experiencing a revival since 2010, the SEM modules are definitely back again. The new SEM with MIDI and the new SEM with CV-panel, both united in the SEM PRO module (MIDI plus CV-panel). Multiply all the technology by two (2 SEMs), add a keyboard and a step-sequencer … and voilà: we have the Two Voice Pro.
The Two Voice Pro features:
2x SEM (SEM A/B); 4 VCOs, 2 VCFs, 4 ADS, 2 LFOs in total
2x 16 step-sequencer (row A/B)
50 memory locations for (polyphonic) sequences
9 memory locations for songs
2x sample/hold
2x portamento
2x volume and pan
Various keyboard / SEM control modes
3-octave keyboard with velocity and aftertouch
Vel/AT to VCF and/or VCA
Pitch wheel (programmable: 1 – 12 semi-tones)
Modulation wheel (freely routable via CV output)
TUNE knob
VCO2 detune knob (for both SEMs!)
Additional (global) vibrato-LFO (mod-wheel or AT control)
Transpose function (-2/-1/0/+1/+2 octaves), adjustable for each SEM
CV-panel (for mod-wheel, Vel, AFT, vibrato-LFO, S/H, sequencer, SEM A, SEM B)
MIDI (In/Out/Thru), Audio-In (2x), CV/Gate Out (SEM A and SEM B, MIDI-to-CV!)
Audio-Out R/L, Headphones Out
3 things to convince you …
Flexibility. The first magic word. Dynamic control of the SEM modules (via MIDI and/or keyboard). Lots of patch points for internal / external modulation routings. Rapid changes in sound via the (routable) modulation wheel. Independent velocity control on each SEM. Individual SEM control: keyboard, S/H, sequencer … and any combination of these. All those possible choices are what make the difference.
Noble sound. The second magic word. 4 VCOs, 2 MultiMode VCFs, true stereo! The sound is overpowering. It was the reason for Oberheim's instant success in the 70s. And it remains one of the nicest analog synth sounds ever. Most characteristic part of the SEM is the MultiMode VCF. Simply beautiful!
"Each SEM is a true analog synthesizer, very much like the original Minimoog, ARP 2600, and the Oberheim Four Voice and Eight Voice polyphonic synths. What we mean by this is that the SEM is 100% analog! (Not just its "signal path")."
— TVS Pro Quickstart Manual, page 4 —
Well-crafted. The third magic word. Despite its surprising lightness, it's all there. Exceptional quality, with one exception. In fact, one very positive surprise is the internal PSU, which ranges from 100V to 240V. No switching back and forth, no risk of overvoltage. What a luxury! The SEMs feature a high level of workmanship. The keyboard is a pleasure to play.
One detrimental aspect is the small, wobbly knobs on the left side of the instrument (sequencer / keyboard-MIDI-module / performance-department). Not state of the art, really!
These are the absolute strengths of the Two Voice Pro. So why are there any doubts that this instrument is the synth of your dreams? Well …
… but that's not all
Even if the Two Voice Pro has been long-awaited, it is actually not the epitome of synth development. It sounds great, of course. It's easy to use. It's very compact and extremely flexible … BUT … just the same … it doesn't quite meet up …
One aspect is the onboard sequencer. One thing, to be honest, you could do without! I hear those protests coming … but I stick to my opinion. The sequencer could be the instrument's highlight, but … it's not. There are several reasons for this.
On the one hand, it's a tiny bit complicated to use. On the other hand, it is not very flexible. You HAVE to select SEQ mode for both SEMs in order to get any sequencer cv-signal from the patch panel. (What about playing the Two Voice live, while controlling both SEM's VCFs via the sequencer, e.g.? Well … that's not possible.)
Another aspect is hardware. The knobs in the instrument's left area are wobbly and of mediocre quality and they are too small! SEM A and SEM B VOLUME should be the biggest knobs of the Two Voice Pro, but in fact they are the tiniest! This is a 4000 Euros instrument (well, in Europe) … so one should expect the highest possible quality. [Price in the US is lower, we have to admit: 3495 USD, which is a more attractive offer.]
Which brings us to the question of whether …
… there aren't any alternatives to the Two Voice Pro. To be definite: yes! And it even comes from Oberheim itself. In my humble opinion, of course …
Let's backtrack a little. What exactly is the focus of the Two Voice Pro? It seems to me it's its sound and its flexibility in terms of interfacing. And both of these are – now we're getting to the point – can be found in the SEM PRO module.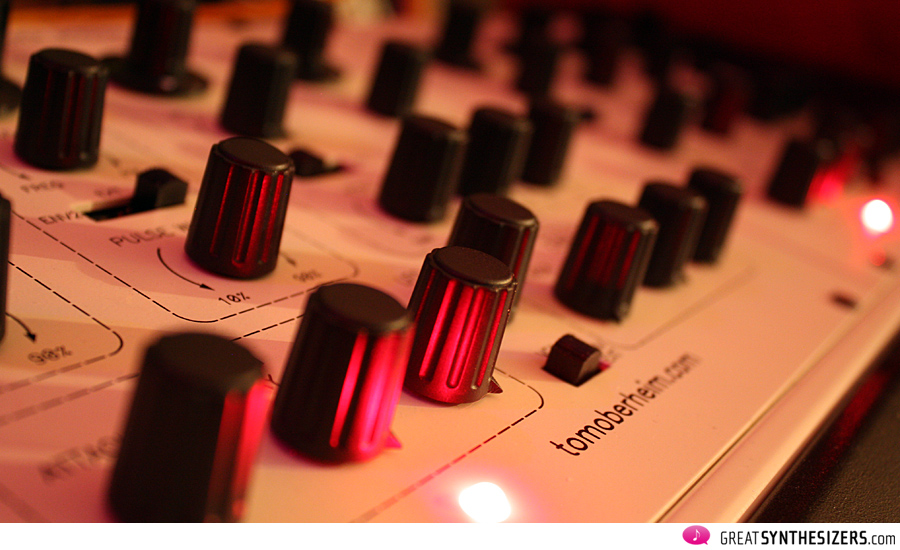 Our suggestion: take two SEM PROs, place them side by side and – Bingo! – you've got an Oberheim Two Voice at two third of the price. (Ok, ok … it's not half the price, as originally claimed.) Which is to say, you can do without the step sequencer (and without S/H), since it is limited in terms of routing flexibility.
Hook up two SEM PROs with a nice 5-octave masterkeyboard, and you've got the same MIDI-control as with the Two Voice Pro along with a larger keyboard (61 keys). What more could you want? Is S/H irreplacable? No – you can get that externally. Can you play two SEM PRO unison? Yes? Alternating? Yes … Everything is possible.
… and of how the Two Voice Pro performs as it does
It's quite easy. If you're looking for an all-in-one solution (two SEMs, keyboard, sequencer), then there is no alternative to the Two Voice Pro. A fantastic sounding instrument both in studio and on stage. A pricy instrument, too … but well, if you can afford it – take it!
If it's the SEM sound you're heading for, then go for a pair of SEM PRO modules. No sequencer, but the same classy sound for much less money.
In a nutshell …
The Two Voice Pro: flexible, noble sound, well-crafted (hmmmmm … most of it!). Those of you willed (and able) to make the big investment, will get a partner for life for your money. A partner which might turn out to be a control centre for a modular/MIDI setup. A partner on the stage (small sized, low weight and flexible sound architecture). In the end a partner with a fantastic sound. Summa summarum, Tom Oberheim's own favourite analog synth!
Again: if the Two Voice Pro is too expensive for you, two SEM PRO modules placed side by side are definitely (and acoustically) an alternative.
Look, this is all about sound. About the sound of two SEMs, which is not just beautiful, but gorgeous! A sound in a class of its own.
We have attached 40 minutes of audio material. Enjoy the sound of the Two Voice Pro! Just in case you wonder what the JH-3200 is … it's the Korg PS-3100/3200 clone, a one-off made by Juergen Haible in 2001/2002. "Flanger" soundfile: Roland SBF-325!
Have a hear in the soundfiles …
PS: There's some discussion (see below) about whether the new SEM sounds identical to the old. I think the question should be: "Does the new SEM sound good?" … answer: "Yes, it sounds excellent!" Tom Oberheim has done his best to make a new Two Voice Synthesizer that comes extremely close to the original. And then there are the bonuses: vast CV-panel, MIDI, wheels, etc. All those performance possibilities combined with two well-made (and powerful) SEMs – what else could you want?
Tom Oberheim (Marion Systems)
Two Voice Pro
Duophonic Analog Synthesizer
(2 SEM Modules + Sequencer + Keyboard)
Price: 3,495 USD / approx. 4,000 Euros
SEM PRO
Monophonic Analog Synthesizer
Desktop Format
Price: 1,199 USD, approx. 1,400 Euros
Website Manufacturer:
www.tomoberheim.com