Der angeblich kleinste subtraktive Synthesizer am Markt. Zugegeben, er sieht etwas nach "Bausatz" aus, doch so ist nunmal sein Design: offene Schalter, offene Potis. Der Mini-Synthesizer kann mit einem MultiMode Filter und 2 VCOs mit je 15 (!) Wellenformen punkten. Doch auch ein Ring-Modulator und andere Feinheiten sind hier versteckt …
Darüber hinaus – und das ist wohl das Bemerkenswerteste – gibt es eine umfassende Modulationsmatrix mit 3 LFOs, ADSR und einem MIDI/CV Generator, AUDIO-IN und vieles mehr. Im Detail sieht es wie folgt aus …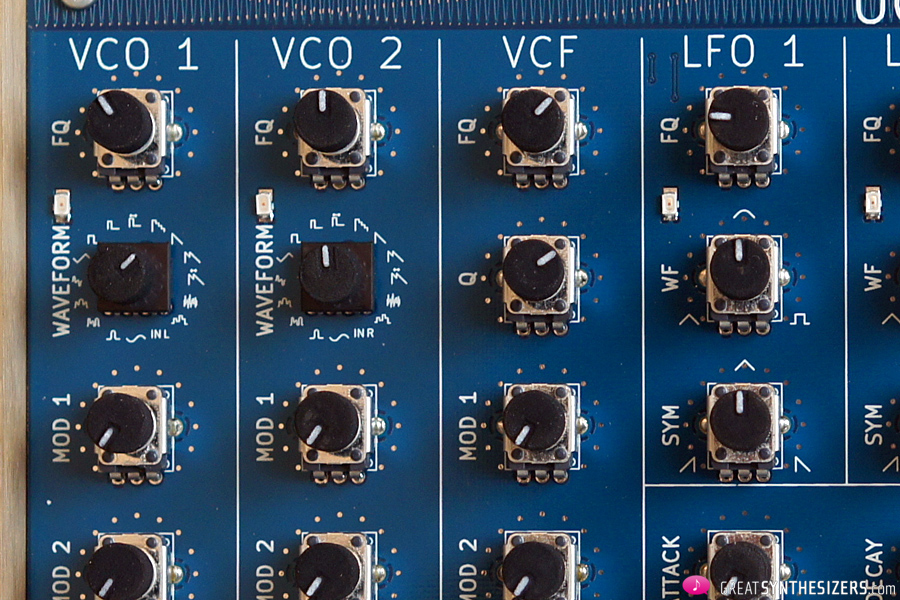 Abb: Man beachte die VCO-Wellenformen

Abb: Modulationsmatrix "und" 2-Oktaven Keyboard … klein, aber sehr fein …

Abb: LFOs, CV GEN, VCA und ADSR …
Bereits als Stand-Alone Synthesizer macht der OCS-2 viel her. Semi-modular aufgebaut, dürfte das Instrument jedoch auch eine echte Bereicherung für Eurorack-User sein.
Abschließend noch eine Zusammenfassung (Englisch), was "im" OSC-2 steckt:
2 VCO providing 15 different waveforms
1 VCF: multi-mode, including a 24db/octave low pass resonant filter
1 VCA
1 ADSR
3 LFO: 2 with configurable waveform, 1 with CV frequency control
1 custom CV generator with 4 algorithms : Attack Release, dual LFO, Random, Step
1 audio effects processor with 4 effects : Distortion, Delay, Bitcrush, Waveshaper
1 ring modulator
1 CV controlled mixer for VCO1 and VCO2
2 octaves keyboard with portamento
1 digital matrix to connect signals to modulation faders
1 stereo line-IN with envelope follower and gate control
1 MIDI input: note / velocity / pitch bend / modulation wheel / control change
3 analogue CV IN and 1 GATE IN
2-octave keyboard, 1 light sensor
Zugegeben, ganz schlau wird man aus des Pudels Kern beim OCS-2 ja nicht … im Herstück ist ein Anduiro 32-Bit Prozessor zu finden … nun, wie analog ist das Instrument?
Wie dem auch sei: Konzept, Klang, Funktionsumfang und die "offene" Systemphilosophie zeichnen den OCS-2 als bemerkenswerten Klein-Synthesizer aus …
Weitere Info (plus Audio- und Video-Material):
www.nozoid.com/ocs-2