Whereas the marvellous Sequential Prophet-5 was called "most sexy synthesizer in the world" (I would equally call Roland's Jupiter-8 the same), poor Jupiter-4 was the ugly duckling.
As of 1978, it looked old even when released and surely very few musicians would have spoken of a true love at first sight. As Peter Forrest points it out: "All technology eventually goes cheesy, but the JP-4 went cheesy quicker than most."
Well, not the best reputation for …
… a Milestone
in synthesizer history! Let's turn back time and see the Minimoog floating in. Small, monophonic synths are getting affordable, just like the Mini, the ARP Odyssey and many others. Duophonic keyboards still are not really polyphonic, as they usually simply share oscillators between two voices. But well, "polyphonic" is in the air – in 1975 Oberheim's SEM-philosophy offers in some way true polyphony by linking several synthesizer modules together. But 4/6/8 voice machines were not cheap, nor simple to use.
In 1978, Sequential's Prophet-5 finally made the breakthrough. Oberheim's answer – the OB-X – was an equally well-specified programmable polyphonic instrument. But not too many musicians could afford these machines, let apart those huge synthesizers like Polymoog or Yamaha CS-80.
It was the perfect time for the first Jupiter synthesizer to hit the market. A four voice programmable instrument with presets, memories, chorus and even an arpeggiator at the price of a Minimoog.
A dreamsynth in 1978! I forgot to mention it was COMPUPHONIC (anybody knows what that means?). Well, Roland's advertising points out the "memory computer" for 8 sounds, that might be the compuphonic idea … People told me that the Jupiter-4 was praised as the "peak of synthesizer development" (LOL!). Indeed, many musicians could not think of a better instrument (for that price). It became sort of synthesizer standard end of the 70ies. Hard to imagine…
A personal milestone
The Jupiter-4 was my first 'contact' with those weird machines called 'analog synthesizers'. A good friend borrowed me his JUP4, and as soon as the arpeggiator started to run, the synthesizer wouldn't stop playing for many hours. You can imagine, I borrowed the Jupiter more often, extending each lending period. Finally it wouldn't leave my room any more, so it was mine. I gave my friend some money to make the deal 'official'. A few years later I implemented Kenton MIDI to get rid of the "interface problem",
That's my personal Jupiter-4 story.
From the first moment on I was totally amazed by the Jupiter-4 power. The fast envelopes sound soooo groovy, the single VCO is extremely meaty. The VCF is – more like on a MS-20 – very dirty at high resonance settings, and the LFO especially is unique within the whole Jupiter-line. All in all it's full of character, a dry – but at the same time funky – analog sound. In the meantime there were other Jupiters in my studio: twice the Jupiter-8, once the MKS-80 and at the moment it's the Jupiter-6. None of them offers that meaty, dry analog power. But don't get me wrong: it is NOT the perfect synthesizer, not at all. Working with the Jupiter-4 is very strenious and costs some nervs. Simply, because it's a real beast. It has its own soul and what you're doing the whole day is trying to tame it.

Human League used the JUP4 on many of its records …
The SubOsc lets the VCA overdrive quite often, and while the dirty filter resonance isn't that easy to adjust correctly, the arpeggiator runs continually throughout all four octaves and you simply desperate trying to manage the whole sonical cluster…
There are glorifying musical experiences on the one side, but frustration and desperation on the other side. Welcome to the world of the Jupiter-4.
A polyphonic SH synthesizer?
Mad people call the Jupiter-4 a "polyphonic upgraded SH synth". Well, in fact that might be true. At least the typical VCO/SubOsc combination reminds of SH-1/2/09. But let's have a detailled look at the features.
Each Jupiter voice consists of:
VCO + SubOsc
VCF + envelope + manual HPF
VCA + envelope
Then there are some global features:
LFO
NOISE
MODIFIER-SECTION: global speed control of Arpeggiator, plus a separate VCF-modulation feature (sort of Sample/Hold being routed to the VCF – "VCF Random Modulation")
The JUP4 performance section contains:
Portamento
Ensemble (stereo chorus)
ASSIGN MODES: Unison 1/2, Poly 1/2
ARPEGGIO MODES: Up, Down, Up/Down, Random
A very flexible pitchbend-section: modulation routings of VCO/VCF/VCA (VCA modulation was quit in later Roland pitchbend-sections… what a shame! Especially combining VCF and VCA being controlled by the bender is extremely versatile!)*
* The pitchbend-to-VCO / pitchbend-to-VCF effect can be heard on most of the attached soundfiles …
Ah, yes … finally, there's the clunky Roland keyboard. Not really fun to play, admittedly. But alright, this was 1978! So, let's complete the JUP4 features:
4-octave keyboard
10 presets
8 memories
Connections
Stereo Out (level High/Medium/Low)
Headphones (level High/Medium/Low)
ARP-Clock In
VCF Modulation In
EXP Pedal
DAMP Pedal
Regarding its voice architecture, the Jupiter-4 is the only Jupiter synthesizer with a single VCO per voice. All other Jupiters offer two fully equipped VCOs. The onboard OSC/SubOsc philosophy was picked up by Roland again in the early 80ies with the introduction of Juno-6/60 and Juno-106 (this time with DCOs). Interestingly, the Junos sound more like 2-oscillator-synthesizers (probably thanks to the mixable waveforms, incl. PWM), whereas the Jupiter-4 sounds clearly like a 1-VCO-per-voice instrument. Quite thin at times! That's not really bad, and I guess it's even part of the instrument's very personal sound character.
The Jupiter-4 filter is a highlight (no matter if it's the early BA VCF or later IR VCF, both sound brillant). Due to its raw and almost uncontrollable filter resonance, it is the most powerful and most aggressive filter within the entire Jupiter synthesizer family.
Last but not least: The Jupiter-4 envelopes. They are extremely fast. I believe they are the best of all Jupiter synthesizers (even better than those of the Jupiter-8).
Sound & Performance
Poor Jupiter-4 never got rid of its ugly duckling image. I believe the situation even got worse during the 90s and at the beginning of the new millenium. Whenever this synthesizer was offered on the vintage market, it fetched very low street prices. In some way there are explanations for that …
First, the JUP4 has no MIDI (and no CV/Gate), and only few Jupiter-4 have be retro-fitted. Anyway, no studio purchases an instrument without MIDI or CV/Gate. Sure, a CV/Gate upgrade shouldn't be a problem (I'm NO technician, but that's what people say). Therefore I wonder why only a few Jupiter-4 instruments got the CV/Gate modification – like the instrument Rüdiger Lorenz had. That's beyond me, as I would love to control all four voices of the Jupiter independantly by an analog sequencer (or via MIDI-CV/Gate by computer).
Second, most of the presets are of mediocre quality. I'm sure those musicians who had the power of a Prophet-5 in mind, were extremely disappointed of the JUP4 sound quality. Here's Human League:
"'Hard Times' – I think that was the saxophone preset of a JP-4, but it sounds nothing like a saxophone. They should just say 'elephant' instead."
(Human League), Peter Forrest, The A-Z of Analogue Synthesisers, Part Two, p. 105
Third, its voices are out-of-tune regularly. Best to have a screwdriver right next to the synths.
Fourth, the JUP4 is NOT a beautiful looking instrument. It's quite the opposite, to be exact. The ugly ducking, as mentioned. A Jupiter-4 doesn't look funky enough, instead it reminds of an home organ (especially because of the strong wooden side bars and the old-styled silly-coloured push buttons beneath the keyboard). Fact is, the Jupiter-4 has not the same Rollce-Royce design as its much-loved big brother Jupiter-8.
But if you're clever and know about the sonical richness of a Jupiter-4, you go ahead and fetch one on the street. Why? Simply because it's one of the most distinctive sounding analog synthesizers ever made. I'd rate it within the Top-10 music machines regarding its unique meaty character. It fits perfect in any experimental sound design, in any rhythmical-orientated music environment.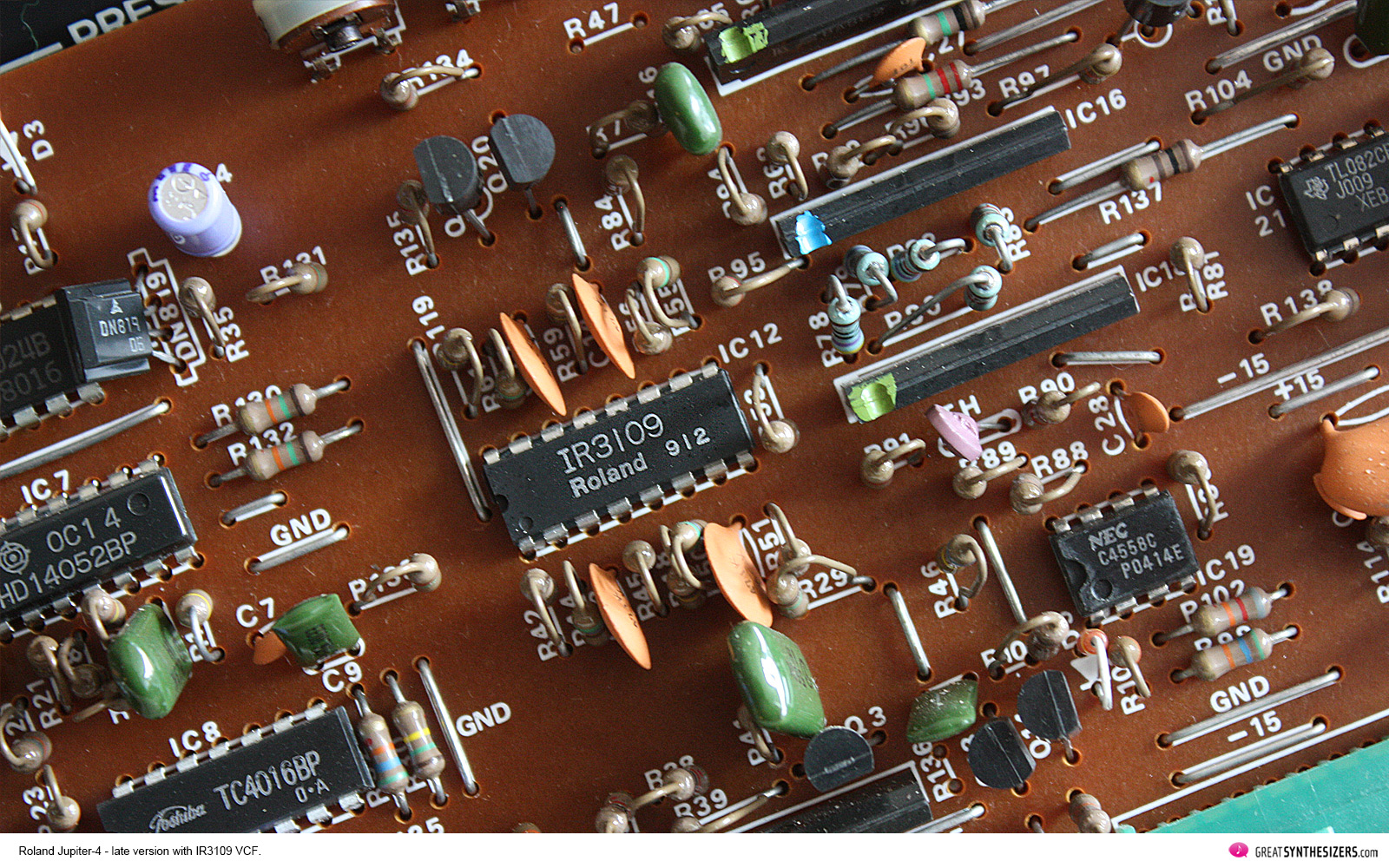 Promars – the monophonic JUP4?
The Roland Promars was my imaginary "dream machine" for many years. As I knew the Jupiter-4 quite well, a monophonic Jup-4 with CV/Gate sounded perfect to me. Well, it's not. The Promars is no bad synthesizer, not at all. It offers TWO VCOs instead of one. So, bass sounds are more powerful (detuning of both oscillators), and in general tonal character is more "fat". CV/Gate is a perfect feature, and the additional modulation-in port is brilliant (lets you control all bender-movements via an external CV source – you MUST try that with an analog sequencer, you'll get stunning grooves).
But the chorus is lost (who needs a chorus with two VCOs?), and therefore the Promars has a simple mono-out jack. While LFO and filter are identical to teh JUP4, the overall unique Jupiter sound character is somehow lost. Conceptional changes always occur in a different sound. My opinion: the dual-VCO monophonic Promars is quite different from the meaty Jupiter-4 sound character. A monophonically played JUP4 – with 4 independet, slightly-out-of-tune, voices – can't be replaced by a monophonic instrument. Even if the synth architecture of JUP4 and Promars is nearly identical, the muscial results are completely different!
It was my mistake to believe in the Promars. Although its factsheet looks convincing (a powerful voice with TWO VCOs, great interfacing, etc.), it misses the unique sound character one might be looking for. "Fat sounds" are not the only type of audio impression, right? We know those sounds since the early 70ies. Moogs are perfect fat sounding machines, Oberheim- and ARP-synthesizers as well. Just listen to a Memorymoog (18-VCO) or Prophet-5 (10-VCO) unison sound – it'll blow you away!
Big brother Jupiter-8 sounds fat, the OSCar sounds fat, even a MS-20 may sound fat … alright, and the Jupiter-4? Well, it has unison, sure. Again "fat sounds", if you need them. But switch to PolyMode (1 VCO per voice) and listen to those unbelievable simple, yet meaty, slight out-of-tune und thus "human" audio impressions. They are unbeatable.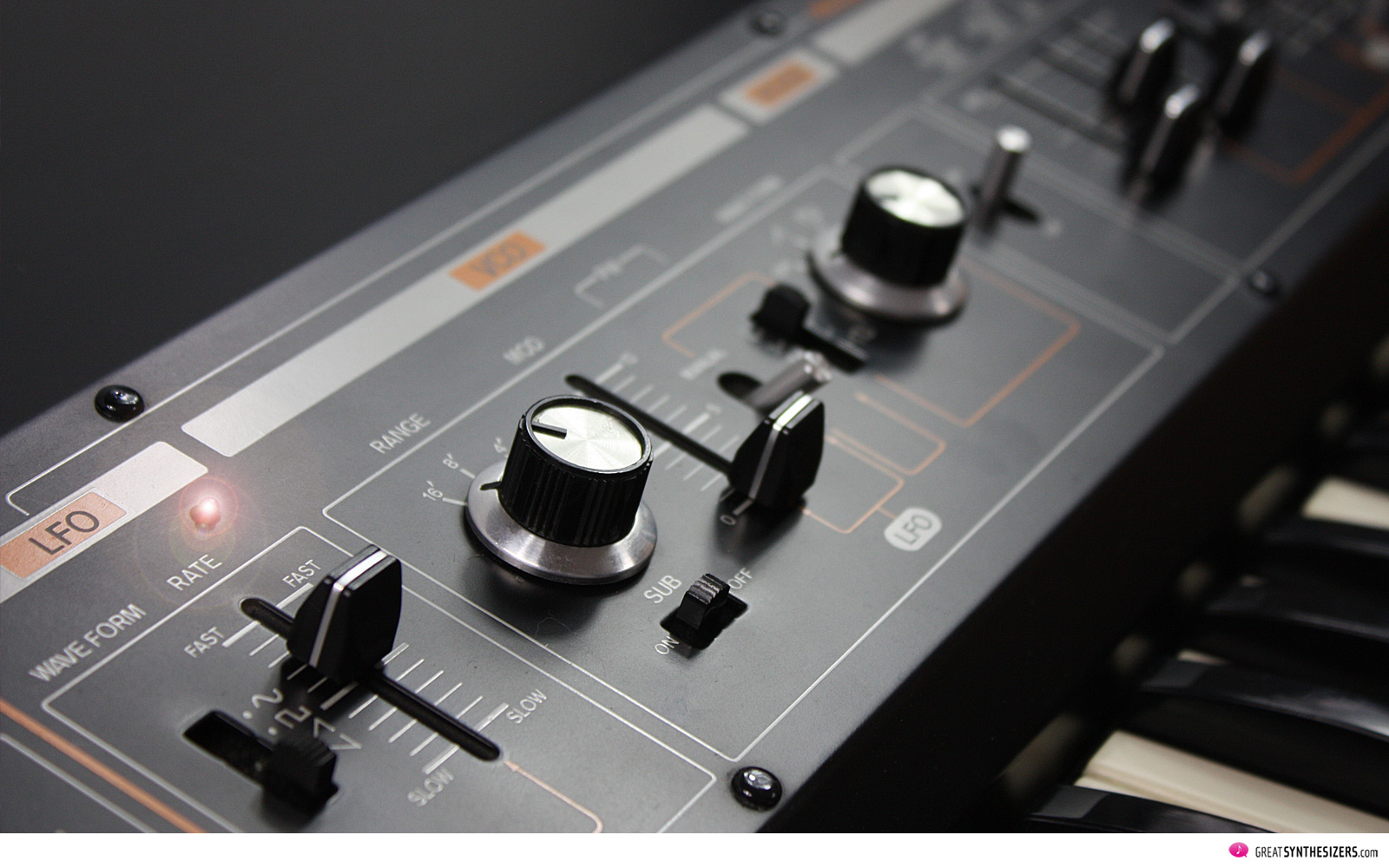 "Fat" is not the only sound-quality you need. I believe dry, subtle tone colours enrich your music as well. Maybe they are even more important, as too many synthesizers sound "fat" (and that's it). Only few instruments are able to fill up other important areas of tonal character – I believe the Jupiter-4 is one of them …
Jupiter-4 today
Way back in the 80s, 90s and early 2000s, you could easily pick up a Roland Jupiter-4 for a mere 500 Euros / USD. Those were the days! During the last years, however, prices went through the roof. Be prepared to pay at least 10 times more nowadays. As of 2022, prices range from 4,000 to 7,000 Euros / USD. Hard times.
Conclusion
I'll make it short: I recommend picking up a Jupiter-4 and modifying it with MIDI or CV/Gate. It's worth it! Admittedly, the Jupiter can sound terrible, but it shouldn't take too long to learn how to program it (the Jupiter-4 is no complicating machine). And while all other synths in your setup already sound "fat", you're wise and switch the Jupiter-4 to PolyMode to get those meaty, simple, but "human" tone colours. Soon you'll be quite happy with this great synthesizer. And you'll never let it go!
In the public mind, the Jupiter-4 is no classic analog synth. It's just an anlog polysynth that looks a little stupid. But I think it is one of the most intriguing music instruments Roland ever made. The Jupiter-4 offers a unique sound …
… with a character of its own.
---
x
We have attached 40 minutes of audio material. Most of what you hear is the Roland Jupiter-4, either soloistic, or in a mix. And yes, we used a late Jupiter-4 version, so it has IR3109 VCFs.