Doepfer Musikelektronik announces availability of the new Dark Energy III Analog Synthesizer as of today, July 4th 2018. The synthesizer's signal path is 100% analog. Needless to say, everything is built into a rugged black metal case with wooden side panels, while high-quality potentiometers with metal shafts are used; ultimately, each potentiometer is mounted firmly to the chassis. Ok, ok – we all know that from its predecessor, Dark Energy II …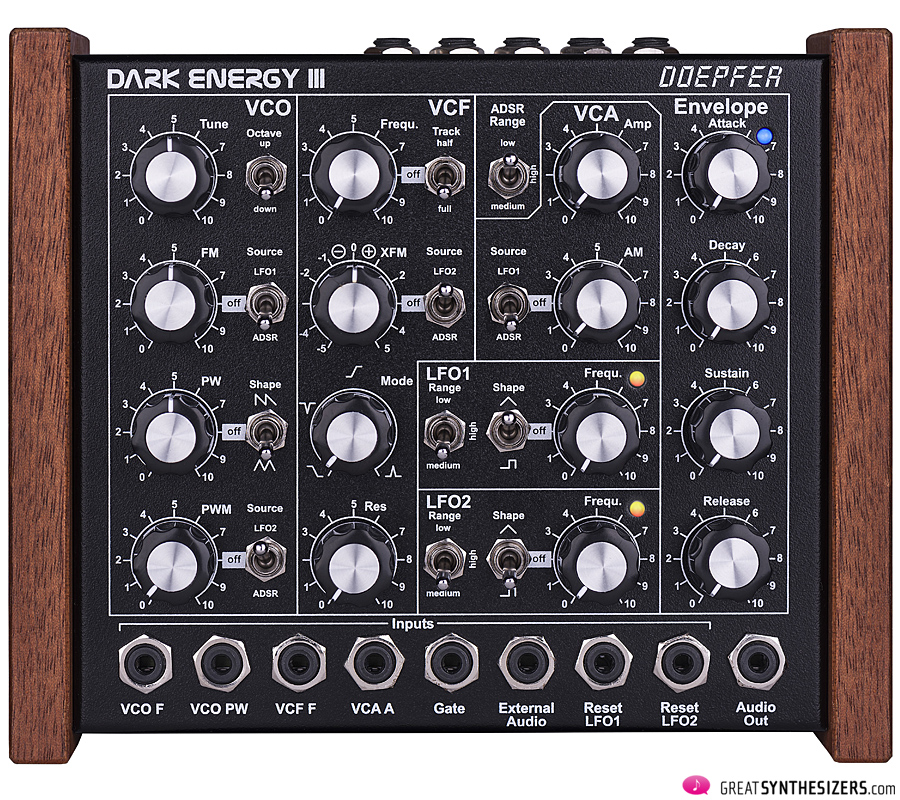 … and that's the point: This is an enhanced version of the Dark Energy II, with minimal alterations only. See our Dark Energy I / II test report for further info on the synth engine and its sound.
The main differences between Dark Energy II and III:
VCO has in addition the triangle waveform available
no heat-up period of the VCO
min. eight octaves perfect 1V/octave tracking of the VCO
separate reset inputs for the two LFOs
improved ADSR
access to additional functions via pin headers inside the unit for DIY modifications
(e.g. linear FM, hard sync, soft sync, LFO outputs, ADSR output, all VCO waveforms, all filter outputs)
The filter is the same as the Dark Energy II and all other – not mentioned functions – are the same compared to Dark Energy II.
——————————————————————————————————————–
Doepfer Dark Energy III
Analog Desktop-Synthesizer
Price: 479.00 Euros
——————————————————————————————————————–
Further Info / Download: