It's getting a little embarrassing talking about another "unbelievable" classic synth, another "must-have". Nevertheless – the Juno-60 synthesizer is no ordinary cheap polysynth, we rather think it's a real substitute for the sought-after flagship Jupiter-8. At least in many ways …
Sure, the timeless and extremely balanced design of a Jupiter-8 IS unbeatable. And there will be NO FX-soundtracks produced on a Juno-60.
But still, basic sound on both instruments is very similar. Considering sonic warmth and earthy richness, the Juno-60 is on the same level as the nice Jupiter-8, maybe it's even a little above (!) the Jupiter.
In 1982 Roland's marketing …
… was a dead failure – at least considering their introduction of the Juno-series. When the Juno-6 hit the market, it was sort of an innovation – true classic and quite powerful synth with six voices, sounding very similar to the expensive Jupiter-8, but at a much lower price level.
The Juno-6 was a sensation, but as technical development went on, Roland released the Juno-60 within one year! The successor not only had the "brand new" DCB-port, but also memories as well … all together at practically the same price as the original Juno!
Bad news for those musicians who needed the Juno-6 immediately and who should have been waiting for a couple of months.
Despite massive competition on the synth market (Korg's Polysix was the most successful keyboard at that time, breaking the 50.000 unit mark), the Juno-60 still was a well-selling instrument for Roland: 30.000 instruments were sold.
Good news for those musicians who didn't need the Juno-60 immediately and who look out for it on the vintage market now.
Synth architecture – reduction to the minimum (?)
Compliment to those engineers who developed this cut-down classic that sounds so good! There are not many features on the Juno-60, it's really sort of a "reduction to the minimum". There's only one …
DCO
per voice. Quite interesting, why the instrument sounds that powerful. The Juno-60 is no restrictive sounding synth, not at all! Those engineers simply found a perfect solution for the scaled-down (but still strong) DCO: the waveforms may be used at the same time, along with the sub-oscillator's signal …
Further, there's noise. Not really innovative, but useful in any way.
What a shame the waveforms can't be controlled individually in their level. However, this specific DCO is a perfect sounding module that gives you the feeling of a multi-osc-instrument. It sounds powerful, warm and rich. The …
VCF
is of the same high quality. Especially the filter's resonance sounds brilliant, giving you a lot of colourful musical textures and helps the Juno-60 being very flexible. But the Juno wouldn't be a true classic without some nice …
Extras
First of all: the typical Roland stereo chorus. Quite noisy, it gives you a lovely true-stereo sound image. But it's really noisy, to be honest – just compare it with the great chorus of Elka's Synthex – what a difference! However, the Juno-60 chorus effect produces rich and expansive sounds.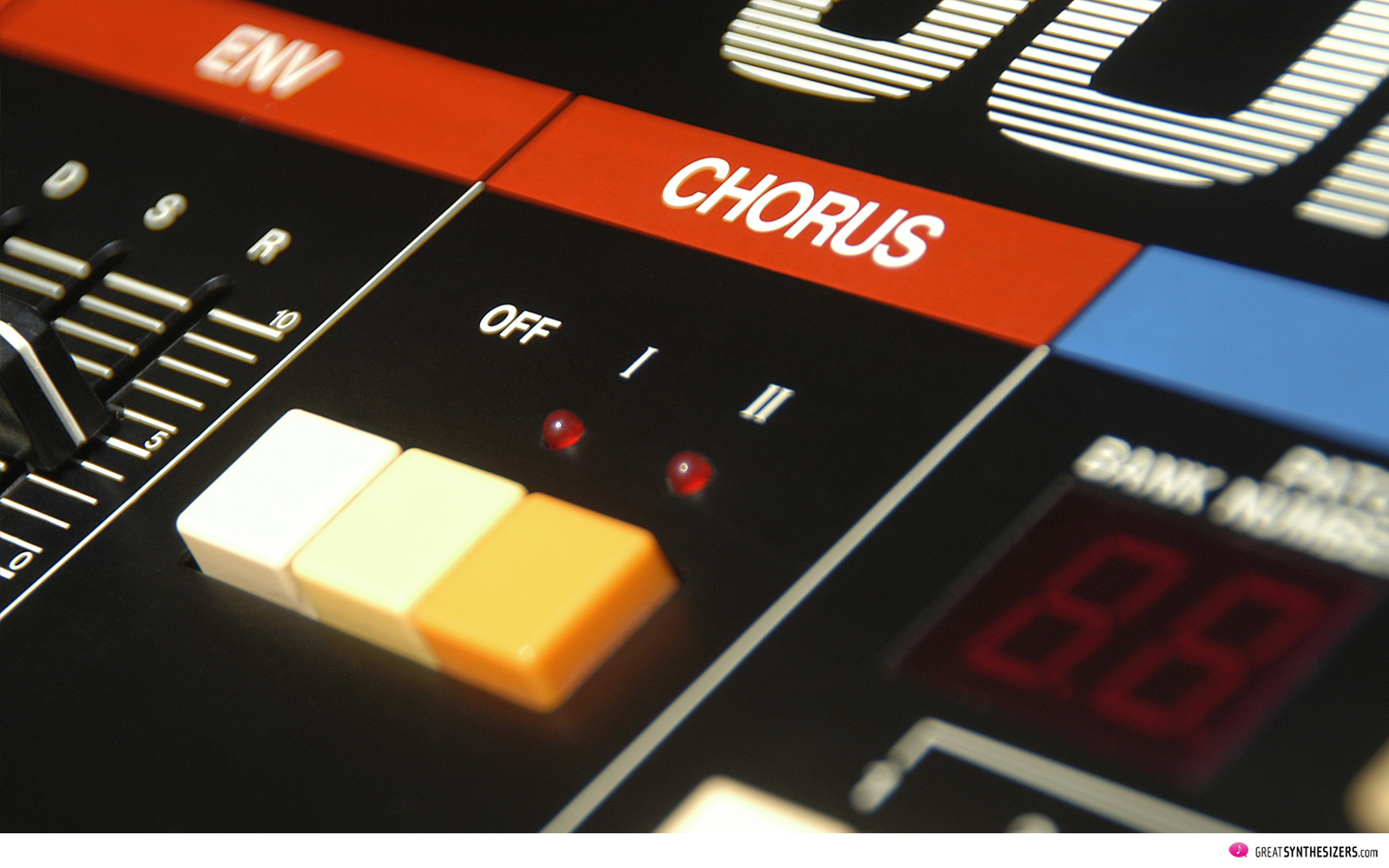 Further, you find those equally classic controllers. First, you can select whether to operate the LFO automatically (switchable in the LFO section) or manually … the huge LFO TRIG button is a fantastic tool, easy to operate and a joy to use. The BENDER allows adjustment of pitch and filter frequency. Classic Roland.
Last but not least there's a small arpeggiator. Let's call it a pseudo-sequencer of great musical value. A wide variation of the arpeggio patterns is available by changing the MODE and RANGE switches. Sadly, there's no random mode. We really miss it.
Sound
The Juno's brasses and strings as well as organs are quite famous in any way. These are lovely analog-sounding, warm and powerful patches. Short and snappy basses along with similar arpeggio-like sounds are other highlights. Mostly the brilliant DCO is responsible for those earthy, rich sounds. On the Juno-60 you can easily create patches for massive musical textures and ideas.
Well, and the filter is just brilliant as well. For those who want crazy FX-sounds, the Juno-60 shouldn't be a disappointment too much – with some little help. Use the filter-in port and connect external LFOs, ENVs or sequencers. Sure, the general scaled-down architecture lets the Juno-60 always stay behind the Jupiter-8, at least considering crazy FX-sounds and earth-shattering sync-sounds. There's only one oscillator per voice, no crossmodulation, no osc synchronization. We know that.
Roland's famous stereo chorus – another source of that distinctive Juno character – needs to be used with care. It's noisy … but it's so beautiful. And, finally, we have to point out once more the brilliant filter resonance. It's extremely colourful. Listen to the attached sound files … music says more than 1000 words.
Rear connections and MIDI
There are not too many things missing here. Certainly – MIDI would have been a real bonus, but in 1982? No way. Although the Juno-106 offers quite comprehensive MIDI, it's no substitute for the Juno-60 (in our opinion). Well, what you've got on the Juno-60 is a DCB-port. Not a bad solution, not at all! Simply connect a MIDI-DCB converter, and that's it. Kenton and CHD Elektroservis offer powerful modules, and they are not too expensive.
"You can control the Juno-60 using its DCB port connected to a Kenton Pro-DCB mk3. This method of control does not offer quite as much control as the retrofit kit, it is in fact notes only as far as the DCB port itself is concerned. Although both the DCB specification and the Pro-DCB mk3 support program change via DCB, the Juno-60 itself does not.
In addition, there is a VCF input on the Juno-60 which allows you to control the filter cutoff frequency. Link this to the Pro-DCB auxiliary output using a 3.5mm to 6.35mm jack cable to control the filter cutoff point.
You can also modulate the filter using the MIDI-syncable LFO built into the Pro-DCB mk3, using the mod wheel.
You can also link the clock input of the Juno-60 to the Clock output of the Pro-DCB mk3, again using a 3.5mm to 6.35mm jack cable. This will allow you to clock the arpeggiator in time with MIDI clock. You can vary the relationship between MIDI clock and the clock pulse going to the Juno-60 allowing you to clock 1/4, 1/8 & 1/16th notes, as well as triplets."
(Source:
http://www.kentonuk.com/synthselector/synths/roland/juno-60.shtml
)
There are Juno-60s with Kenton Midi-Kits around as well. But we're not sure if there's a real big difference to a regular Juno-60 with one of those fantastic MIDI-DCB interfaces. A MIDI retrofit kit is very, very expensive and you have to drill holes in your Juno … so, we'd prefer a Juno-60 with MIDI-DCB interface. That's all you need.
All in all …
Besides its truly classic and powerful analog sound, there's one simple fact that might put the Juno-60 well above the Jupiter-8: reliability. There's a lot less going on in the smaller instrument, and therefore you might feel better with the Juno-60. Making music on a reliable instrument simply is a lot easier, and in general financial charges for repairing are low.
Admittedly, the Jupiter-8 is a highly professional instrument. Probably one of the TOP 3 analog polysynths ever …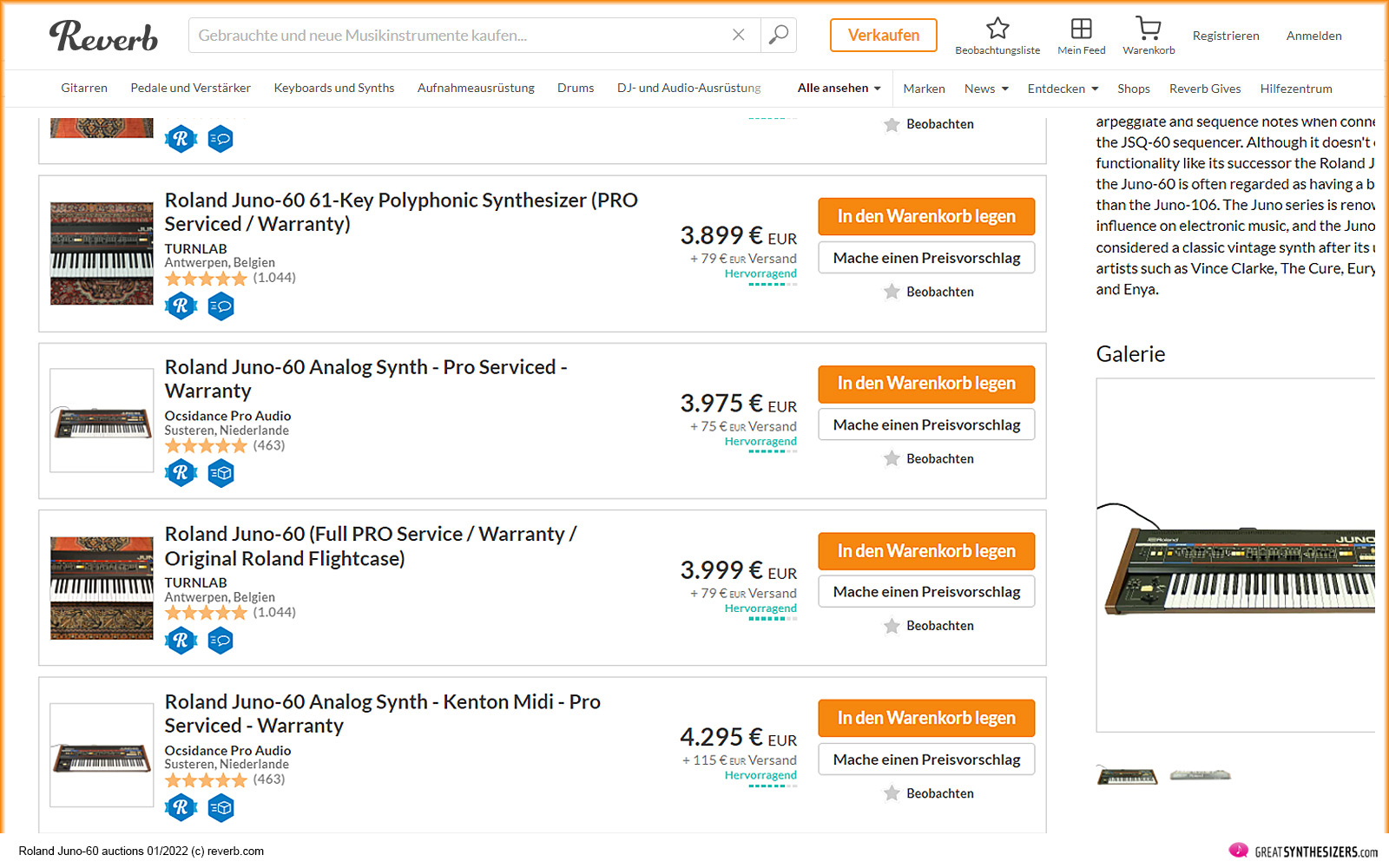 … but the Jupiter-8 is really expensive … 20,000 – 30,000 Euros (as of 2022). And it misses the classic Roland Chorus (alright, you could simply connect it with the RE-501 chorus/echo or something similar). And it misses the Juno-60's earthy richness. So we're not sure if the Jupiter-8 is worth the collector's prices people ask for it.
Update 2018: Prices for the Roland Juno-60 have stabilized at approx. 1,600 – 1,800 Euros.

Update 2020: Juno-60 prices shot up, they now range from 2,200 – 3,000 Euros.

Update 2022: Price has risen again, expect 3,000 to 4,500 Euros for a Juno-60.
To sum it up: The Juno-60 can be highly recommended to all musicians looking out for that warm "classic" Roland analog polysynth sound.
A sound with lots of charme.
Roland Juno-60
Polyphonic Analog Synthesizer,
with Arpeggiator and Chorus,
6 Voices
Link:
Vintage Synth Explorer
Video:

Nils Frahm with Juno-60, Roland echo effect and Fender Rhodes piano