Once again, one of the most important developers and pioneers in analog synthesizer history is the center of attention. We are speaking of Bob Moog, of course, the man who during his lifetime built heaps of real-analog devices. Either under his own name, or – for legal reasons – under the name of Big Briar.
Even in the face of the virtual-analog boom in the 90s, Bob Moog came out with new analog instruments, playing himself directly into the hearts of many keyboard players and / or audio artists!
His legacy is still present today. One of the youngest offspring of the house of Moog bears the name MINITAUR!
Analog fans have already guessed it: the very compact Minitaur is a desktop version of the Taurus, a bass synthesizer which first appeared in the mid 70s. As we all know, the Taurus was equipped with a foot pedal instead of keys. And its earth-shattering bass sounds were legendary. The classic Moog pedal was relaunched in 1981 and once again in 2009.
And now there is the Minitaur, a "compact table-top monophonic MIDI-and-CV-controllable analog bass synthesizer module with a 100% analog audio signal path". It's a cute bass monster – without pedals, but with lots of fun factor.
We have tested the original Minitaur – Rev. 1 – which has had to fight with some minor weaknesses. Quite a few of the Minitaurs on the used synth market today are Rev. 1 models, thus this report. In its revised form, many of these weaknesses have been eliminated. All the benefits of that latest Minitaur are listed further below …
First impressions

Today, a large warehouse is a luxury for many music shops. Those bulky instruments are difficult to store. More and more manufacturers take this into consideration, among them Moog. The packaging of the Minitaur is compact, making it space-saving. It's hard to believe there's an analog synthesizer in that small, nearly-cube-shaped box.
The instrument's compactness comes to light when it is unboxed. The very solid chassis is surprisingly light. Which doesn't mean that the instrument is a fragile plastic toy.
The Minitaur measures 21,5 x 13 cm (8,5 x 5,25 inches) and weighs 5 pounds. It's a rugged performance tool that is small enough to be taken with you anywhere – great for your studio and also for use on stage.
The Minitaur controls are sturdy. Masculine knobs, not really huge, but big enough for you to feel on the safe-side on stage. The overall design of the Minitaur fits perfectly into the well-balanced Moog product family.
The instrument comes with a printed manual, a power adapter, a Moog sticker, and – this is no joke – a pair of ear plugs! Probably intended for use during extended jam sessions (when you're tempted to lose yourself in electronic inspiration and might forget about your ears' health). The interesting fact is that you'll hear those unique (Mini)Taurus basses even with ear protection. Anyway, it's a nice idea!
The Back Panel

The Minitaur is sursprisingly well-equipped, considering it's such a cutie. The connections range from analog CV/gate to MIDI and USB …
Audio:
Audio Out – 1/4″ unbalanced jack
Audio In – 1/4″ unbalanced jack accepts line-level input
Headphones-jack for stereo headphones
Analog CV Inputs:
Pitch CV – 1/4″ TRS Jack accepts 0 to +5V signal (internally processed for 1 V/Octave) via external CVs
Filter CV – 1/4″ TRS Jack accepts 0 to +5V signal via external CVs
Volume CV – 1/4″ TRS Jack accepts 0 to +5V signal via external CVs
Gate – 1/4″ Jack accepts a 0 (Off)/+5V(On) Gate signal to trigger the unit's EGs
MIDI:
MIDI (DIN) – Standard DIN MIDI input for MIDI Control of the MINITAUR
MIDI (USB) – Type B USB connector
Power:
Yes, the power supply is external. Without a power switch, by the way. Hook up the Minitaur and it's ready to use …
The Synthesizer
So, what's at the instrument's heart?
There are 2 analog oscillators with sawtooth (original Taurus, as Moog claims) and square wave-shapes for each VCO. There's a small mixer for independent VCO level control and VCO 2 can be (de)tuned up to 1 octave up or down. Ideal for slight detuning and getting those nice beats usually related to typical Moog bass sounds.
There's the Moog ladder filter with adjustable resonance and its own envelope. The filter delivers classic Taurus 1 and 3 bass and boom. By the way: tweaking the knobs satisfies musically, because the Minitaur does what YOU want – and not vice versa.
Ah yes … the Minitaur filter sounds different than the Voyager filter … but that may have been one of Moog's intentions.
There's the single LFO, ranging from 0.01Hz to 100Hz. So, it's not only a standard modulation tool suitable for classic filter sweeps, but also very useful for interesting sound effects.
Apropos SOUND

I'm a real live keyboarder, playing in several bands. Since transportation is one of my life's key words, I'm always looking for compact and light-weight instruments. To be honest, I have reduced my equipment to a small bundle of digital gear containing all the sounds and functions that I need. So far, I'm satisfied with the quality of the (digital) sounds, even if they're emulations of analog instruments.
But after my first session with the Minitaur I have to admit it: there IS a difference in sound quality! Now I understand those live keyboarders lugging around bulky analog synths … It's that last bit of authenticity in sound quality and that important fun factor when programming the instruments that makes analog synths such unique music tools. Further, those real analog sounds can hold their own better in a band context. These are just a few of the thoughts I have when thinking of expanding my stage equipment with new, analog synths.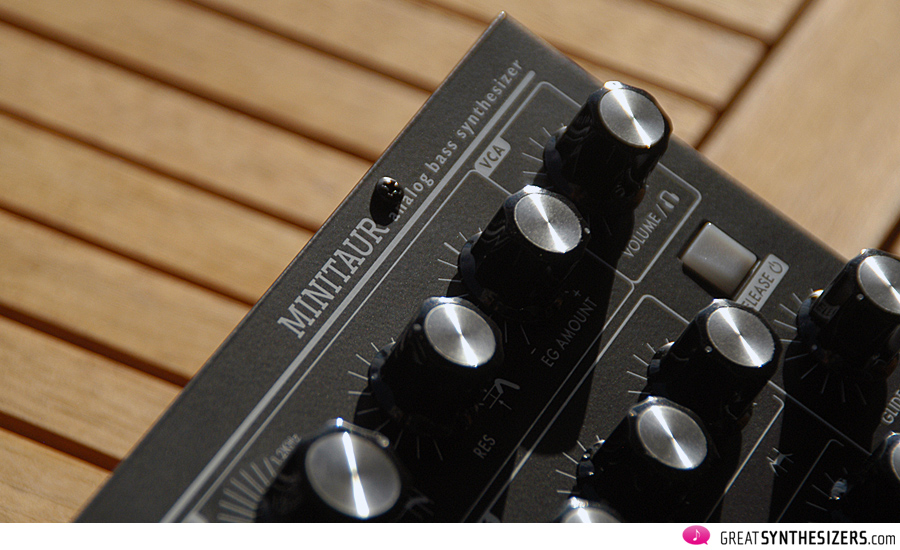 Back to the little Taurus. What I like is the Minitaur's tonal complexity! Besides basses and interesting FX sounds, you have soft and nasty leads and crisp arpeggios at your fingertips. Unfortunately, the whole sound potential is somewhat limited by the audio range of the instrument. Listen to the sample "Arpeggio With Large Reverb". The top notes are a semitone below the instrument's highest possible pitch. This points clearly to the fact that the Minitaur is primarily a bass synthesizer and not a lead synth!
Programming and Performance – Hardware
Phe Minitaur is a classic one-knob-per-function design. Programming this cute synth is lots of fun. All you need is a remote keyboard and a MIDI cable.
I personally like the Glide function a lot. It's very useful, suitable for any solo and many different music styles.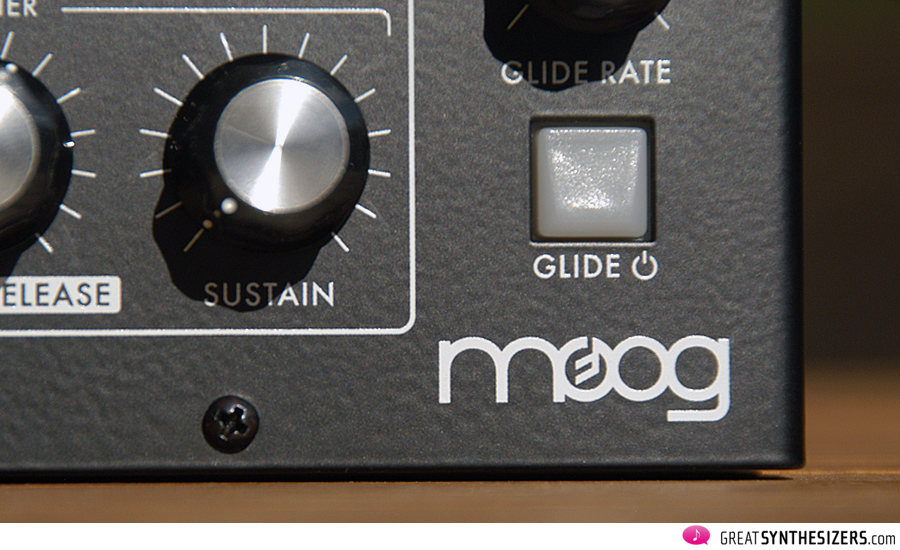 But what I definitely miss is the classic ADSR quartet. As in the Minimoog envelopes, Decay and Release are combined here in a single knob. Sometimes that's "ok" and makes sense in a certain musical context. But very often you will need the separate control option for ALL parts of the envelope. There's a release ON/OFF button, too … but that's no substitute for a specific release control knob. This problem has been solved in the latest Rev. 2.
The Extended Control Panel – Software
Here you will find all the things you have missed on the hardware surface. First and foremost: Preset memories! Some analog fans may shun these, but they are absolutely necessary in live performances. They should be a standard feature with any hardware synthesizer. But – better computer access than nothing at all.
The Minitaur surface is completely displayed in the main window. A second page gives you access to additional functions …
Some of the additional software features:
Saving/loading memories (as we already mentioned)
MIDI-synchronization of the LFO
VCO synchronization
Line-in volume
Keyboard tracking
Velocity amount (of VCO and VCF)
Pitch wheel adjustments
Field Of Application

Its compactness makes the Minitaur a perfect partner not only in the studio, but also on the stage. Those live keyboarders who need genuine analog synths should cast an eye in the direction of the Minitaur – low-budget, light-weight, an original Moog tucked off in the corner of your main keyboard.
Those of you hybrid-types living by the motto "best of both worlds" have your laptop with you at all times, anyway. You can use it to select the Minitaur presets in a second's time. Maybe there's even an iOS/Android solution I'm not yet aware of. That would be perfect …
Thanks to Line- (Audio-) In, Minitaur can also be used to bend (well, to process, really) external signals. Let me remind you of Goldfrapp on the Feltmountain-Tour, when Will Gregory chased the beautifully appealing voice of Alison Goldfrapp through the filter of his Korg MS-20. The Audio-In port gives you free rein to indulge in your most creative inclinations.
Competitors In The Field

The analog has come into full bloom in the last years. Today, there is a sea of new, compact analog desktop synths to choose from. Doepfer Dark Energy II, Vermona Mono Lancet, Waldorf Rocket, Vermona Perfourmer MKII, DSI Mopho Desktop, MFB Dominion X / X SED, TomOberheim SEM, Trax Retrowave, …
Every piece with its own merits, the decision to buy is, in the end, a matter of personal taste. But those of you looking explicitly for bass sounds won't get around the Minitaur.
The Bottom Line

It must be obvious by now that this small black piece of equipment has become one of my favourites.
The advantages:
+ Sound
+ Tactile feeling
+ Compactness
+ Solid hardware
+ No functional compromising, thanks to the free software editor
Things that would make the Minitaur even better:
– Extension of the audio range (!)
– Presets directly accessible – and not only via software
– Midi Out (for sending MIDI CC data), Midi Thru
– A power switch
Minitaur Revision 2
Some of the sources of criticism have already been eliminated. The upgrade Rev. 2 contains the following improvements:
Storage potential for 100 presets to Minitaur's internal memory !!!
A new Decay/Release mode allows for independent control of Decay and Release times from Minitaur's front panel
(CV) Pitch, (CV) Volume and Gate Controller inputs can be re-mapped to other control parameters
Minitaur can now act as a CV-to-MIDI converter
Improved LFO sync function
We would like to emphasize: most of the criticisms raised above are applicable to the Minitaur Rev 1 and are of interest for those looking for one of these instruments on the used market. All new Minitaur, of course, come as Rev 2.
Minitaur REV 2 firmware can be downloaded from the Moog Website.
Too bad that the audio range is still limited. That probably won't change …!
Sound Files

Since there are already a lot of analytical Minitaur sound files with filter sweeps and typical bass sounds on the internet, I've decided to do things differently.
What happens if you just play and tweak and then record? Exactly – suddenly there are sounds that are far away from the classical stereotypes.
So, I've made a random selection. Have fun listening! We have complemented the soundfiles with some recordings by Theo Bloderer.
By the way … HERE'S the big motivation for working with analog synths: tweaking, live/living sounds, spontaneity and the fact that surprise things turn up where you'd never expect them.
Moog Minitaur (Rev. 2)
Monophonic Analog Synthesizer
Price: 499 USD (approx. 420 Euros)
Available in black and white
Minitaur Wood Kit (wooden side panels for desktop use): 59 USD
Minitaur Rack Kit (metal panels for rack use): 55 USD
Website Manufacturer:
www.moogmusic.com