Korg handled it very well. While all those rumours about the new ARP 2600 were circulating, the innovative Japanese company slipped the minilogue onto the market. And we're all enamoured. Well, most of us are …
The word "minilogue" itself is simple, but nonetheless genious. MINImoog and anaLOGUE, voilà: MINILOGUE. That's what we think that they were thinking. In any case, to tell the truth, the new Korg has not all that much in common with Moog. It is an exceptional and – new – analog(ue) synth in the mid/lower price category.
"New", of course, is utterly impossible in the world of analog synths. Nothing is really new. The Moog System 55 at the end of the 60s / beginning of the 70s said all there was to say. Analog sound architecture had already reached its limits.
These days, in the digital world, analog synths are combined with MIDI and USB, motion sequencer and lots of memories … there you go: minilogue! New, small, an analog / digital miracle.
New analog sound design
"The synth circuits for minilogue are all new designs from the ground up, delivering a synthesizer experience like no other. Unprecedented in this class, it's a four-voice polyphonic true-analog synth with an interface […] designed for accessibility."
Korg praises its new analog baby and its newly designed analog circuit boards … ok, whatever, the user HEARS that this sound is definitely analog.
The 4-voice minilogue offers:
2 VCOs per voice, with sync and wave shape capability
Cross-modulation, ring-modulation and noise
A 12/24dB LowPass VCF per voice

2 ADSRs (VCA and VCF) per voice
A global VC LFO (to PITCH, SHAPE and CUTOFF)
Polyphonic step-sequencer (16 steps) with 4 motion-tracks, arpeggiator
8 voice modes, tape-style delay effect
100 factory-sounds plus 100 "INIT" memory locations (200 memories all in all)
MIDI, USB, sync IN/OUT, audio IN/OUT, phones output
Most of this is stuff you already know. There are not gonna be too many BIG surprises here. The VCOs sound really good, the VCF is – as usual – powerful (although less colorful than the MS-20 filter), the envelopes are snappy …  So, what's so special about all this?
All these advantages …
You wanna hear the good side first? The sound is refreshing, individual and somehow inspiring. Whereby the sum of all the little parts plays a big role here: various playing modes (unison, chord, …), internal delay effect, the sequencer's motion tracks and much more lets you submerge in a world of flexible musical performance and intuitive sounds.
A plattform for experimental sounds. There's cross-modulation, ring-modulation, sync, noise, SHAPE modulation, the VC LFO, an internal delay-effekt, a flexible slider, etc. Heaps of features for the knob tweaker and sound designer …
"Tape-Style" delay effect with a feedback loop. The delay effect is combined with a High Pass filter – with various routing options. The delay's feedback is a bit noisy, but very interesting! Fun to play with and a great source for exceptional sounds …
In the little display (about the size of a postage stamp), you can see the routings clearly … the display is small AND readable. Switching to oscilloscope mode, it provides visual feedback of parameter changes. Great fun!
A flexible slider. The Slider offers real-time control over a specific parameter of your choice. In addition, the slider can be used as a pitch bend controller.
Pitch bend range can be adjusted separately (1 ~ 12 notes) for UP and DOWN.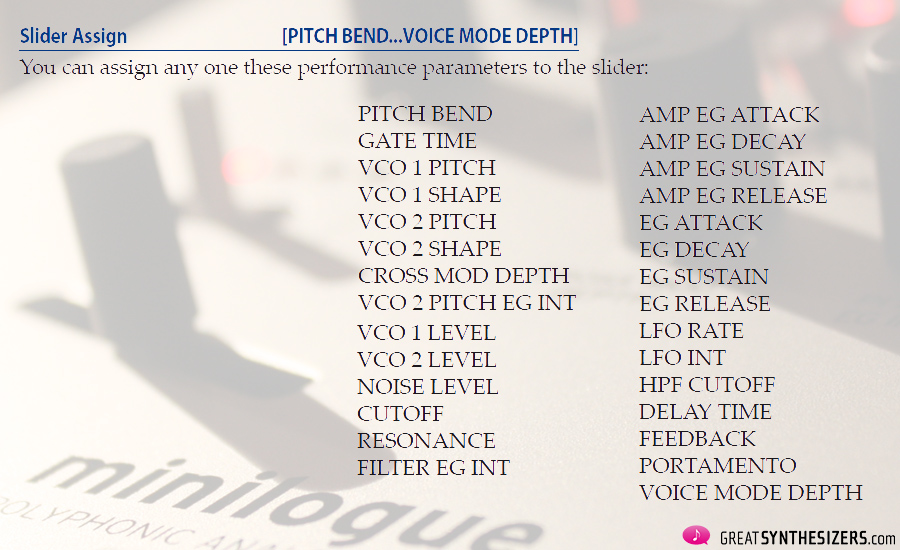 8 selectable voice modes let you freely configure the four voices for performance. The voices can be set to four note polyphony for chords or layered for thick basses and leads. There is:
POLY – operates as a four-voice polyphonic synthesizer
DUO – operates as a unison two-voice polyphonic synthesizer
UNISON – operates as an all-unison mono synthesizer
MONO – operates as a mono synth with sub-oscillator
CHORD – produces chords
DELAY – voices 2–4 sound consecutively at a delay following voice 1
ARP – an arpeggiator operates with up to four voices
SIDE CHAIN – when a note sounds, the volume of the preceding voice is lowered
From subtle mono-sounds to elephantine unison-sounds … the voice modes are a core feature of the minilogue. Useful – flexible – superb.
The step-sequencer is very simple to use. And that's very nice! Just record the notes and that's it. The additional motion sequencer can automate up to 4 synth parameters. And the result? Lively, sometimes unforseeable results.
[In-depth sequ programming might become complex, though. Gate time (programmable per step) … 0 – 100%, TIE; sequ lenght (16 notes maximum, sadly); global step resolution; etc. In studio, you might be quicker using a standard software-sequencer.]
Intuitive operation, clear menue structure. Tweaking the knobs is not a challenge at all. But what about all those hidden functions, the global parameters, the sub-menues?
As you see in the graphic, there are "quite a few" parameters the minilogue has to deal with. The instrument offers 3 EDIT modes:
PROGAM EDIT
SEQ EDIT
GLOBAL EDIT
Access to the menues (and sub-menues) is simple. As soon as you choose one of the 3 modes, most of the sequencer switches light up. Each switch gives you access to a specific function of the minilogue. Little dots in the display tell whether the function contains several pages or not. By pressing the dedicated swith again (and again, …), you rotate within the pages. May sound difficult, but really – it's not!
Then there are some extra extras, like quick access to your favourite sounds:
"The minilogue includes a Favorites function, which can be used to instantly recall any one of up to eight Programs that you have previously registered as Favorites on the minilogue."
(Korg minilogue OM, page 9)

Audio IN/OUT, MIDI, USB and Sync In/Out. The in/outputs (original Korg graphic above) have been sufficiently solved. Although: ONE wish – see below – has not yet been fullfilled.
200 memories in total. There are 100 tasteful, quality factory presets. Plus 100 INIT sounds for your own creations. Enough to get started with!
Good craftsmanship and a well layed-out user manual. All knobs and switches are robust and solid. The minilogue is rugged and stylish with its aluminum top panel, chassis-mounted pots, rubber-coated knobs, and the cute wooden back side. Last, but not least, the user manual is well written and clearly and attractively designed.
Excellent value for money. Well, 499 USD … the minilogue is a good bargain!
… and a few disadvantages
Slim-Keys. Now, this is debatable. A lot of musicians have no problem with this. Some do. I am a pianist and I do have a problem. Dear Korg-Team! Pianists and real keyboarder can not play on slim-keys. A melody here and there – ok, but what about full chords? These end up all floppy. No way to clean them up either, the keys are just too thin.
Sequencer doesn't have a transpose function. Now, I don't have a clou. HOW can you develop such a wonderful sequencer without thinking of the probability of the user wanting to play in more than one keys (or two, using the pitch bender for assistence). Without that transpose function, the minilogue sequencer is just half as useful as it should be. But hope never dies. Maybe the Korg team is already working on an OS update that will erase this design mistake.
Then again, in step mode legato can not be programmed. A pity. Notes and rests – yes, legato – unfortunately no.
That noisy slider. Its metal springs (inside the instrument) are just too loud. Click – click! Just like the keyboard of the good old original MS-20 back in 1978 (… very noisy keys). Here, it's the slider. All the care taken to get a sound just right and then? Click – click! How odd …
Some subtle (unwanted) noise in the audio path. Subtle and not nearly as extreme as with the Korg MS-20 mini, but it's still there …
P-o-s-s-i-b-l-y  this has something to do with the fact that the minilogue was not supposed to cost more than 600 Euros (ok, 713 – original list price). That means being thrifty here and there. Anyway, you can hear the subtle noise in some of the attached audio files (if you listen carefully).
No CV/Gate-IN, no VCF CV-IN. Considering the state-of-the-art analog concept (state-of-the-art in this price segment, exactly), it would have been easy and helpful to supply CV/Gate inputs. Not polyphonically, but just for mono, unison mode, e.g. Since almost everybody has modular equipment in his home studio these days, this (analog) connection to (and possibly from) the minilogue would have crowned the concept nicely. Even at a slightly higher price.
A stepping stone?
Maybe there's a pro's synth in the cristall ball somewhere. Korg products have demonstrated a constant line of developments in the last years. A sort of evolution: Monotron – Monotribe – Volca Series – Minilogue … ! So there is hope (and a little expectation) that Korg will develop a real pro analog synth in the near future. With internal PSU, real keys (4 octaves?), CV/Gate in/out, sequencer transpose function and so on … the big brother of the minilogue, so to speak. Great expectations.
Those of you who don't want to wait (and those of you with slim fingers) will enjoy playing the new Korg minilogue. An inspiring, good sounding, creative analog synth for a mere 499 USD.
We have attached 35 minutes of minilogue audio demos. Enjoy listening …