The 1st part of our report was dedicated to the modular synth area. We continue with some thoughts about synthesizers / keyboards. Now, most of the "new stuff" is probably already "old stuff" to you. There's so much going on on the analog (virtual analog) synth market, and small companies are especially keen to bring out interesting products.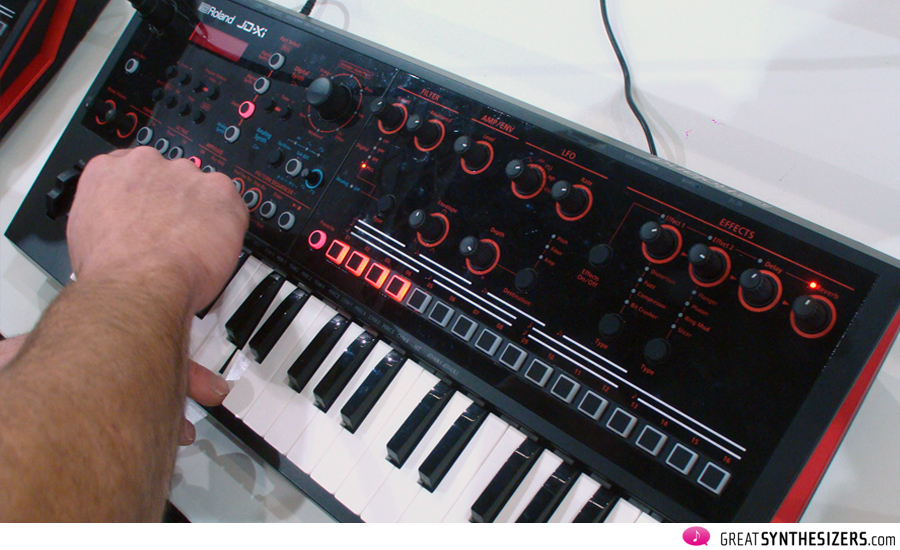 All the same, let's start with a traditional global player. Roland has developed a completely new JD-family. At least we've never seen anything like the JD-Xi and JD-XA on the market before. Design is no doubt a matter of taste. But, be that as it may, we find the new JD-line a little hard to take …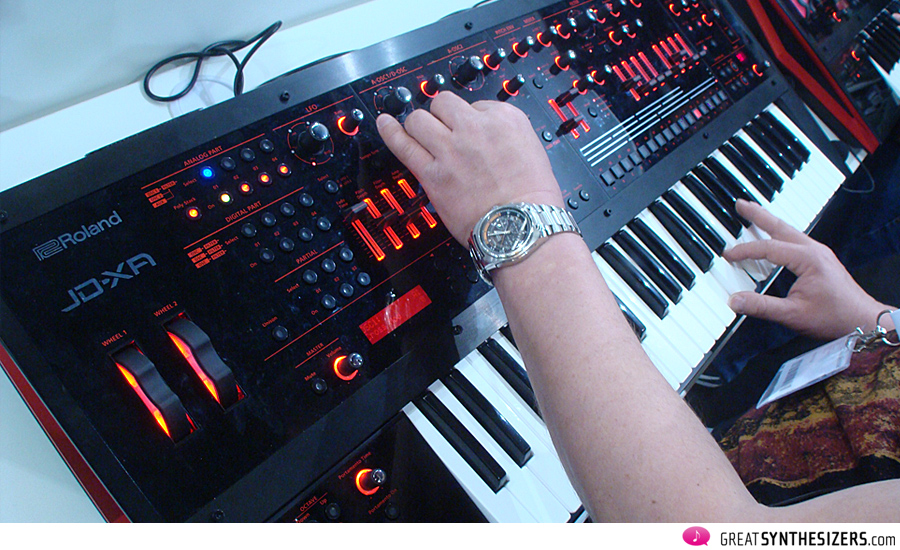 Generally speaking, an external PSU is a NO-GO with professional keyboards (even though that flagship John Bowen Solaris – a brilliant synth in many ways – also features that design blunder). The surface of the new JD-family is hard plastic. Nothing around it can escape those irritating reflections … Visual impression: cheap (as we say, this is our personal opinion).
All those illuminated buttons and sliders (and including the end cheeks) seem to tell us that appearance was high priority in the design. Nonetheless, what we're really interested in is SOUND. How far does a JD-XA come to being a new JD-800, or a new Oberheim OB-Xa? Or to even coming close to them? Roland calls the new synth-concept CROSSOVER, being a mixture of ANALOG and DIGITAL sound components. We'll keep you posted …
And now on to a real classic of vintage synth history. The new edition of the Elka Synthex was introduced at a launch party on April 16th. Christian Wildermuth was there and had a closer look …
There was a Synthex there, sure enough, but it wasn't a new prototype at all (that would have been too good to be true). It was an original instrument from the early 80s.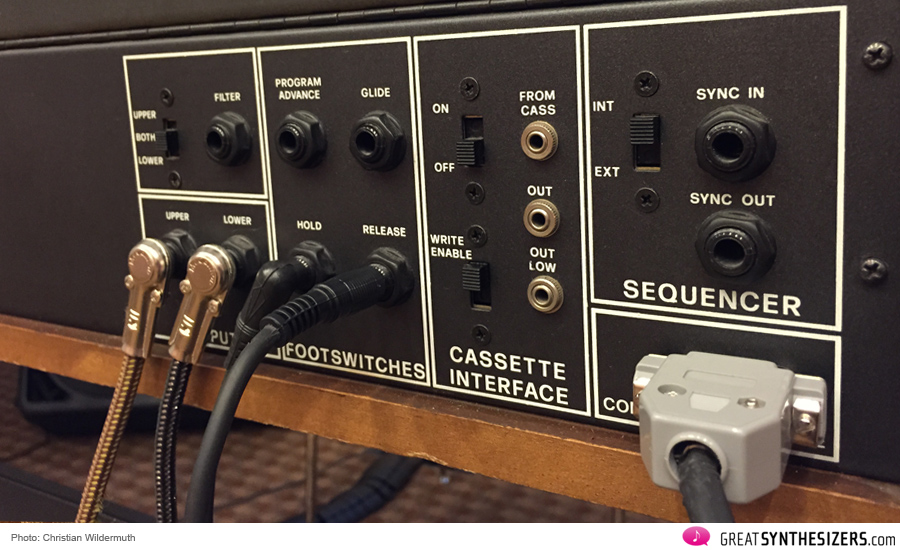 Soundion Oy Ltd – which has bought the rights to Generalmusic (and thus ELKA) – couldn't resist inviting the tried-and-true Paul Wiffen to the event. It was he that introduced the original Synthex in 1982. And now he returns.
The marketing of the new Elka Synthex is somewhat unusual, as 125 pre-orders are needed before the project can get on its feet. Unusual, to say the least …
Now, back again into the past! Not only ELKA, but also ARP has seemingly risen from the dead.
KORG's / ARP's new Odyssey has been state-of-the-art since the beginning of 2015. This is absolutely great value for your money! Nonetheless, the reduced size (86% of the original Odyssey), the mini-keys, the fiddly (external) PSU and those flabby PPC pads means this is probably not a real PRO-musician's dream. But we repeat: low price, good sound – what more is to be said?
Those looking for a true comparison between OLD and NEW eventually wandered over to the SynMag booth, to test the original ARP Odyssey (and many other vintage synths) and feel the difference …
Back to KORG, let's take a look at the complete Volca-Series (including the new Sampler).
Sticking for the moment to small synths, we have a look at ARTURIA. The very colorful MicroBrute SE series looks – well – very colorful. Surprise. Surprise.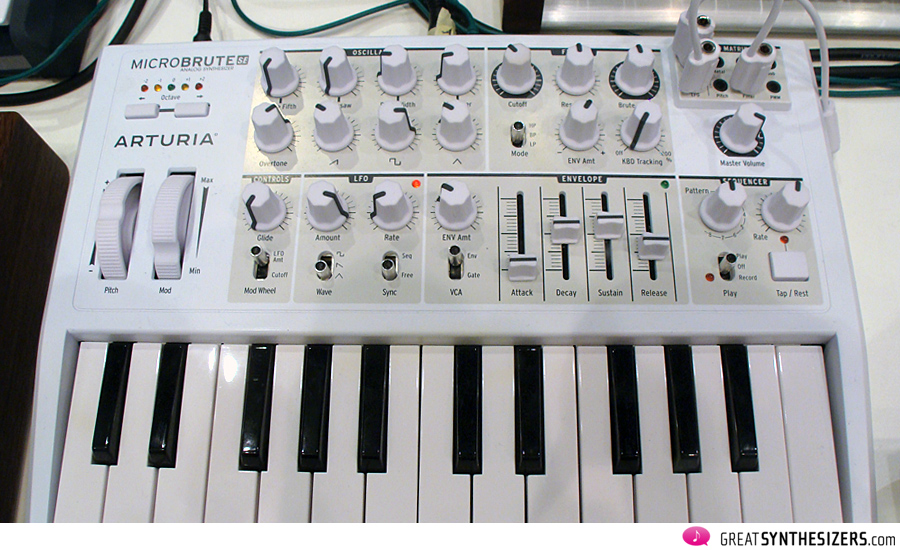 As mentioned in our blog, Arturia is currently offering the MiniBrute at a reduction of 150 Euros …
… tough luck that this offer doesn't extend to that smart MiniBrute SE.
Software is the natural terrain of the Arturia company …
Another cutey is the Bass Station II of Novation, which has been gracing the monophonic synth market for two years now …
… together with the virtual-analog UltraNOVA on the polyphonic side of things.
A little afterthought: How is it that so many of the younger generation are not familiar with the term "synthesizer"? Synth … what? Moog? Uhhhhhhhh? But give them a glance at a Novation Launch Pad and everybody knows what it does! "That's cool – I recognize that!" Which means we have to be grateful to Novation for their achievements in the electronic instrument market. Their HIP and COOL concepts are very attractive not only to studio-/pro-musicians, but also to the HIP and COOL younger generation …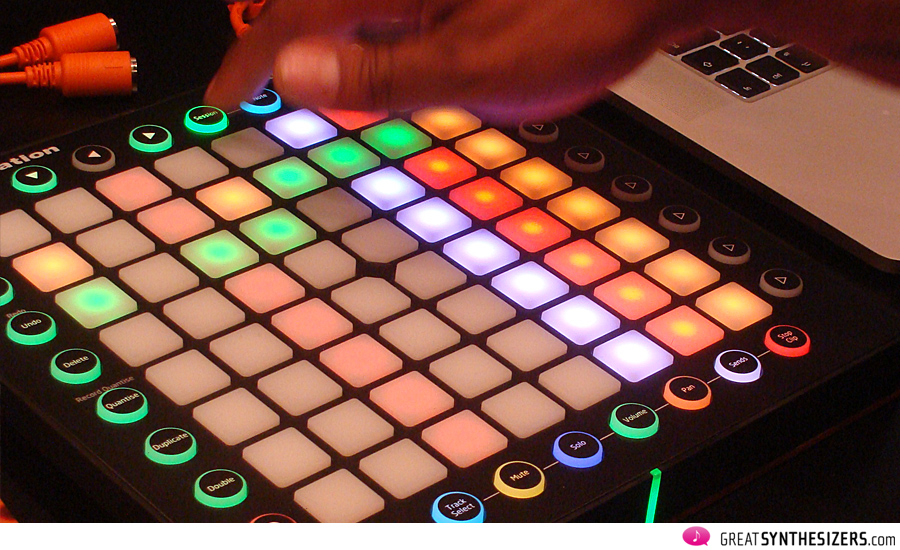 Modal Electronics is the talk of the day. That new fleet of English synthesizers looks fantastic, has some unusual features to offer and is – all in all – very attractive, based on the motto: MUST HAVE!
The littlest of the family is Modal 001, hybrid 2-voice synthesizer with analog/digital oscillators.
Paul Maddox explains the Modal 001 in the following SoundOnSound video:
The middle child is the new Modal 008, a 8-voice analog synthesizer …
The BIG brother – Modal 002 – is another hybrid synth. Why isn't it called Modal 012 since it has 12 voices?
Its rack-version Modal 002R can be had with 12 or with 8 voices.
Part 3 of our Messe report will be dedicated to Dave Smith Instruments, new European synths and – briefly – an extremely interesting (but not so cheap) e-piano concept …