ACME-4 seems somewhat strange at first. But it's great. It's the only true (!) solution for those who miss the groove in their MIDI (and CV/Gate) studio. Developed and produced by Sebastian Niessen in Germany, ACME-4 is the ultimate tool in musical clock generation & clock manipulation.
You might know the problem: trying to synchronize different kinds of sound engines (digital and analog sequencers/arpeggiators, synths, drum machines, etc.) ends in a fiasco. Ok, there's a general MIDI clock that comes with your recording software, but in the end, the TR-808 sync is not tight, or the Arturia MiniBrute's arpeggiator is lagging slightly. So you have to record each track separately and rearrange the audio material (track by track) in order to get the right groove.
ACME-4 is the solution to get rid of the tiring (and annoying) MIDI clock / analog clock desaster. It's a little box that generates a highly precise clock signal from an audio signal. Well, it produces 4 separate clock signals, of course. Each clock stream has its individual MIDI output. 2 streams also generate 24-ppq signals ("Roland sync"), while the other 2 provide clock and reset signals for analog sequencers and arpeggiators.
Each of the 4 clock streams can be time-shifted in relation to the master clock, in extremely small increments as well as in 16th-note steps. In addition, a constant fine offset can be set for each clock stream to allow compensation for technical latencies.
So, adjust the ACME-4 knobs and let your ears be the final judge (well, you have to!) as to what a tight groove sounds like. Turn the knobs and give your music character, producing songs that present your very personal feel for rhythm, synchronisation and groove. Give it a human touch!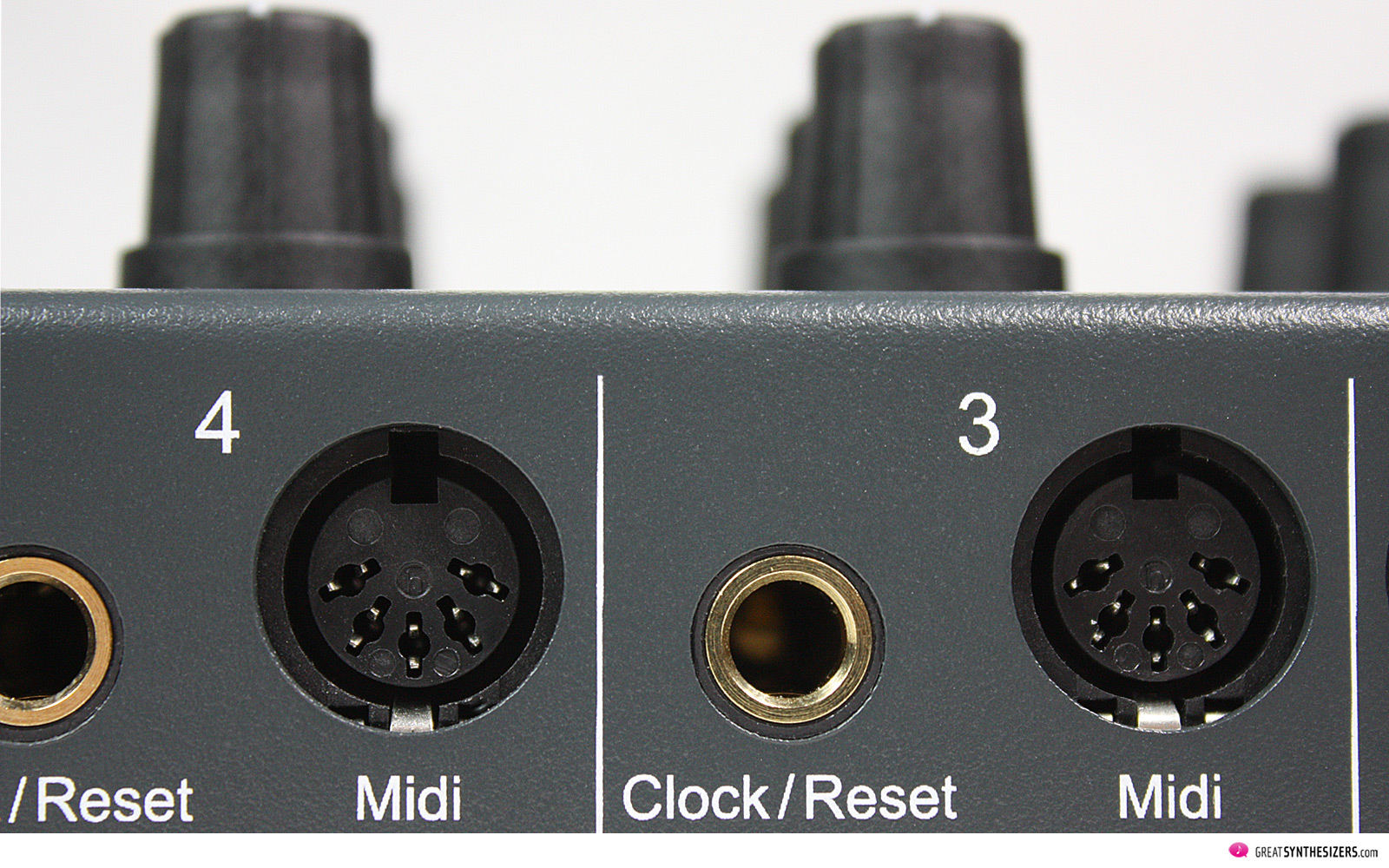 Sometimes slightly adjusting the different clock settings is enough – suddenly, the music sounds well-synchronized and "correct". But this adjustment is only possible if you have access to the individual MIDI (and analog) clock streams … and this is what makes ACME-4 unique.
A small experiment. Try to operate 3 Arturia MiniBrute in parallel. 2 MiniBrute RED and a MiniBrute SE, for example (that's what we did). Without correction, the arpeggiators and the sequencer are surprisingly out of sync! Just a little, but enough to make their parallel operation useless. (Again, you can record each MiniBrute track by track, but that's not how we wanna do music!). Turning a few ACME-4 knobs immediately synchronizes the 3 Arturias perfectly, producing a wonderful, funky groove.
Another experiment: try to synchronize the Oberheim Two-Voice Pro sequencer, the good old Roland System-100 step-sequencer, a TR-808, a few digital synths (John Bowen Solaris – internal sequencer, e.g.) and other MIDI devices. Using a regular MIDI clock from your computer (plus an additional MIDI-to-CV device for the analog clock), it takes a hell of a lot of work to get the whole system running simultaneously.
Use ACME-4, on the other hand, and you're done in less than a minute. All ACME-4 functions have dedicated controls, so they can be "played" without staring at a display and poking around in submenus. Calibrated center clicks on all pots allow instant "zero" adjustments. Complete settings of all controls can be stored and recalled, and all parameters can be remote controlled via MIDI.
ACME-4 is expensive. 1000 Euros plus shipping. 1000 Euros for nothing else than a MIDI clock generator, right? Well, this engine might be the key to perfect, funky music. It might be the key to a new and better workflow in your studio. Instead of collecting dozens of synths, drum machines or other audio devices, it might be a wise choice to concentrate on a few instruments PLUS the right engine for the perfect clock!
The hardware is excellent, by the way. High-grade components (gold-plated jacks, switches, and push-buttons, sealed Alps potentiometers, etc.) and a rugged metal casing ensure decades of reliable operation. And like all SND products, the ACME-4 has been designed with great attention to detail. The 32-bit risc-processor ensures lightning-fast operation.
According to SND, ACME-4 is the only device to generate a MIDI master clock that is 100% jitter-free. It produces an accurate MIDI clock (plus Roland Sync) AND a highly precise analog 16th-note trigger signal. It's a tool that allows you to perfectly synchronize those analog and digital worlds in your studio.
If ACME-4 functions as the slave, it accepts clock- or audio-signals (USB or audio-in) from any DAW or digital sequencer, or any 16th-note clock from an analog sequencer. Even an analog LFO can serve as clock … So, no matter if ACME functions as the master or the slave, you have full access to its 4 individual clock streams!
Recommendable!
---
Download / open:
---
SND ACME-4
Advanced Clock Management Engine
Price: 999,60 Euros
(€ 840 + VAT) plus shipping
Update 2022: ACME-4 is out of production
Website manufacturer:
http://www.s-n-d.com/acme4e_a.html