This time no Minimoog, no Phatty, no MoogerFooger, no … The Moog DFAM is a real drum computer – an analog synthesizer with step-sequencer. The DFAM (Drummer From Another Mother) can be used as a stand-on device or in any Eurorack modular system. Certainly, the combination of DFAM and MOTHER-32 looks particularly elegant.
The DFAM concept is classic, yet flexible: 2 analog oscillators and noise provide the necessary sounds, and the attached patchbay can be used for in-depth sound-programming and cross-patching.
Features:
SOUND ENGINE: Analog
SOUND SOURCES: 2 Oscillators With Square and Triangle Waveforms, 1 White Noise Generator, 1 External Audio Input
ANALOG SEQUENCER: 8-Steps With Pitch and Velocity Per-Step
SEQUENCER CONTROLS: Tempo, Run/Stop, Trigger, Advance
FILTER: 20Hz-20KHz Switchable Low Pass / High Pass 4-Pole Transistor Ladder Filter
ENVELOPES: VCO EG w/ Voltage Controlled Decay and Bipolar Amount Control, VCF EG w/ Voltage Controlled Decay and Bipolar Amount Control, VCA EG w/ Voltage Controlled Decay and Selectable Fast/Slow Attack Time
PATCHBAY: 24 x 3.5mm Jacks
> INPUTS: Trigger, VCA CV, Velocity, VCA Decay, External Audio, VCF Decay, Noise Level, VCO Decay, VCF Mod, VCO 1 CV, 1→2 FM Amount, VCO 2 CV, Tempo, Run/Stop, Advance/Clock.
> OUTPUTS: VCA, VCA EG, VCF EG, VCO EG, VCO 1, VCO 2, Trigger, Velocity, Pitch.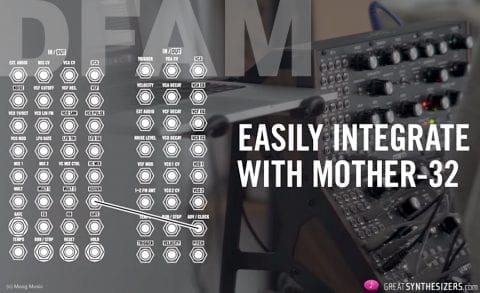 AUDIO OUTPUT: ¼" TS Line / ¼" TRS Headphones (Shared Output Jack)
"DFAM is the first addition to the Mother ecosystem of synthesizers and presents an expressive hands-on approach to percussive pattern creation. It requires no patching, and absolutely no experience is needed for human-beings of any age to quickly begin synthesizing new and unique rhythmic compositions."
(Moog Music)
Video:
Further info: