After two years of development GRP finally made it work: The GRP R24. This sequencer is a "tricky" device. It can do a lot more than we would expect. Maybe too much for some users, assuming that is even possible.
Once in a while a musician just longs for the uncomplicated, the simple. Such as the Moog 960 Sequenzer (just about the most reduced model in that category – stately and gorgeously crafted, no doubt about it, but extremely limited in its possibilities: 3×8 steps, just "one" mode, that's it). You can get the old Moog 960 newly constructed from DotCom (Q960 Sequential Controller) and from COTK (C960 Sequential Controller) …
Similar, if somewhat more elaborate sequencers: the Q119 24-Stage Sequencer from DotCom (once more) and the Moon Modular M569 Quad Sequential Voltage Source. Visually unique (with its circular step arrangement): MFOS 16-Step Rotary Analog Sequencer) and the KLEE Sequencer from Scott Stites.
The greatest step-sequencer, the cream of the crop is definitely the SAM-16 Sequential Analogue Memory from SND/Sebastian Niessen (unfortunately no longer in production). Then the air among the remaining 5HE-step sequencers gets rather thin.
The GRP R24 fills a niche that has been unexplainably vacant for decades: the niche for an elaborate, flexible step-sequencer with BIG jacks, CV/gate and (!) MIDI and also a big cache for saving sequences. In glaring contrast to the dozens (and dozens) of analog synthesizers that have first seen the light of day in the last decades, almost nothing has been going on in the step-sequencer field.
But, as studio hardliners have known for a long time, you need an analog step-sequencer (with various modes) for a genuine groove. Which makes for a huge demand!
GRP has now closed that gap by releasing a versatile MIDI/CVgate-sequencer for the creative musician. Actually, they've gone even one step further: they built the R24 "and" the A2 – a brilliant sequencer "and" a superb synthesizer. So does that make a dream team? Could very well be! For the first time since that legendary package "Korg SQ-10 and MS-10" (or MS-20), there is again an analog sound- and performance-duo with matching outfits available.
But the outfits are not the point. It's what's INSIDE that counts. We've already discussed the GRP A2 in length in a test report. The following lines will be dedicated to the GRP R24.
A leave-it-as-it-be or a take-out-and-put-in-somewhere-else?
The GRP R24 is based on a dual hardware concept. Employ it as a stand-alone unit, or remove it from its housing and slide it in a DotCom/Moon Modular System. The required modul-/bus-socket is waiting there right on the main circuit board of the R24. Should the remaining empty housing appear useless, remember that it can be filled with other 5HE-modules. GRP thought of that, too.
Using the R24 as stand-alone device, still leaves you with 2 possibilities: either leave it as it is (with those elegant, rounded wooden side panels), or unscrew the wooden panels and replace them with rack-ears that come with the R24.
Features of the R24
The R24 offers:
64 memory locations for sequences.
3 rows with independent CV/GATE outputs plus MIDI (In / Out) … each row can have its own MIDI channel. So, it's self-evident you can control digital and analog synthesizers at the same.
Global Performance-Features:
3 Sequencer-Modes:
– A,B,C: 3 parallel sequences (8 steps each)
– A+B,C: 2 parallel sequences (16 steps and 8 steps)
– A+B+C: 1 long, serial sequence (24 steps).
6 Advance-Modes (directions), including random and alternating.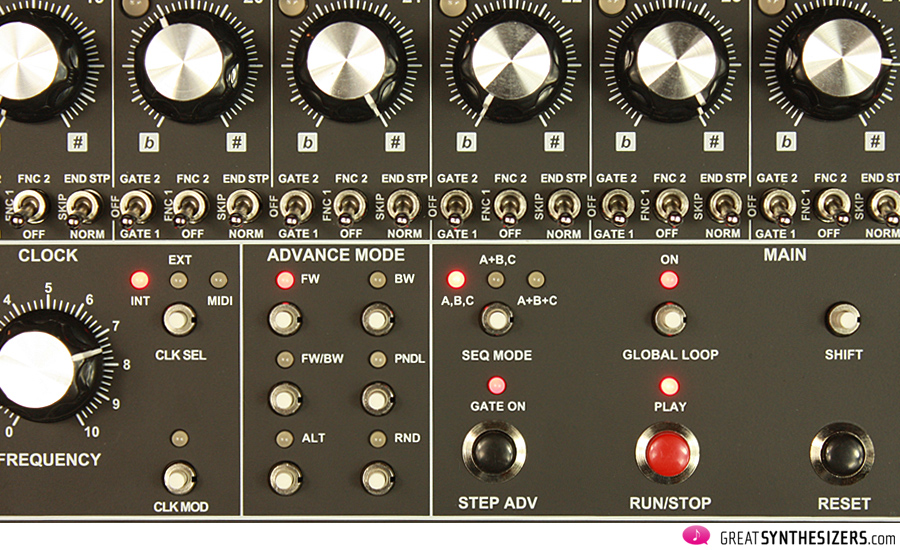 Individual Performance Features (each row):
Quantization (on/off), Portamento and Sample & Hold.
6 Step-Order Modes (step-repetitions and back/fwd movements in a sort of mathematical way). User can programme own order-movements (up to 8 notes).
3 Step-Repeat Modes (x2 / x3 / x4).
4 Sequence-Repeat Modes (x2 / x3 / x4 / endless repetition).
6 Advance-Divider Modi (/2 /3 /4 /8 /16 /no division). Actually, this is a  "Clock" divider function, which is why the term "Advance" is a little irritating.
Individual Performance Features (each step):
Each step generates a CV (control voltage) signal, but also 2 GATE signals. Summing this up, you get 3 CV tracks and up to 6 GATE tracks. If the Gate switch is in the OFF position, there is no gate-signal – that's how you programme rests. It's quite simple to create heaps of rhythmical variations just by switching gate-signals on and off …


x


Depending on positioning of the gate-switch, each LED flashes RED (Gate 1), BLUE (Gate 2) or remains dark (OFF – rest).
Function 1 (FNC 1) and Function 2 (FNC 2) are strange extras. When activated, the step is repeated twice (double stroke) or three times (triplet).


x


Double Gate and Triplet are the "factory" settings. However, there are four possibilities to choose from:


x


– Portamento on/off (portamento yes/no per step!)
– Double Gate (= factory setting FNC 1)
– Triplet Gate (= factory setting FNC 2)
– Quadruple Gate
SKIP and END STEP are further subleties to create rhythmical variations. Useful (and necessary) to realize any sort of poly-rhythms and any sort of Minimal Music.


x


It takes a lot of patience if you wanna do stuff like this on a computer / with a software MIDI sequencer …
In order to represent the R24's flexibility, we created demos with various MIDI- and CV-synthesizers:
R24 and Vermona 14 Analog Synthesizer: MIDI (notes) and CV (VCA IN).
R24 and Arturia MiniBrute: MIDI (notes) and CV (VCF IN).
R24 and Novation KS5 (01): interesting PPG sounds in that Novation! (MIDI control.)
R24 and Novation KS5 (02): we don't know why, but the organic character of the KS5 forms a perfect symbiosis with the R24 sequencer. (MIDI control.)
R24 and Octave The Kitten II: the cute kitten is a MONSTER! (CV/Gate/VCF control)
R24 and Roland Jupiter-8 (01): R24 controls the Jupiter-Arpeggiator (trigger), VCF and VCA (all analog, so to speak).
R24 and Roland Jupiter-8 (02): we added a Boss CE-1 chorus to beefen up the Jupiter-8 sound. Again: R24-to-arpeggiator-triggering …
R24 and Yamaha TX-802: Surprise! Organic FM sounds! (MIDI control).
GRP R24
MIDI / CV-Gate Step-Sequencer
Price:
1,990 Euros + VAT. + shipping
= approx. 2,350 Euros / 2,499 USD
(10/2023)
Website: www.grpsynthesizer.it
Open / Download:
Link: