Abseits der NAMM und abseits aller Hypes wird in Frankreich – sehr still und ganz unaufdringlich – einer der wohl mächtigsten modernen Poly-Analogsynthesizer ins Leben gerufen. Was in den ersten Roh-Entwürfen noch nicht so ganz klar zu erkennen war (Stichwort: Farbgebung), offenbart sich nun Schritt für Schritt bei der Fertigstellung erster Modelle: Der Baloran THE RIVER sieht absolut "stimmig" und beeindruckend, in gewisser Weise sogar edel aus …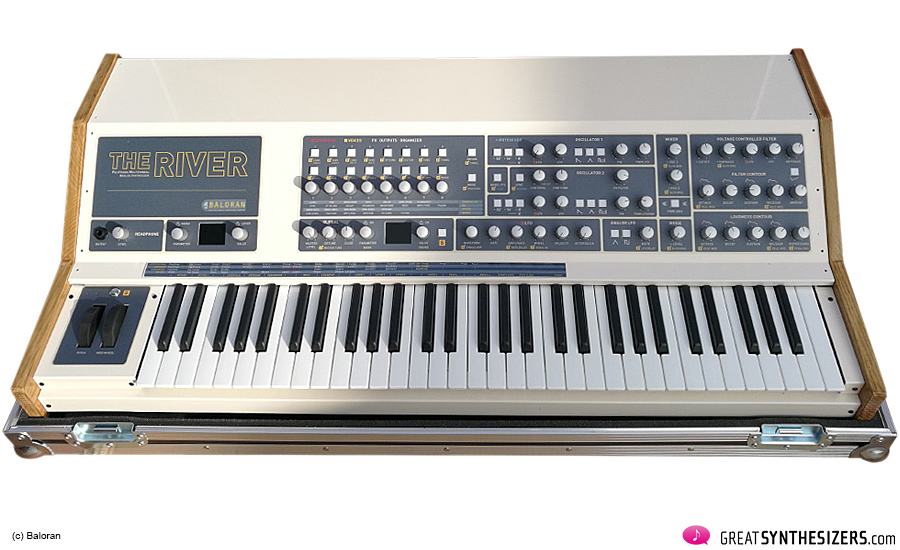 Geliefert wird THE RIVER in einem stabilen Flightcase. Das macht das komplette Instrument in Summe sehr (sehr!) schwer. So wird die Musikwelt 2018 also – erstmals seit dem Schmidt Synthesizer – wieder mit einem extrem mächtigen Boliden beglückt.
Besonders gespannt sind wir auf die Musikperformance am THE RIVER. Der interne Step-Sequencer kann – neben der Steuerung des internen Synthesizers – auch zur Kontrolle externer CV/Gate-Synthesizer verwendet werden. Die Buchsen hierfür sehen vielversprechend aus …
Anbei noch einige Bilder der Produktion der ersten Serie. THE RIVER, gebaut von Laurent Baloran, wird in echter Handarbeit gefertigt …
Erste Geräte befinden sich schon in Auslieferung. Wer nur etwas "gucken" möchte: Zu sehen sein wird THE RIVER Ende März beim Synth Fest in Nantes / Frankreich.
——————————————————————————————————————–
Weitere Info: