Eine "mögliche" Alternative zum klassischen (aber teuren) Tom Oberheim Two-Voice Pro: Analogue Solutions bietet einen SEM-Synthesizer mit CV/Gate und MIDI, der im Doppelpack exakt in ein 19" Rack passt. Als Einzelgerät kann der Nyborg-12 auch als handliches Tischgerät verwendet werden. Zur optischen Veredelung bietet Analogue Solutions hierfür noch spezielle Holz-Seitenteile an.
Zitat: "Nyborg-12 is an Oberheim SEM-style 2-Pole 12dB/Octave MULTIMODE FILTER-equipped standalone monophonic synthesiser module with real analogue voice and modulation circuitry." (Analogue Solutions)

… wobei Analogue Solutions auf das Wort "real" großen Wert legt … es gibt eben Analogsynthesizer und richtige Analogsynthesizer …
"Nyborg-12 is absolutely analogue through and through, hand built (by humans) using real transistors and op-amps. Unlike other so-called analogue synths you'll find no CPU-stabilised and quantised circuits, DCOs (Digitally-Controlled Oscillators), digital LFOs (Low Frequency Oscillators), or digital EGs (Envelope Generators) hiding here …" (Analogue Solutions)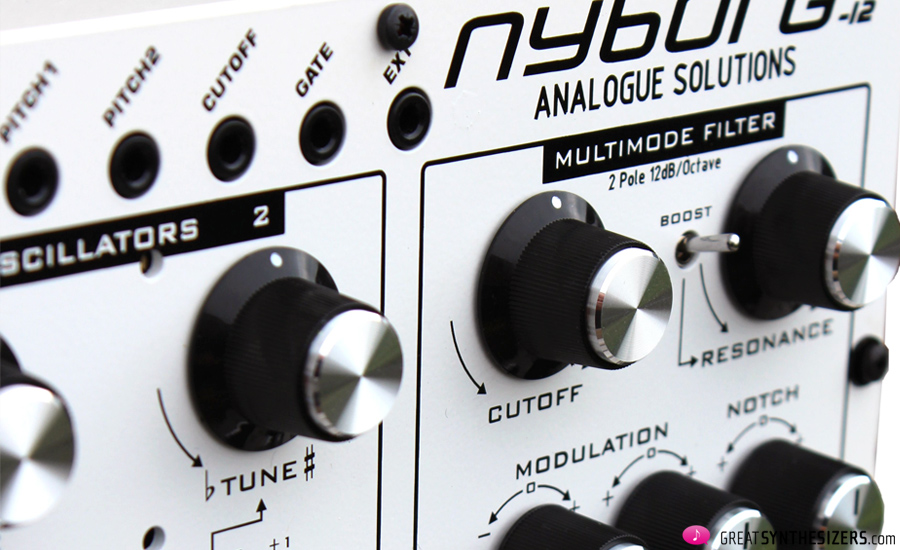 Das folgende Youtube-Video gibt etwas Einblick zu Klang bzw. Klangcharakter des Nyborg-12:
——————————————————————————————————————–
Nyborg-12 Analog-Synthesizer Modul
Preis: 599 GBP + MwSt. + Versand
Weitere Info: http://analoguesolutions.com/nyborg-12
——————————————————————————————————————–
PS: Besitzer von Modularsystemen dürften am Vorgänger des Nyborg-12 eventuell noch mehr Gefallen finden: Der schon länger am Markt befindliche Analogue Solutions Telemark verfügt über ein separates und recht luxuriöses Patch-Panel.